Note: USGambling.com editors have serious concerns regarding Mido Lotto's business practices, particularly its promotion of the lottery in the context of escaping desperate financial and abusive circumstances. Users should consider using an alternative such as Jackpocket or TheLotter. Continue reading for a thorough Mido Lotto review discussing its business model and our concerns.
Mido Lotto is a lottery courier app launched in 2020 that allows customers to order official lottery tickets from their smartphones and receive automatic notifications when it's time to check for winners.
The idea behind Mido Lotto is to maximize convenience for lottery players in states where it operates. Players simply log in, place orders, and get paid if they win. Mido Lotto plans to expand its geographic reach, but it currently only serves customers in the following states:
AZ, CA, CT, DE, MA, OH, and OR
How Mido Lotto Works
In short, Mido Lotto purchases tickets from authorized retailers on behalf of customers. Getting started and placing a ticket order is simple:
Download the Mido Lotto app from the App Store or Samsung Galaxy Store
Sign up for an account
Make a deposit
Order tickets from your local state lottery
After customers submit ticket orders, Mido Lotto purchases official tickets from an authorized retailer, scans and uploads images of each ticket to users' accounts, and notifies customers to check for wins after each drawing.
Mido Lotto Bonus: First Ticket Free
New users can claim a free ticket by visiting the Mido Lotto website and clicking or tapping to claim the new customer offer. After signing up, new users receive one complimentary lottery ticket.
Is Mido Lotto Legal?
Mido Lotto operates in a legal grey area; it is neither expressly legal nor illegal. Current laws do not explicitly address lottery courier services one way or another. That said, Mido Lotto does not overtly violate state or federal law and only operates in states with favorable legal landscapes.
Rather than selling tickets directly to customers, Mido Lotto purchases tickets from authorized retailers on their behalf. That may sound like a minor distinction, but it is critical to the company staying on the right side of the law. Mido Lotto is not a lottery sales agent; it is a courier service.
Additionally, Mido Lotto does not sell transport or sell tickets across state lines in violation of federal law. Customers may only order tickets from the same states in which they're currently located.
Final Thoughts: Is Mido Lotto Legit?
Mido Lotto may be legitimate, but USLottery has some serious concerns readers should note. The Mido Lotto website lacks detailed company information, and at least one state lottery has openly distanced itself from Mido Lotto.
When Mido Lotto launched in Washington, local media reached out to the state lottery for comments. The Washington Lottery replied with this:
"Because neither the Mido Lotto app nor its creator is an authorized, licensed retailer, Washington's Lottery cannot guarantee the validity of purchases made via this app or appropriate payment to the player for tickets redeemed through the app."
The Washington Lottery's non-endorsement is not necessarily an indication that Mido Lotto is unsafe or unscrupulous. However, it is an indication that customers should proceed with caution until Mido Lotto further establishes itself as a safe and long-term operator.
Other lottery courier services operate similar business models and are perfectly safe. The Jackpocket app is the most prominent example, also acting as a ticket courier service. However, unlike Mido Lotto, Jackpocket only launches in new states after meeting with local lottery officials to address their concerns and receive their blessings. In that regard, Mido Lotto could take a page from Jackpocket's book to bolster its reputation.
Even more concerning is its display of an extreme lack of judgment in publishing two "Winning Stories" testimonials that appear to promote using the lottery to escape from abusive and financially desperate situations.
When investigating Mido Lotto, a USLottery editor visited the Mido Lotto website and browsed the "Winning Stories" tab. In addition to standard testimonials from winners, the website also published the story of Perle, a woman who discusses spousal abuse, debt, divorce, and eviction as her motivations for playing the lottery.
Here's a screenshot of the testimonial taken from MidoLotto.com: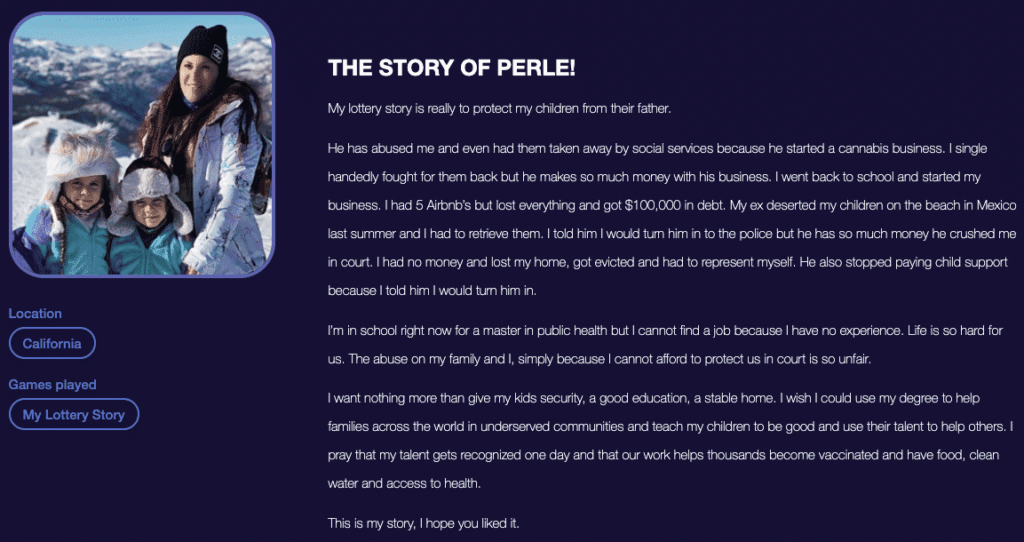 Mido Lotto's decision to publish a story of personal anguish and misfortune breaks every convention of responsible gambling marketing. Perle's testimonial isn't a one-off mistake, either. Directly below her story is another testimonial promoting the lottery in a highly irresponsible manner:
If Mido Lotto is willing to promote the lottery in the context of such desperate circumstances, USLottery must wonder what other ethical lines Mido Lotto is willing to cross.
As a result, USLottery does not recommend or endorse Mido Lotto. There are better-known, more experienced, and more responsible alternatives out there.
Mido Lotto FAQs