The launch of the first legal poker sites in 2013 marked a significant turning point for the game in the United States. Prior to 2013, not a single licensed poker site operated anywhere in the country. Today, a growing number of states are choosing to legalize poker sites and it is only a matter time before most of our readers will be able to play online at home or through mobile poker apps while on the go.
In-person poker is already well-established with 40 states home to brick-and-mortar casinos that host poker games on a daily basis. All told, the odds are pretty decent that you're not too far from a real money poker game right now if you're reading these words from anywhere in the USA.
Poker is mostly regulated at the state level in the USA, which means the laws vary from one state to the next. This makes for a somewhat confusing legal situation, but we aim to get you started as quickly and efficiently as possible. Once you know what's available in your state, the rest is just a matter of choosing where to play.
Online Poker in the USA
Online poker is legal in six states and counting:
Delaware
Nevada
New Jersey
West Virginia
Delaware, Nevada and New Jersey were the first to move toward legalization in 2013 following a change in federal law. Pennsylvania followed suit in 2017 and West Virginia in 2019.
To answer one important question up front, you must be physically present within state lines to play at any poker site licensed in that state. You do not need to be a resident, but you do need to be there in-person to play online.
Poker Site Reviews
Delaware Poker Sites
Delaware legalized online gambling in 2012 and the first poker sites launched in November 2013 around the same time New Jersey's first poker sites were going live. There are now three licensed poker sites in Delaware managed by the state's three land-based casinos:
Delaware Park Poker
Dover Downs Poker
Harrington Gaming Online Poker
In Delaware, online gambling and poker are run as an extension of the state lottery with each of the state's three casinos getting a piece of the action. Because online gambling is run as a monopoly in Delaware, all three poker sites are powered by the same software provider: 888 Holdings.
The setup in Delaware means there are no real differences between the state's three licensed poker sites. All use the same software, share a single player pool and offer similar welcome bonuses.
Player traffic was a major problem at first with Delaware having a small population, but the state has made moves to ease that by signing compacts with other states such as New Jersey and Nevada to share players across state lines.
DE Quick Facts
First poker sites launched: November 2013
Online poker regulatory body: DE Lottery
Minimum age to play: 21
Michigan Online Poker
Michigan legalized online poker in 2019 as a part of a large gaming expansion package that also authorized online casinos and sportsbooks. Regulators oversaw the launch of mobile sports betting and casino sites in January 2021, followed by the launch of online poker later that month. Currently, PokerStars holds a monopoly in Michigan as the state's only legal poker site. Look for more to follow suit soon.
BetMGM poker also has easy access to the Michigan poker market. BetMGM Poker can leverage its relationship with MGM Grand Detroit for market access, while PokerStars has a deal in place with the Little Traverse Bay Band Bands of Odawa Indians, who operate the Odawa Casinos in Petoskey and Mackinaw City.
MI Quick Facts
First poker sites launched: January 2021
Online poker regulatory body: Michigan Gaming Control Board (MGCB)
Minimum age to play: 21
Nevada Poker Sites
Nevada was the first state in the USA to legalize online poker with regulations drafted by the Nevada Gaming Commission in 2011 and a piece of legislation passed into law in 2013. The first poker site launched in April 2013 and was later followed by the launch of two more poker sites.
Licensed Nevada poker sites:
Ultimate Poker was the first site to launch but later closed for business amid difficulties staying afloat in a single-state market. A second poker site, Real Gaming, also opened and later shut down under similar circumstances.
This leaves WSOP Nevada as the one remaining legal NV poker site. WSOP NV has greater staying power with the backing of 888 Holdings, which is also active in other states with legal online poker.
Nevada's online poker market has also been slow to grow, but player sharing agreements with other states such as Delaware and New Jersey have brought some much-needed liquidity in terms of traffic.
NV Quick Facts
First poker sites launched: April 2013
Online poker regulatory body: Nevada Gaming Control Board (NGCB)
Minimum age to play: 21
New Jersey Poker Sites
New Jersey legalized online poker in 2013 and the first poker sites opened for business that November. There are now seven licensed poker sites in New Jersey:
Borgata Poker
WSOP
Pala Poker
PlayMGM Poker
888 Poker
PokerStars
Party Poker
In New Jersey, land-based casinos hold all online gambling licenses but are allowed to partner with outside companies such as 888, PokerStars and 888 to launch poker sites. Additionally, each NJ casino is allowed to operate multiple poker sites if it wishes.
Borgata has been especially busy in this regard with Borgata Poker, Party Poker, Pala Poker and PlayMGM Poker all operating off its online gaming license. These poker sites are all independent of one another and therefore compete, but all are partnered with Borgata AC for access to the NJ market.
NJ Quick Facts
First poker sites launched: November 2013
Online poker regulatory body: NJ Division of Gaming Enforcement (NJDGE)
Minimum age to play: 21
Pennsylvania Online Poker
Pennsylvania legalized online poker in 2017 as a part of a large gambling overhaul bill dealing with online gambling and lottery games, sports betting and more. The first PA poker sites launched in November 2019:
PokerStars
More poker sites coming soon
Like New Jersey, Pennsylvania issues online gaming licenses to land-based operators who are permitted to partner with third-party gaming software providers. Pennsylvania gaming law also allows other "qualified gaming entities" to apply for any leftover licenses not claimed by local casinos. Therefore, we expect to see some out-of-state applicants apply for online gambling and poker licenses.
To date, the following land-based gaming operators have applied for online poker licenses:
Harrah's Philadelphia
Hollywood Casino at Penn National
Mount Airy Casino Resort (PokerStars)
Parx Casino
Sands Bethlehem
SugarHouse Casino
Valley Forge Casino Resort
The implementation of online poker in Pennsylvania has been hit with delay after delay, so an exact timeline is hard to pin down. Gaming Control Board officials have said they're aiming for a mid-2019 launch, but past experience tells us projections in PA are not hard-and-fast by any stretch.
PA Quick Facts
First poker sites launched: To be determined
Online poker regulatory body: Pennsylvania Gaming Control Board (PGCB)
Minimum age to play: 21
West Virginia Online Poker
West Virginia became the fifth state to legalize online poker after a bipartisan gambling bill made its way to the desk of Governor Jim Justice. He allowed the bill to pass into law without his signature to officially make WV a pro-online poker state.
The new gaming law will allow the WV Lottery Commission (WVLC) to issue up to five online gaming licenses, corresponding to the state's five land-based casinos. Each licensee will be allowed to contract with outside software providers to operate casino games and poker.
West Virginia's poker law also grants the state the authority to enter interstate wagering agreements with other states. For poker players, this means WV will be able to tap into the growing multi-state poker network for busier cash games and bigger tournaments.
WV Quick Facts
First poker sites launched: To be determined
Online poker regulatory body: WV Lottery Commission (WVLC)
Minimum age to play: 21
Multistate Poker Compacts Are Improving Traffic for Everyone
While the state-by-state rollout of online poker legislation has been a positive development for players overall, it has been slow going. When states gained the ability to legalize online poker in 2011, expectations were high that a new poker boom was on the horizon. Optimism has dampened since then with only four states choosing to legalize online poker in the interim.
The slow, one-state-a-time approach to poker legislation has impacted poker more than other forms of gaming because poker needs a large player base to function properly. Fortunately, the states that have chosen to regulate online poker so far have opted not to impose ring-fencing rules to keep player bases divided by state.
Delaware, Nevada and New Jersey have all signed agreements allowing for interstate player sharing arrangements.
Currently, the only operator with operations in all three states is 888. 888 powers Delaware's three poker sites plus 888 NJ, WSOP NJ and WSOP Nevada. This means if you play on one of those sites, you may find yourself seated at tables with players from all three states.
Pennsylvania is likely to join the multi-state poker effort as well in order to boost the attractiveness of its own sites. Pennsylvania will be the largest state to join the market yet and will double the size of the potential player pool all by itself – not to mention likely lead to the creation of additional multi-state poker networks to compete with 888.
The future of online poker in the United States is bright. It is not moving as quickly as many of us would like to see, but the industry is growing and things are slowly moving in the right direction.
Playing Mobile Poker Online
Although online poker does not naturally lend itself to mobile play with many moving parts, operators have come up with clever ways to make the most of limited screen real estate to develop mobile apps that are fairly intuitive and easy to use.
Today, the major US poker sites all offer mobile apps that you can find with a quick search in the app store or by visiting the poker site's website for a current download link.
If you have any experience playing poker on your desktop, you'll find the mobile version isn't actually all that different when it comes to the table layout and betting options. Mobile poker is always played in landscape mode (turning your device sideways) and buttons are a bit bigger, but everything still works in the same general manner.
While early mobile poker apps were severely limited in functionality and often only supported specific game types, modern poker apps have come a long way. Most poker apps today support cash games and tournaments alike along with all the regular customization options you would have available through the full desktop client.
Mobile Poker Multi-Tabling
Some poker sites have even come up with ways to support multi-tabling. For example, the Party Poker app supports up to 4 tables at a time with a mini-view display showing your hole cards at the other tables and prompts to act when it's your turn.
Multi-tabling with a mobile app probably isn't ideal if you want to sit down and give every table your full attention, but it can be done. If you do decide to multi-table on the go, our best advice is to be sure you're somewhere where you can pay close attention to what's happening on-screen.
A Timeline of Online Poker in the USA
The online poker industry has undergone many significant changes over the years, starting from the earliest days with primitive, text-based games played over IRC all the way up to today's modern poker sites endorsed by the WSOP itself.
Over that time, the game has gone through drastic swings of fortune not unlike the bankroll of a overly aggressive player. In the earliest days, players made do with limited technology and almost zero precedent but still learned valuable lessons in strategy and patience.
As technology improved and interest grew, poker would eventually become a multi-billion-dollar industry attracting the attention of deep-pocketed investors and law enforcement alike to send us on a journey that is still far from reaching its final chapter.
Early 1990s: The Origins of Online Poker
The first online poker games grew organically out of a shared interest in the game through discussions over internet relay chat (IRC) in the early 90s. Early IRC poker games were played through text only with the assistance of an automated chat bot that would manage the games while players entered text commands to bet, raise, check and fold.
Soon, graphic clients were developed to provide point-and-click capabilities along with graphical representations of cards, wagers and player positions at the table. These early games were played with play-money only, but some accounts claim certain players used IRC poker as a stand-in for real money and would settle their balances in person with real money.
In any case, IRC poker was treated seriously enough that some notable pros are said to have honed their skills there in those early days. Chris "Jesus" Ferguson and Greg Raymer are both said to have developed and tested strategies on IRC poker that would go on to serve them very well in their careers.
As primitive as the first IRC poker games may have been, they laid the groundwork for a much, much larger industry that would follow
1998: The First Poker Sites
While real money may or may not have changed hands behind the scenes during the IRC days, PlanetPoker.com holds the unique distinction of being the first actual poker site. The first hand of real money poker ever played online happened at Planet Poker on January 1st, 1998.
Planet Poker dealt with all manner of technical challenges between limited technology, a total lack of dedicated poker software developers at the time and iffy internet connections. Still, the poker site managed to acquire a fairly healthy player base and introduce the world to online poker.
The first competition to Planet Poker came in the form of a site called Paradise Poker, which launched in 1999. With Planet Poker still struggling to address technical issues, Paradise Poker was fairly quickly able to establish itself as the new leader in online poker with a sleek interface and stable software.
2001: First Mega Poker Sites
Paradise Poker was followed and later supplanted by PokerStars and Party Poker, both of which were established in 2001. Party Poker took frontrunner status fairly quickly and would eventually grow to become the first mega poker site with upwards of 80,000 players logged in at a time, the launch of new game types and cash games running 24/7 at all range of stakes.
PokerStars would slowly bridge the gap as it would establish itself as the go-to place for tournaments of all sizes, but still faced serious competition from Party Poker.
2003: The Online Poker Boom
2003 was a special year for online poker as it was the year that saw online poker move into the mainstream consciousness of America. Two major things happened that year to kick off what would later become known as the online poker boom.
First, live poker tournaments began receiving mainstream TV coverage with the Travel Channel covering World Poker Tour (WPT) events and ESPN covering the World Series of Poker (WSOP). These made-for-TV productions also took the critical step to install hole cams at the tables to show viewers at home what players were holding as they made big bluffs, called all-in bets and jockeyed for positions. Doing so provided a sense of actual drama to televised poker for the first time ever.
Second, a then-unknown accountant by the name of Chris Moneymaker went on to win the WSOP that year after qualifying for a seat through an online qualifier held by PokerStars. As the country watched the WSOP play out in dramatic fashion, Chris Moneymaker played his way into a first-place finish at the biggest tournament in poker and came away with a $2.5 million prize.
The announcers covering the tournament on ESPN couldn't help but play up the fact that Chris Moneymaker had qualified through an online satellite – his background story just made for great TV with the average guy fighting for a piece of the American dream in a room full of sharks.
The Chris Moneymaker story proved inspiring and the demand for online poker went through the roof after the big win. Here was this average guy who had managed to turn a $39 online satellite (only later would it be revealed it was actually an $86 qualifier, but that doesn't really matter today) into the payday of a lifetime – hence the phrase "the Moneymaker Effect."
That kicked off the online poker boom and sent people at home rushing to sign up for accounts at the biggest poker sites – all of which happily accepted customers from the United States.
2006: UIGEA Initiates A Slow Decline of Online Poker in the USA
Life was good for players and poker sites alike from about 2003 through 2006. Party Poker was running strong, PokerStars was making gains and a new site called Full Tilt Poker was hosting some of the biggest online cash games anyone had ever seen. Many professional poker careers were established and fortunes made during this time.
In 2006, Congress crashed the party with the passage of the Unlawful Internet Gambling Enforcement Act of 2006 (UIGEA). The bill was attached a piece of must-pass port security legislation at the last minute and was signed into law by President Bush that October.
The UIGEA did not prohibit online gambling itself, but rather prohibited financial transactions related to unauthorized poker sites, casinos and sportsbooks. The authors of the UIGEA knew it would be difficult to enforce a ban on online poker, so instead targeted the money supply to push offshore poker sites out of the US market.
The passage of the UIGEA prompted some poker sites to exit the US market immediately. Party Poker was among the first to jump ship as a risk-averse, publicly-traded company despite the US accounting for the majority of its customers. Player traffic dived at Party Poker, but the company would eventually rebuild overseas and remains a fairly prominent poker site to this day.
PokerStars and Full Tilt Poker both stuck around and were happy to pick up the slack. Many other poker sites did not fare so well as it became increasingly difficult to process payments and run a functioning business. Some poker sites went out of business and took players' money with them; others languished on and faded to obscurity.
2007-2008: Absolute Poker and Ultimate Bet Scandals Rock the Poker World
If the UIGEA and sudden disappearance of some poker sites wasn't bad enough, sister poker sites Absolute poker and Ultimate Bet would make things even worse over a stretch spanning 2007 through 2008.
Around this time, Absolute Poker and Ultimate Bet were doing fairly well in the US market. Neither was as large as PokerStars or Full Tilt, but snappy software and a willingness to hold some of the biggest cash games ever seen made both sites popular choices for players in the US.
Business was good for both sites, all things considered, in those post-UIGEA times. Things took a sudden and unexpected turn for both sites in September of 2007 when Absolute Poker customers noticed certain accounts playing exactly as if they could see their opponents' hole cards.
It didn't take long for anyone even casually interested in poker to see that the suspicious accounts weren't just good players; they actually played as if they could see everyone's hole cards. It was so obvious what was going on, in fact, that to this day it is baffling the people controlling the account made absolutely no effort at all to even slightly disguise the fact that they could see other players' hole cards.
To make a long story short, the cheating scandal blew wide open over the next few months and it was eventually determined that Absolute Poker and Ultimate Bet insiders had been using administrative privileges to see players' hole cards and relay that information to an outside party who was able to swindle millions off players at both poker sites.
Absolute Poker and Ultimate Bet (rebranded as UB.com) later joined forces to form the Cereus Poker Network and attempted to rebuild their shattered reputations. Neither site would ever reach anything resembling its former glory and both would later fall prey to the Black Friday indictments of 2011. The damage this scandal caused reached far beyond the two poker sites and players affected; it put a stain on all of online poker.
2011: Black Friday Indictments
April 15th, 2011 is a day that will forever live in infamy for the players who were there when it happened. On that day, the FBI seized the domains of the biggest poker sites still serving US players at the time: PokerStars, Full Tilt Poker, Absolute Poker and Ultimate Bet.
Visitors to those poker sites were greeted with ominous warnings posted by the FBI and DOJ noting the domains had been seized "pursuant to an Arrest Warrant in Rem issued by the United States District Court for the Southern District of New York."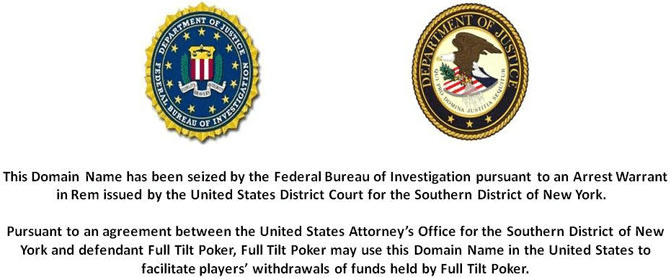 The DOJ also seized nearly 80 bank accounts related to those poker sites, which in turn left players' bankrolls missing in action with no word on whether or not they would ever be paid. Many players lost high-value bankrolls on that day with no warning.
PokerStars immediately ceased US operations and focused its efforts overseas. Full Tilt Poker, Absolute Poker and Ultimate Bet all folded in ensuing months and took with them more than a hundred million dollars in player funds.
The federal government eventually set up a process for Absolute Poker and Ultimate Bet customers to recover at least some of their funds. Meanwhile, PokerStars reached a $731 million settlement with the DOJ that included forfeiting $547 million to the US government, purchasing Full Tilt Poker and reimbursing $184 million to Full Tilt customers.
2011: How Online Poker Was Legalized in the USA
Something to keep in mind here is that every bit of history we've touched on in this discussion up until now occurred while federal law prohibited the operation of real money poker sites in the USA. From the very first IRC poker games on through the poker boom and beyond, everything took place under very shaky legal circumstances.
Although federal law never prohibited playing online poker, it certainly prohibited anyone running a poker site. Individual states were likewise prevented from legalizing online poker within their borders by the Federal Wire Act of 1961, which was interpreted at the time to apply to all forms of online gambling and poker.
The passage of the UIGEA in 2006 further dampened hope the US would legalize online poker any time soon. Offshore poker sites continued to do business after the UIGEA took effect, but the industry as a whole suffered greatly with ongoing payment processing issues that forced most casual players out of the market.
Things took a dramatic turn for the better in 2011 when the Department of Justice finally got around to responding to a request filed by New York and Illinois lottery officials back in 2009 seeking an opinion on whether or not their plans to sell lottery tickets online would constitute a violation of the Wire Act.
The DOJ responded in 2011 with a memo explaining its opinion on the Wire Act that would have wide-ranging implications. The DOJ's response didn't just give New York and Illinois a favorable opinion on their lottery plans; the memo specifically said the DOJ interprets the DOJ as applying only to sports betting.
That one memo instantly cleared the way for states to legalize not just online lotteries, but also poker and casino sites.
The opinion had the secondary effect of removing the UIGEA as a barrier to online poker. One of the exemptions written into the UIGEA explains that "unlawful internet gambling" does not include wagers that are:
Initiated and received exclusively within a single state, and
That originate and end in a state that has authorized such wagers
With the Wire Act no longer a barrier, states gained the ability to legalize online poker and render the UIGEA moot at the same time. All that had to happen next was for states to take the opportunity.
2013: First States Take Action
Delaware, Nevada and Delaware all moved quickly to take advantage of the sudden change in federal law. All three passed legislation, licensed a handful of operators and gave the all-clear for the country's first legal poker sites to go live.
Nevada: Nevada was first to the punch with Ultimate Poker opening on April 30th, 2013. WSOP Poker launched a few months later to give Ultimate Poker its first taste of competition. A third poker site, Real Gaming, launched in 2014.
Ultimate Poker ended up shutting down just 19 months later, citing financial difficulties caused by attempting to run a poker site serving just a single state. Real Gaming appears to have suffered the same fate, although it has never officially announced an end of operations. WSOP Poker, meanwhile, is still chugging along.
New Jersey: New Jersey came next with its first poker sites launching in November 2013. While Nevada's poker industry was slow to get off the ground, New Jersey's has had little trouble getting up and running thanks to a much larger population. Numerous poker sites now operate in the NJ market, including WSOP, Borgata and 888 among others.
Delaware: Delaware was also quick to legalize online poker, but a strong argument could be made the state botched its gaming laws by granting a monopoly to the Delaware Lottery. Each of the state's three casinos offers online gambling and poker, but all are run by a single software provider and don't actually compete against one another. Combine that with a small population and you have the recipe for an unremarkable online poker market.
2015-2017: First Interstate Gaming Compacts Formed
While other forms of online gambling got off to a fast start after New Jersey, Nevada and Delaware passed legislation, online poker was slower to get off the ground.
The challenge unique to poker was breaking through the key challenge all new poker sites face: reaching the critical mass of players needed to fill tables and make the site attractive to new players. Solving that catch-22 was made even more difficult with every licensed poker site being restricted to serving players from just a single state.
The governors of Nevada and Delaware moved to fix that problem in 2015 by signing an interstate poker compact allowing any operator active in both states to share tables across state lines. In the case of Nevada and Delaware, this means WSOP Nevada (powered by 888) and Delaware's three poker sites (also powered by 888) were both able to draw players from the combined populations of both states.
New Jersey joined the compact in 2017 to make it a three-way gaming compact and give poker sites in all three states a helpful boost in traffic.
2019 and Beyond: Online Poker Slowly Gains Momentum
Pennsylvania passed a major gambling overhaul bill in 2017 and began issuing online gaming licenses the following year. The Pennsylvania gaming bill included a provision for interstate gaming compacts to make PA the fourth state eligible to join the growing multistate poker network.
Gaming bills introduced in other states have included similar measures, which means that as time the United States will begin to resemble one, big poker market conducive to high-traffic poker sites and large tournaments. We still have quite a way to go before legal online poker looks anything like the golden age immediately following the poker boom of 2003, but things are moving in that direction.
States with Legal Poker Rooms
Most states have some form of legal poker, whether that be at casinos, home games or online. When it comes to in-person poker, forty states have casinos and most of those spread poker games. Home poker games are also legal in a fair number of states, including some states without actual casinos.
Online poker is still a work in progress with only a handful of states passing legislation to authorize poker sites. We have seen signs of momentum picking up in recent years, however, with more states considering following the path set by states such as New Jersey, Delaware, Nevada and Pennsylvania.
When it comes to home games in particular, players should be extra mindful of the law surrounding such games. Not all states regulate social poker games identically. For instance, some states take an anything goes approach as long as home games are not run for a profit while other states actually enforce limits on bet sizes.
Our handy reference chart below should help clarify the situation wherever you live, but keep in mind we are not lawyers and this advice should be taken only as a rough guideline for getting started. If you plan on playing real money poker in a home game, it would be wise to speak with an attorney or law enforcement official first. Even today, police do occasionally raid illegal poker games in the US.
Alabama

Home games only
State law on social games: 13A-12-21

Alaska

Home games only
State law on social games: 11.66.160

Arizona

Poker at casinos
Home games
Dept. of Gaming advice here
State law on social games: 13-3301 (7)

Arkansas

Poker at casinos
Home poker games prohibited
State law on home poker games: 5-66-112

California

Poker at casinos and cardrooms
Home poker games allowed
State law on home poker games: Penal Code 330-337z

Colorado

Connecticut

Poker at casinos
Home games if all participants have a "bona fide social relationship"
State law on social games: 946-53-278b

Delaware

Poker at casinos
Online at licensed poker sites
Home games appear to be prohibited by law: HB 131

Florida

Poker at casinos and cardrooms
Home games if no profit is taken by organizer and no pot exceeds $10
State law on social games: XLVI 849.085

Georgia

All poker outlawed except Emerald Princess cruise ship
Home games outlawed
State law on poker: § 16-12-21

Hawaii

Home poker games only in private
State law on home games: §712-1231

Idaho

No poker allowed anywhere, not even at casinos
Home games outlawed
State law on gambling: 18-3801

Illinois

Poker at casinos
Home games outlawed
State law on gambling: ILCS 5/28-1

Indiana

Poker at casinos
Home games outlawed
State law on gambling: IC 35-45-5

Iowa

Poker at casinos
Home games permitted in certain circumstances
State law on social games: §99B.45

Kansas

Kentucky

No poker allowed anywhere
Social games outlawed
State law on gambling: L-528

Louisiana

Poker at casinos
Social games allowed as long as they are not run as a business
State law on gambling: RS 14:90

Maine

Poker at casinos
Social games allowed as long as they are not run for a profit
State law on social games: 17-A, §952

Maryland

Poker at casinos
Social games allowed if less than $1,000 is present
State law on social games: HB 127

Massachusetts

Poker at casinos
Law on home poker games unclear
Collection of state gaming laws here

Michigan

Poker at casinos
Charity poker available in certain circumstances
Home poker games outlawed
State law on gambling: MCL 432

Minnesota

Mississippi

Missouri

Poker at casinos
Home poker games appear to be prohibited
State law on gambling: MRS 38-572

Montana

Poker at casinos and cardrooms
Home games allowed
Archive of state laws on gambling here

Nebraska

Social games allowed, but only if no buyin or no prizes
State FAQ on gambling here
State law on gambling: 28-1101-1117

Nevada

Poker at casinos
Online at licensed poker sites
Home games allowed
NGCB collection of laws on gambling here

New Hampshire

Charity poker tournaments
Home gamed outlawed
State law on games of chance: Chapter 287-D

New Jersey

New Mexico

Poker at casinos
Home games outlawed
State law on gambling: NM Stat § 30-19

New York

Poker at casinos
Home games outlawed
State law on gambling: Article 225

North Carolina

Poker at casinos
Home games outlawed
State law on gambling: §14 Article 37

North Dakota

Poker at casinos
Home poker games allowed for small stakes
State law on gambling: 12.1-28

Ohio

Poker at casinos
Home poker games allowed
State law on gambling: ORC 2915

Oklahoma

Oregon

Poker at casinos and social cardrooms
Home poker games if city/county law permits
State law on social gambling: § 167.121

Pennsylvania

Rhode Island

Poker at casinos
Home poker games outlawed
State law on gambling: RI Gen L § 11-19

South Carolina

South Dakota

Tennessee

Texas

Poker at one of two tribal casinos (which are contested by the state as illegal but still operational)
Social cardrooms permitted
Home poker games allowed
Texas law on gambling: § 47

Utah

No poker allowed anywhere
Home games outlawed
Utah law on gambling: UT Code § 76-10-P11

Vermont

No poker allowed anywhere
Home games outlawed
State Attorney General gambling info here
State law on gambling: 13 VSA Chapter 51

Virginia

Home games only if no profit is taken by an operator
State law on gambling: VA Code 18.2

Washington

West Virginia

Poker at casinos

Online at licensed poker sites

Home poker games outlawed
Online poker law: HB 2934
State criminal law on gambling: WVC §61-10
State on authorized gambling: §29-25

Wisconsin

Poker at casinos
Home poker games outlawed
State law on gambling: Chapter 945

Wyoming

Poker at casinos
Home poker games allowed if participants have a "bona fide social relationship" and operator does not take a profit
State law on gambling: WY Stat § 6-7-1
Major Poker Tournaments in the United States
Major poker tournaments don't just make for great TV, they're actually more accessible to the average poker player than new players might assume. Between the many feeder satellites held in-person and those hosted online, getting a seat at the big table is a very realistic goal for any serious player.
You can brush up your skills through an almost infinite number of smaller tournaments held around the country every year, but below we'll be profiling only the biggest and best. If you dream of scooping a life-changing payout, these are the tournaments to note.
Online Satellites to Major Land-Based Tournaments
The passage of the UIGEA in 2006 and Black Friday in 2011 were noted for their impact on nearly destroying online poker as we know it, but the effects were also felt in the real world as major land-based tournaments saw entry numbers drop following both events.
The WSOP Main Event, for example, saw a record turnout in 2006 when 8,773 players showed up for a shot at poker glory. The UIGEA was enacted later that year and the effects were felt the following year with nearly 2,500 fewer people showing up at the 2007 Main Event as a result of fewer poker sites serving US players and hosting WSOP satellites.
Poker's Black Friday had a similar although less-profound affect on live tournament turnout. By 2010, WSOP fields had recovered somewhat after the shock of the UIGEA had worn off and that year's tournament attracted 7,319 entrants. After Black Friday hit in 2011, the field that year shrank to 6,865.
Although the WSOP was still a major tournament, it was clear government actions had an impact on attendance. Today, those numbers are recovering and once again the WSOP is reaching record numbers.
Some of the recovery almost certainly has to do with a stronger US economy, but the launch of the first legal poker sites in three states in 2013 have also helped. WSOP.com, which operates in both Nevada and New Jersey, is back to holding satellites to the World Series Main Event and that has helped.
As legal online poker spreads, there is little doubt live tournaments will benefit as well. If you live in a state with legal online poker, you shouldn't have too much trouble finding satellites to live events from your desktop or mobile device. Not only is this convenient, but online satellites tend to be inexpensive and therefore compatible with bankrolls of all sizes.
Frequently Asked Questions
Below are answers to some of the most frequently asked questions regarding poker. These are listed in no particular order and cover a range of topics, but we hope you find these useful. If you have a question not listed below, feel free to contact us and ask a question. The odds are if you have a specific question, you're not the only one.
How do I make deposits and get paid at online poker sites?
Legal poker sites provide a number of deposit options that cover the full range of cash, credit, bank transfer and e-wallet categories.
Credit and debit cards: Visa and MasterCard are universally-accepted deposit methods at licensed poker sites. Many sites (but not all) also support Discover and American Express.
Cash deposits: There are two main ways to fund a poker account with cash. In some states, you can visit the brick-and-mortar casino associated with your poker site to deposit in person. Many sites also accept PayNearMe, which is a prepaid voucher that you can save to your phone and then present at your nearest 7-Elevent, pharmacy or dollar store to deposit with cash.
Bank transfer: Electronic bank transfers and e-checks move money from your bank account to your poker account with no debit card necessary. All you need is your checking account number and some money to deposit.
E-Wallets: E-wallets such as PayPal and Skrill serve two purposes. First, they can be used as a convenient way to make deposits and receive cashouts while keeping your poker bankroll separate from all your other money. Second, e-wallets come in as a handy backup method if your credit or debit card deposit is declined.
Why was my credit card deposit declined?
The UIGEA was passed in 2006 as a way for US authorities to target the money supply of offshore gambling sites by prohibiting financial institutions from processing transactions on behalf of illegal operators. Although the UIGEA was designed specifically to target illegal operators, some licensed poker sites are still feeling the effects of the law years later.
After the UIGEA was passed, many banks opted to enforce a blanket ban on all transactions related to online gaming rather than attempt to differentiate deposits to legal sites from deposits to illegal sites. If you're sure you have enough money to cover a deposit, but it is still declined, that's probably a result of policies your bank enacted after the passage of the UIGEA.
Your best bet in that situation is to try a different credit card or use an e-wallet such as PayPal to complete your deposit. E-wallets are particularly effective because deposits to them are not tagged as gambling, which means you can use the same card that was declined to fund your e-wallet account. From there, you can move the money to your poker site.
Is it possible to play mobile poker for real money?
Yes. Nearly all the major poker sites that have launched to date offer real money mobile poker apps, and most even support multi-tabling. Mobile poker isn't ideal for high-stakes games requiring intense concentration, but it works well enough for casual games and tournaments.
What are these "poker HUDs" I keep hearing about?
Poker heads-up-displays (HUDs) gained prominence in the early 2000s among serious players as a way to track their play, record every hand and collect a vast array of statistics on both themselves and their opponents.
Serious players used HUDs to improve their own play by identifying "leaks," or lapses in strategy. For example, a HUD could tell you that you've been losing way too much money from under the gun or that you tend to overplay AQs in early position. HUDs could also be used to identify patterns in opponents, such as noting that Player A never bets on the flop or that Player B always bets the river when checked to him.
While HUDs were popular among students of the game, causal players weren't the biggest fans as they felt HUDs gave sharks an even bigger advantage. Many poker sites also eventually turned against HUDs for similar reasons. While casual players tend to feed the poker economy with frequent deposits, sharks tend to drain the economy by taking money from weaker players and withdrawing.
Some states have laws in place that require poker sites to take active measures banning HUDs while other states allow licensed operators to decide the issue. There is considerable debate on the issue with people on one side arguing that HUDs hurt the poker economy and go against the spirit of the game.
On the other side are those who support HUDs as just another tool to study publicly-available data and as a way to self-police. For example, it was HUDs that helped break open the Absolute Poker cheating scandal after players noticed suspicious statistical anomalies.
In any case, the momentum seems to be moving against HUDs in the regulated poker market. For instance, Nevada prohibits HUDs while New Jersey law has no opinion on the matter. However, the player sharing agreement between NV, NJ and DE resulted in HUDs being prohibited across the multi-state poker network in order to maintain a fair playing field for players in all states.
Is online poker fair? What about collusion?
It would be fair to say online poker is as secure as land-based poker. Any time you have large sums of money in play, there are bound to be people who are tempted to break the rules to gain an advantage.
Licensed poker sites take this issue seriously because not only is their continued success dependent on maintaining a reputation for security, but they are also required to have processes in place to protect against cheating and collusion.
Additionally, the employees of poker sites licensed in the USA could actually face jail time if caught trying to run an inside job of some sort to cheat players. This is just one of many reasons we strongly recommend all readers to stick exclusively with licensed poker sites.
Online poker operators have numerous tools at their disposal to protect against cheating and collusion. Beyond hardening their systems against hacking, poker sites also discourage cheating and collusion by verifying the real-world identity of every customer as required by law and employing technology to identify suspicious betting activity.
While it would be unrealistic to guarantee there will never be another online poker cheating scandal, we are confident that poker site operators and regulators alike have the tools they need to detect suspicious activity, make any affected players whole again and bring the perpetrators to justice.