Illinois became the first state to legalize online lottery sales in 2012 for state residents 18 or older and physically present in Illinois at the time of purchase. Today, the Illinois Online Lottery sells instant win games and tickets for the major drawing games including: Mega Millions, Powerball, Lotto, Lucky Day Lotto, Pick 3 and Pick 4.
Prior to launching online ticket sales, opponents expressed concern that online sales would lead to increased risk of gambling addiction due to the ease of purchasing tickets. However, lottery officials allayed these concerns at the time by stating that online ticket sales and spending habits can be tracked to more easily identify signs of problem gambling.
Lottery Superintendent Michael Jones added:
"They're conflating forms of gambling. Lotteries are a very, very different form of gambling because of their nature. You risk a small amount of money against very long odds. We don't offer the kind of action that's usually associated with addictive behavior."
However, these concerns did lead to the Illinois Lottery granting a concession: online lottery customers are limited to a maximum daily purchase limit of $150, maximum weekly purchase of $1,050 and maximum monthly purchase of $3,500.
Illinois Online Lottery Games
The Illinois Online Lottery initially launched in 2012 with tickets to draw games only. In 2021, the Illinois Lottery added instant win games to its online purchase options.
Currently, the Illinois Lottery offers the following games online:
Mega Millions: $2 per play
Powerball: $2 per play
Lotto: $2 per play
Lucky Day Lotto: $1 per play
Pick 3: $1 per play
Pick 4: $1 per play
Fast Play Games: $1 to $10 per play
How to Buy Illinois Lottery Tickets Online
You can buy tickets online from your desktop or mobile device when you're physically present in Illinois by heading to illinoislottery.com or by downloading the official mobile app for iOS and Android devices. In both cases, you'll be asked to sign up for an account and provide your name, date of birth, address and phone number.
From the main website, tap "Play Now" to see a list of draw games available for play: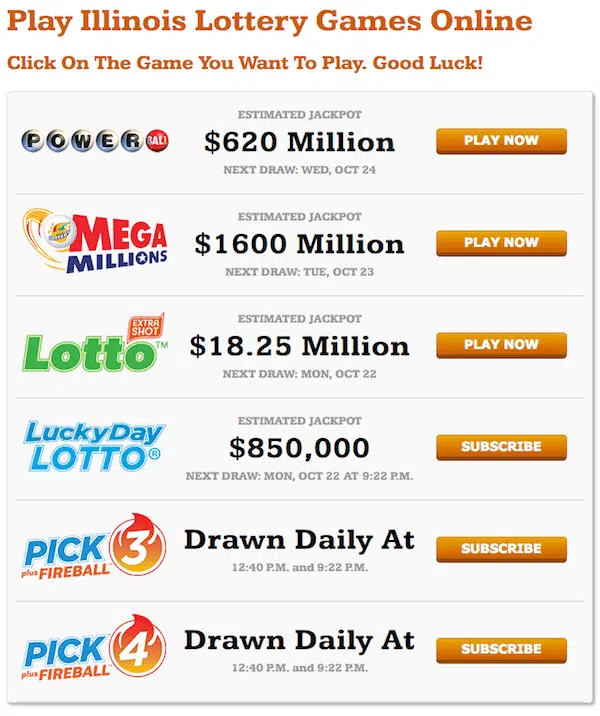 Select "play now" or "subscribe" next to the name of the game you want to play and that will take you to a second screen where you can choose your numbers, select a number of tickets to buy and in how many drawings you'd like to enter those tickets: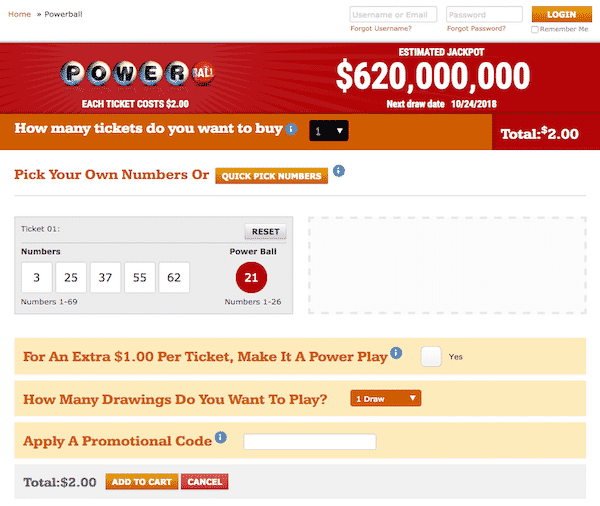 Note that you can choose any combination of number of tickets and number of drawings. For example, you can buy one Powerball ticket into a single drawing for $2.00 or you can buy 5 tickets into each of the next 5 drawings for $50. The only limit is that you can only purchase up to $150 worth of tickets in a single day.
Powerball and Mega Millions tickets can be bought individually or for up to 20 drawings in advance. Illinois Lotto tickets may also be purchased individually or for up to 25 drawings in advance.
Pick 3 and Pick 4 tickets can only bought as subscriptions lasting from 1 week (14 drawings) to 5 weeks (70 drawings) at a cost of $1 per play.
The minimum online ticket purchase is $5.00.
Customers can also visit the Fast Play tab on the Illinois Lottery website to play instant win games with entries ranging from $1 to $10 each: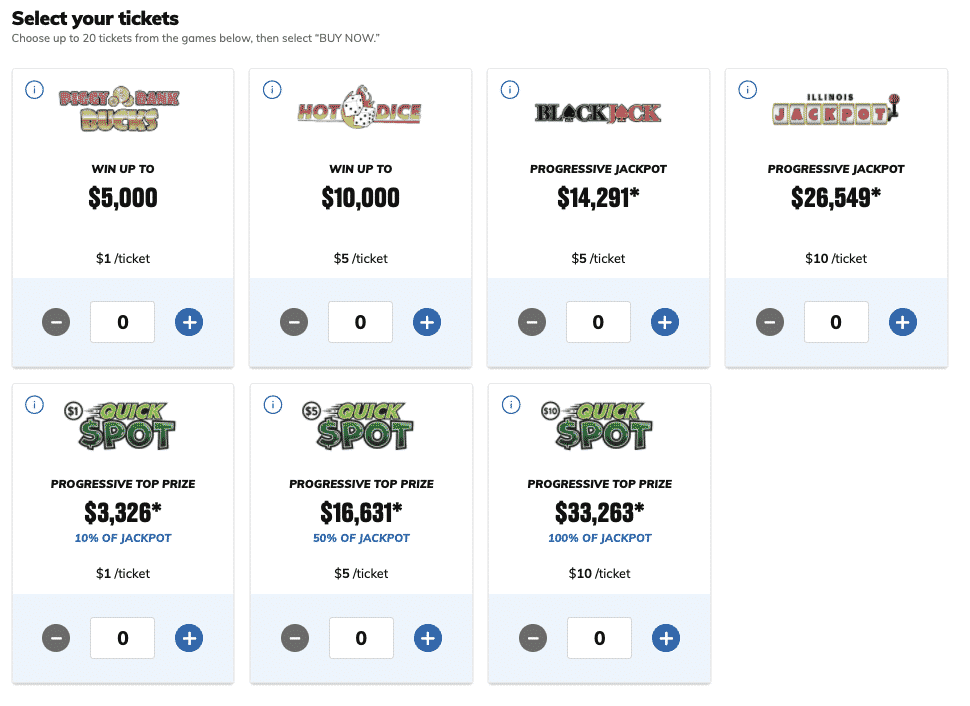 Illinois Lottery Results
All tickets purchased online are saved to your account, allowing you to log in any time to see if you've won. The Illinois Lottery website and mobile app with both notify you if you've won. Additionally, you can visit the Daily Results page for the latest winning numbers to manually check your tickets.
Banking and Payment Options
Once you have set up an account with the Illinois Online Lottery, you can fund it with Visa, Mastercard or Discover credit and debit cards. Additionally, any winnings that have been deposited to your account may also be used to make purchases.
Winnings of $600 or less are deposited directly to your online account. From there, you may withdraw the funds to your checking or savings account, or have the Illinois Lottery mail you a check.
If you win a prize greater than $600 and less than $1 million, you have two options:
Fill out a claim form and mail it along with the signed ticket to Lottery Central in Illinois
Visit a designated claim center (see locations here) for immediate payouts of prizes up to $25,000
If the prize is greater than $25,000 and less than $1 million, the prize center will mail your claim form and ticket to the lottery's central office in Springfield
If you win a prize of $1 million or more:
Call the Illinois Lottery Central Claims Office at 217-524-5147 for help.
How the Illinois Online Lottery Led to the Legalization of Online Gambling in the US
The Illinois Online Lottery has an interesting backstory that is closely intertwined with the legalization of online gambling in the United States at the federal level. If it wasn't for Illinois Lottery officials looking for new ways to increase sales, the entire landscape of online gaming would look significantly different today.
The story dates back to 2009, when the Illinois Lottery was mulling over the possibility of selling tickets online. At the time, there was no precedent and they weren't even sure if federal law would allow online lottery games. The Federal Wire Act was of particular concern because for the previous 40 years, the Wire Act was interpreted to prevent the interstate transmission of communications related to sports betting "and other forms of interstate gambling."
Undeterred, officials with the Illinois and New York lotteries sent a letter to the Department of Justice asking for clarification: does the federal Wire Act apply to state-authorized lotteries?
In 2011, the Department of Justice issued a memo with wide-ranging implications beyond just the lottery. The 13-page memo concluded:
"…interstate transmissions of wire communications that do not relate to a "sporting event or contest," 18 U.S.C. § 1084(a), fall outside of the reach of the Wire Act."
With this, the Department of Justice didn't just OK the Illinois Lottery's plan; it also opened the door to online gambling and poker. Delaware, New Jersey and Nevada moved quickly to legalize these forms of online gaming, and other states have since followed suit. Additional states have also legalized online lotteries of their own in the intervening years since that important DOJ decision.