Pennsylvania Online Lottery
The Pennsylvania iLottery is the official, state-sanctioned website of the PA Lottery. Also known as the PA iLottery, Pennsylvania's online lottery launched in June of 2018 and now offers players a collection of instant win scratch card games that offer real money prizes as high as $300,000.
Unlike many other lottery sites, PAiLottery.com is endorsed by the underlying lottery association it represents. In this case, that is the Pennsylvania Lottery. When you play online at PA iLottery, you are playing with the official state lottery. This means payouts are guaranteed by the state and the site functions according to state laws regulating the lottery.
The Pennsylvania online lottery is still quite new as of this review, and there are some obvious areas where there is room for improvement. A limited game selection and lack of tickets to real-world drawings stand out as two major misses, but things that can be fixed easily. In fact, PA Lottery officials have stated their intent to roll out additional games in time.
However, the current website looks promising even in its current form. The games look sharp and are very easy to understand – in true lottery fashion. This all speaks well of the future of PA iLottery. As more games are added to the lineup, PAiLottery.com will most likely become the obvious choice for players in Pennsylvania.
How to Play the Pennsylvania Lottery Online
The official Pennsylvania Lottery website is open to anyone 18+ and located inside Pennsylvania. You can get started by visiting PAiLottery.com to sign up for an account. From there, you can try the games for free or visit the cashier to make a deposit in order to play for real money.
Also note that PAiLottery is required by law to verify your identity before allowing you to play for real money. When you sign up for an account, the website will also ask for the last four of your social security number. Providing your social also ensures the lottery can pay you in a timely fashion for wins over $600.
Once you have an account, you can log in and visit the "My Account" section to find the link to the cashier. From the cashier, you can choose a deposit method (debit card, ACH electronic bank transfer or PayNearMe) and follow the on-screen instructions to fund your account. This is also where you can request withdrawals if you have winnings you'd like to cash out.
PA Online Scratch Off Games
The one type of game PAiLottery is prohibited from offering is anything modeled after actual casino games. This means blackjack, poker and basic slots are all off-limits. However, some of the instant win games already closely resemble slots in the way they look, feel and function.
For example, a game called Super Gems drops a variety of gyms down from the top of the screen. Whenever groups of similar gems land next to each other, those gems explode to reveal prizes. It feels a lot like a slot machine even though technically it is considered an "instant win" game.
Other games more closely resemble traditional scratch cards of the type you might buy at the gas station on the way home from work. For example, Monster Wins gives you a scratch card featuring a 4×4 grid of spaces that you scratch off to reveal matching symbols that reward prizes ranging from 1x to 4000x your purchase price. This one works just like the online equivalent of a traditional scratch-off ticket.
Currently, the Pennsylvania online lottery has 24 instant win games on offer. More games should be added in time. The selection is a bit sparse at the moment, but they games they do have on offer look and function quite nicely. Being able to win upwards of a quarter million dollars from the comfort of home is a nice bonus.
The full list of games includes:
Bigfoot Reveal: Bigfoot Reveal is a scratch-card game which gives you four, 4×4 scratch cards at a time. Scratch off each hidden box on the grid and receive a prize if you reveal three matching symbols on any one panel. Win up to 4,000x the price of your ticket.
Robin Hood: A 4×4 scratch card game in which you scratch the panel to reveal matching symbols. Match 3 or 4 for a prize worth up to 4,000x the cost of your ticket.
Super Gems: Buy your ticket and hit the "play" button to initiate a cascade of falling gems. If same-colored gems land in a group, they explode to reveal prizes as high as 10,000x your ticket price.
Cash Buster Towers: Choose your wager to get five spins of the wheel. Each spin knocks bricks off the tower to bring your prize within reach. This game offers maximum payouts of 15,000x your wager.
Crossword Cash: This one is a crossword puzzle game which gives you a bank of letters to reveal that are then matched with letters on the crossword puzzle. Complete at least three words to win a prize worth up to 6,000x your wager.
Monster Wins: Choose your price ranging from $0.01 to $20 and then scratch off the 4×4 panel to reveal your symbols. Three is all you need to win; four is what you need for a truly monster win worth up to 4,000x your wager.
Big Money Slingo: Big Money Slingo is sort of a cross between slots and bingo in which the machine fires numbered balls onto the play area to cover up the corresponding slot on the grid. Win up to 10,000x your wager when you fill a complete line.
Foxin' Wins Reveal: Buy your card and then scratch off the 3×3 grid to reveal your matches. Potential prizes range from 1x to 2,000x your ticket price.
Cash in the Lamp: Reveal what's hidden within 25 magic carpets and win up to 10,000x your ticket price. Cash in the Lamp also comes with two bonus mini-games for even more ways to win.
Super Cash Buster: One ticket gives you seven rolls of the dice to fill up the prize meter displayed in the center of your screen. Fill any prize line with bricks to win up to 20,000x your ticket price.
Volcano Reveal: Match three alike symbols to reveal your prize. Play for as little as $0.01 and win as much as 50,000x your wager.
Big Eats Little: Guide your fish through an underwater world full of prizes and danger. Check each seaweed patch for an instant prize, a symbol to add to your collection for a big payout or another fish. Be careful; bigger fish will eat you instantly and end your round. Win up to 15,000x your wager.
Ballroom Bingo: Ballroom Bingo was added to the PA iLottery collection shortly after launch and combines the fun of bingo with the thrill of lottery-sized prizes. Buy a bingo card for as little as $0.10 or as much as $10.00 and then watch as the bingo caller draws 35 numbered balls at random. If you complete a straight or diagonal line, a letter X, a letter Z, four corners or blackout, you stand to win up to $5,000.
Cash Out Cupcake: This bakery-themed scratch-off game will have you salivating as you unpack nine cupcake boxes on your play card. Reveal three of the same cupcakes to win that prize and to win up to $8,000.
Cash Buster Bonus: Play for $1 to $30 per scratch card for a shot at winning up to $300,000. Multiple bonus rounds and futuristic graphics make this a fast-moving, action-packed game.
Cash Buster Extreme: Play for $0.50 to $20 per round and win up to $200,000. Cash Buster Extreme is similar to the other Cash Buster titles but offers more chances to win free games as well as two unique bonus games.
Rainbow Fortunes: Match winning symbols to win as much as $200,000. In this simple but colorful game, you buy your cards and then scratch off 25 slots in the hunt for matching symbols and your fortune.
Fast Buck Lucky: Fast-moving and with three games in one, Fast Buck Lucky stays true to its name and offers a top prize of $200,000.
Dabloons: Take to the high seas like a pirate of old in the hunt for hidden treasure. Dabloons features two bonus mini-games and has a top payout of $100,000. Play for as little as $0.10 or as much as $10.
Cash and Conquer: Conquer tracts of lands for the great Roman Empire to reveal instant cash prizes, free games, battles against barbarians or a chance to heal your army. Play for $0.10 up to $10 and win up to $25,000.
Spooky 7X7: This Halloween-themed game gives you a grid with 49 squares as you open seven of the twelve doors to reveal symbols on the grid. Win up to $200,000 when you find a complete horizontal, vertical or diagonal row of seven like symbols.
Lucky Peggs: Tap the chicken to lay three eggs that fall and bounce randomly through a maze of pegs as they land in one of three slots at the bottom of the screen to hatch a winning prize of up to $20,000.
Garden of Secrets: Hunt for hidden tiles in the relaxing Garden of Secrets to reveal the symbols within. Find three alike symbols to win as much as $50,000.
Bee to Zee: Part lottery game, part crossword puzzle – Bee to Zee has you crack wax cells in a big honeycomb to reveal the letters within. Each letter matches one of the letters in your word list and you win when you complete an entire word. Win up to $12,200.
Below are a few screenshots to give an idea of what PA iLottery games look like in action: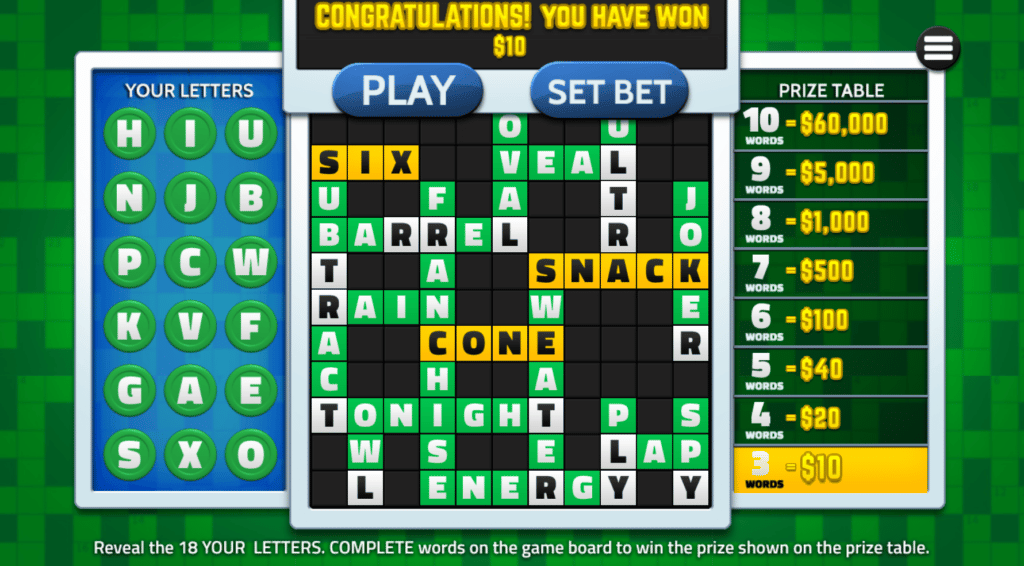 Online Lottery Tickets and Other Games
The Pennsylvania iLottery went live with just a small collection of instant win games at first, but PA iLottery is authorized to offer a wide range of games to potentially include: instant win games, lottery tickets, scratch cards, online keno and virtual sports. More games should be added to the list in the future as PAiLottery.com gets established.
Lottery officials have not committed to a specific timeline regarding the addition of new games, but we believe new games will be added in relatively short order. Online lotteries in other states have proven popular and the desire to keep revenue coming in prompts them to add new games on a regular basis.
If the Pennsylvania online lottery follows the lead of other states, we can reasonably expect to see online ticket sales to Powerball and Mega Millions, Cash 4 Life and smaller state drawings such as Pick 2, Pick 3, Pick 4, Pick 5, Cash 5, Match 6, Treasure Hunt and Millionaire Raffle.
Pennsylvania also rolled out Keno for its land-based lottery in 2018. In other states, keno is a proven moneymaker and we expect Pennsylvania to have the same experience. In that case, it would not be a surprise to see PA iLottery expand its offerings to include keno to go along with the instant play games and tickets to real-world drawings.
To be clear, this is only what we believe based on what we have seen in other states and from listening to lottery officials speak to the media. Ultimately, the decision to add games rests with the Pennsylvania Lottery. As new games are added, we'll update this review with information, screenshots and anything else you should know before you play.
PA iLottery Bonus Code: $5 Free for New Customers
New customers can get $5 free to try the games at PAiLottery.com. Just visit the lottery website, sign up for an account and then use the bonus code "BUSA" when asked if you have a promotional code. This will activate the bonus and give you $5 to try the games with no risk.
Winnings associated with the $5 bonus can be withdrawn after you make at least $5 worth of purchases online. After you've paid for $5 worth of lottery games, you're free to withdraw your winnings.
Get your bonus here: www.PAiLottery.com
And use this bonus code: BUSA
First Time Deposit Bonus: 50% up to $50
PA iLottery also offers a first time deposit bonus that you can claim when you make your first real money deposit. Just sign up for an account, make a deposit and use the bonus code DEP50 to claim your bonus.
The first deposit bonus adds an extra 50% to your first deposit of at least $10 to give you up to $50 in bonus funds. This means a $20 deposit will get you $10 extra or a $100+ deposit will give you $50 extra.
The bonus comes with playthrough requirements of 5 times the bonus amount. For example, a $20 deposit getting you a $10 bonus would require you to spend a total of $100 ($20 x 5) before withdrawing your bonus money.
Get your bonus here: www.PAiLottery.com
And use this bonus code: DEP50
How to Fund Your Account
After you sign up for an account and claim your $5 welcome bonus, you can start playing with your own money by logging in and visiting the cashier. Accepted deposit methods include debit cards, electronic bank transfers and PayNearMe. The minimum deposit is $10.
Credit card deposits are not accepted by the Pennsylvania online lottery. All automated PA lottery games, including self-service terminals, are only permitted to accept debit cards. Retailers may accept credit cards when selling lottery tickets in-person, but the website only accepts debit cards.
Electronic ACH transfers move money directly between your bank account and online lottery account. This method is easy to use and is available to anyone with a bank account. If you don't have a debit card, ACH is the way to go.
PayNearMe is a payment method based on vouchers that you can pay for in-person with cash only. If you choose PayNearMe as a deposit method, PA iLottery will give you a barcode that you can print out or display on your mobile device. You can then take that barcode to a local 7-Eleven, Family Dollar or CVS and use it to make a cash deposit to fund your online lottery account.
The minimum withdrawal amount is $10 and there is no maximum withdrawal amount. You can request a withdrawal by logging in to your account, visiting the cashier and choosing an amount to withdraw. PA iLottery processes all withdrawals within 72 hours via electronic transfer to your bank account.