Pennsylvania Online Lottery
$5 Free + 100% up to $250
Last verified on December 6, 2023
18+, T&Cs Apply. Gambling Problem? Call 1-800-GAMBLER
The Pennsylvania iLottery is the official, state-sanctioned website of the PA Lottery. Also known as the PA iLottery, Pennsylvania's online lottery launched in June 2018 and now offers players a collection of instant win scratch card games that offer real money prizes as high as $300,000.
An account with the Pennsylvania online lottery gives you the ability to make deposits, play real money games and then withdraw your winnings all from the comfort of home.
Game selection was fairly limited at launch, but the PA Lottery has released new titles regularly since then. Now, there are 70 instant win games on offer with max payouts reaching as high as $300,000 along with tickets to Powerball and Mega Millions.
Unlike many other lottery sites, PAiLottery.com is endorsed by the underlying lottery association it represents. In this case, that is the Pennsylvania Lottery. When you play online at PA iLottery, you are playing with the official state lottery. This means payouts are guaranteed by the state and the site functions according to state laws regulating the lottery.
USGambling.com will keep this PA iLottery review up to date as new games and promotions come online, so check back often for the latest word.
PAiLottery.com got off to a strong start early on with clean, stable software that works equally well on desktops, tablets and smartphones. The graphics on most games are crisp and games move along at a fast clip to keep things interesting. From a technical standpoint, everything looks good. None of this is any surprise considering the software platform is powered by a highly-experienced gaming company called Scientific Games.
Game selection has improved significantly since PA iLottery's initial launch. Early in its life, the PA online lottery only offered a small collection of instant win, scratch-off style games. Since then, the lottery has added dozens of instant win games and the ability to purchase tickets for major drawings.
Money spent at PAiLottery.com goes to benefit older Pennsylvanians just like it does in the real world. Last year, the lottery achieved sales of $4 billion and dedicated $1 billion of that to promote causes benefitting older PA residents.
PA iLottery Bonus Code: $5 Free for New Customers
New customers can get $5 free to try the games at PAiLottery.com. Just visit the lottery website, sign up for an account and then use the bonus code "BUSA" when asked if you have a promotional code. This will activate the bonus and give you $5 to try the games with no risk.
Winnings associated with the $5 bonus can be withdrawn after you make at least $5 worth of purchases online. After you've paid for $5 worth of lottery games, you're free to withdraw your winnings.
Get your bonus here: www.PAiLottery.com
Use the PA iLottery bonus code: BUSA
First Time Deposit Bonus: 100% up to $500
PA iLottery also offers a first time deposit bonus that you can claim when you make your first real money deposit. Just sign up for an account, make a deposit and use the bonus code DEP500 to claim your bonus.
The first deposit bonus adds an extra 100% to your first deposit of at least $10 to give you up to $500 in bonus funds. This means a $20 deposit will get you $20 extra while a $500+ deposit will give you $500 extra.
The bonus comes with playthrough requirements of 10 times the bonus amount. For example, a $20 deposit getting you a $20 bonus would require you to spend a total of $200 ($20 x 10) before withdrawing your bonus money.
Get your bonus here: www.PAiLottery.com
And use this bonus code: DEP500
Other PA iLottery Promotions
The PA iLottery has significantly boosted its promotional offering since the site first launched. Now, players can take advantage of something almost every day of the week to earn free plays, extra bonuses and cash prizes. These promotions will likely change on a regular basis, but the examples below should serve as a general guide as to the types of offers you'll see as a player.
Monster Monday: Earn 10% cashback on Monster Wins when you deposit of at least $25 and play Monster Wins on Mondays. If you don't win, you'll get 10% of your losses back for up to $25 in bonus money.
Watch Email Wednesday: Check your inbox on Wednesdays for word of a new offer. It might be a deposit bonus, cashback offer or something else you have to look forward to that day.
Fast Buck Lucky Cashback Thursday: Make a deposit of at least $25 and play Fast Buck Lucky for 20% cashback on your net losses if luck isn't on your side that day.
Foxin' Friday: Earn 20% cashback on Foxin' Wins when you make a deposit and play on Fridays.
Surprise Saturday: Visit PA iLottery and check the promotions tab on Saturday for a special offer. Surprises might include deposit bonuses cashback offers, entries into a prize drawing or something else entirely. I checked on a random Saturday recently and found a 30% cashback offer on the Big Money Slingo
Super Gems Sunday: Make a deposit and play Super Gems on Saturdays to get 10% cashback on your losses.
$1,000 Prize Draw: This was a recent promotion that gave $25 in bonus money to 40 winners. If you made a deposit during the promotional period, you were entered into the drawing.
How to Play the Pennsylvania Lottery Online
The official Pennsylvania Lottery website is open to anyone 18+ and located inside Pennsylvania. You can get started by visiting PAiLottery.com to sign up for an account. From there, you can try the games for free or visit the cashier to make a deposit in order to play for real money.
Also note that PAiLottery is required by law to verify your identity before allowing you to play for real money. When you sign up for an account, the website will also ask for the last four of your social security number. Providing your social also ensures the lottery can pay you in a timely fashion for wins over $600.
Once you have an account, you can log in and visit the "My Account" section to find the link to the cashier. From the cashier, you can choose a deposit method (debit card, ACH electronic bank transfer or PayNearMe) and follow the on-screen instructions to fund your account. This is also where you can request withdrawals if you have winnings you'd like to cash out.
Buy PA Lottery Tickets Online
In January 2020, the Pennsylvania Lottery added the ability to purchase tickets to Powerball and Mega Millions.
Now, customers can purchase Powerball and Mega Millions tickets online in singles or as ongoing subscriptions.
Powerball: Powerball tickets cost the same online as they do in-person. Players can purchase a single ticket for $2 with an optional $1 Power Play or buy multiple tickets into anywhere from 1 drawing to the next 26 drawings. Players can pick their own numbers or select the quick pick option for random picks.
Mega Millions: Buying Mega Millions tickets online works the same as purchasing Powerball tickets. Customers can purchase one or multiple tickets into a single drawing or for up to 26 drawings at a stretch.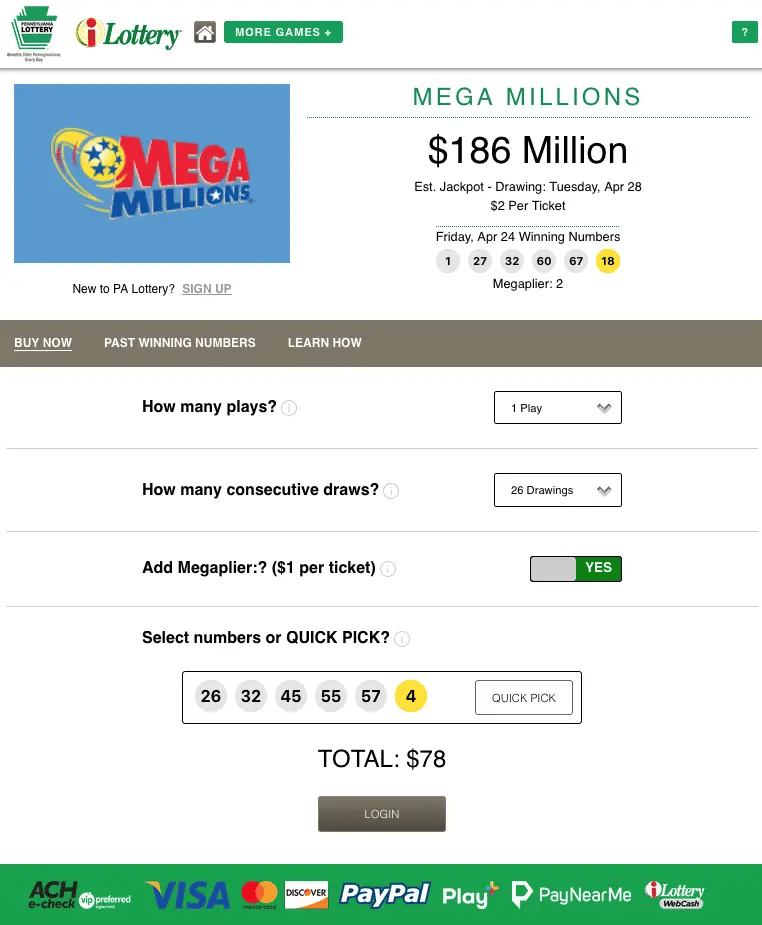 PA Online Scratch Off Games
The one type of game PAiLottery is prohibited from offering is anything modeled after actual casino games. This means blackjack, poker and basic slots are all off-limits. However, some of the instant win games already closely resemble slots in the way they look, feel and function.
For example, a game called Super Gems drops a variety of gyms down from the top of the screen. Whenever groups of similar gems land next to each other, those gems explode to reveal prizes. It feels a lot like a slot machine even though technically it is considered an "instant win" game.
Other games more closely resemble traditional scratch cards of the type you might buy at the gas station on the way home from work. For example, Monster Wins gives you a scratch card featuring a 4×4 grid of spaces that you scratch off to reveal matching symbols that reward prizes ranging from 1x to 4000x your purchase price. This one works just like the online equivalent of a traditional scratch-off ticket.
Currently, the Pennsylvania online lottery has 24 instant win games on offer. More games should be added in time. The selection is a bit sparse at the moment, but they games they do have on offer look and function quite nicely. Being able to win upwards of a quarter million dollars from the comfort of home is a nice bonus.
The full list of PA Online Lottery scratch games includes:
Super Gems
Gems fall from the sky and break upon impact when they land next to gems of the same type – it's sort like Bejeweled except with real money to be won. Fill up your bonus meter to active a bonus round that will have you spin a wheel for instant cash prizes and a guaranteed win. Keep spinning until the ticker lands on an empty spot. Wager anywhere from $0.10 to $10 per round and win up to $100,000.
Wagers accepted: $0.10 to $10 per round
Max win: $100,000
Theoretical return to player: 89.00%
Cash Towers
Every play gets you five spins of the wheel which sets the counters below each cash tower to spinning. The number each spinner lands on breaks that many bricks to bring the cash towner down and your prize ever closer to the bottom where it can be claimed. Sometimes spinners land on other shapes that activate one of two bonus games or unlock instant wins.
Wagers accepted: $0.50 to $10 per round
Max win: $150,000
Theoretical return to player: 85.00%
Crossword Cash
Play the crossword puzzle for a chance to win instant cash. Simply start a new game and then click the question marks to reveal your letters. Any corresponding letters on the crossword puzzle will be marked and watch your prize go up as you mark off complete words.
Wagers accepted: $0.10 to $10
Max win: $60,000
Theoretical return to player: 85.00%
Monster Wins
This simple monster matching game has you scratch off hidden symbols on a grid. Match three like monsters for a prize; match four like monsters for an even bigger prize. Match 3 bonus symbols to unlock five free games during which all prizes are doubled.
Wagers accepted: $0.01 to $20
Max win: $80,000
Theoretical return to player: 89.145%
Big Money Slingo
This is a bingo-style game that puts you in front of a bingo card and gives you five chances in every round to match your numbers to the numbers picked at random. Complete a full line or diagonal to win a cash prize and win multiple times with a single card if you're lucky.
Wagers accepted: $0.50 to $10
Max win: $100,000
Theoretical return to player: 84.65%
Foxin Wins
Buy a card, scratch it off to reveal symbols and get paid if you match three like symbols. If you match three pot symbols, you'll get to play five free games where all prizes are doubled.
Wagers accepted: $0.01 to $5
Max win: $10,000
Theoretical return to player: 87.598%
Cash in the Lamp
Unlock hidden treasures and major cash prizes by revealing what's hidden within each of the 25 flying carpets. Click or tap every carpet to reveal a symbol; get 3 or more in a row within any line to win a prize. Reveal a red carpet or 3 magic lamps to unlock a special bonus feature. In the red carpet bonus game, open chests to win prizes and keep going until you reveal the collect card. In the lucky lamps bonus game, you pick 1 magic lamp and win the prize inside.
Wagers accepted: $0.10 to $10
Max win: $100,000
Theoretical return to player: 86.70%
Bigfoot
This outdoorsy scratch and reveal game gives you four play cards every time as you look for three matching symbols and hunt for the elusive bigfoot. Three bigfoot symbols in a row is good for a payout of 1,000x your wager.
Wagers accepted: $0.01 to $5
Max win: $20,000
Theoretical return to player: 84.686%
Robin Hood
Take a trip to Sherwood Forest where Robin Hood and his Merry Men have plenty of gold to share. This game is played on a 4×4 grid which has you revealing symbols and earning payouts if you reveal three or four of the same symbol. Revealing three like symbols pays up to 1,000x your wager while revealing four pays up to 2,000x your wager.
Wagers accepted: $0.01 to $5
Max win: $20,000
Theoretical return to player: 88.316%
Super Cash Buster
Super Cash Buster is a collect'em game in which you roll a dice that determines the next color of bricks to be shattered. As you shatter bricks on the right side, they fill meters on the left side leading to prizes ranging in size from 1x to 20x. your wager. There are also special bricks on the ride side that unlock instant cash prizes, free rolls and mini games.
Wagers accepted: $1 to $10
Max win: $200,000
Theoretical return to player: 84.00%
Volcano Eruption
For once, an angry volcano is an omen of good thing to come. Scratch off your card to reveal 3 matching symbols for an instant cash prize. Match three volcano symbols to unlock the ladder bonus game in which you collect fire symbols to move up the ladder and collect increasingly valuable prizes.
Wagers accepted: $0.01 to $5
Max win: $250,000
Theoretical return to player: 87.447%
Big Eats Little
Navigate your little fish through a field of seaweed to collect shells and other goodies. Collect three of the same symbols to win a prize and eat smaller fish to grow your potential prizes, but look out – there is always a bigger fish in the sea. Take a wrong turn as you navigate the ocean floor and you just might find that you are the treat. Every game runs until you clear all the symbols or run into a bigger fish.
Wagers accepted: $0.10 to $10
Max win: $150,000
Theoretical return to player: 82.04%
Ballroom Bingo
Ballroom Bingo is the digital equivalent of the classic game we all played as kids. Each game starts with an empty bingo card and then 35 balls are drawn at random. Every match marks off a slot on your bingo card and a variety of winning patterns determine your payouts.
Wagers accepted: $0.10 to $10
Max win: $5,000
Theoretical return to player: 82.50%
Cash Out Cupcake
Get your card and unwrap nine cupcake boxes to find a delicious prize inside each. Things get extra sweet when you reveal three identical cupcakes to win the prize shown on the right.
Wagers accepted: $0.10 to $10
Max win: $8,000
Theoretical return to player: 84.90%
Dabloons
Get your shovel and dig for gold in this pirate-themed game from the PA iLottery. In Dabloons, you're given a shovel, an island divided into 24 squares and eight chances to dig for buried treasure. Dig up a gold coins for instant cash prizes and cannons or keys to unlock one of two bonus games that'll have you firing canons to sink ships or cracking open chests for even more winnings.
Wagers accepted: $0.10 to $10
Max win: $100,000
Theoretical return to player: 86.90%
Cash Buster Bonus
Play for $1 to $30 per scratch card for a shot at winning up to $300,000. Multiple bonus rounds and futuristic graphics make this a fast-moving, action-packed game.
Wagers accepted: $1 to $30
Max win: $300,000
Cash Buster Extreme
Play for $0.50 to $20 per round and win up to $200,000. Cash Buster Extreme is similar to the other Cash Buster titles but offers more chances to win free games as well as two unique bonus games.
Wagers accepted: $0.50 to $20
Max win: $200,000
Rainbow Fortunes
Match winning symbols to win as much as $200,000. In this simple but colorful game, you buy your cards and then scratch off 25 slots in the hunt for matching symbols and your fortune.
Wagers accepted: $0.10 to $20
Max win: $200,000
Fast Buck Lucky
Fast-moving and with three games in one, Fast Buck Lucky stays true to its name and offers a top prize of $200,000.
Wagers accepted: $0.50 to $20
Max win: $200,000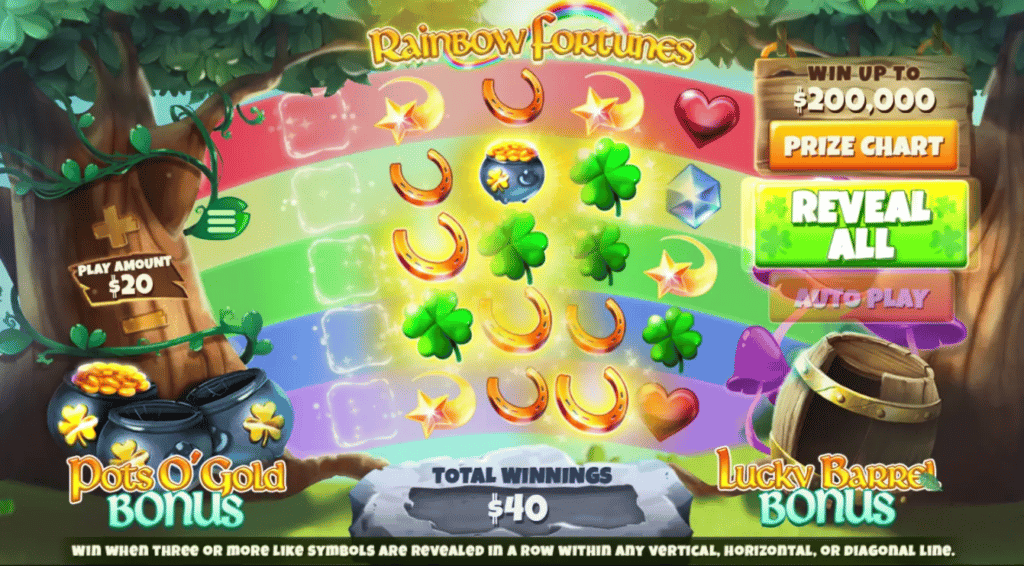 Pennsylvania iLottery Games
Pennsylvania iLottery launched with an initial selection of eleven online games and began adding more games later that month. Today, PA iLottery hosts dozens of games that resemble traditional scratch cards and arcade-style games in which you select an amount to wager and then scratch off symbols, roll dice or spin the wheel for cash prizes.
The initial launch was a bit short on games with just eleven on offer to start, but the site soon expanded to add additional games and continues to do so to this day. Current PA lottery law permits iLottery to offer most types of lottery games including: online keno, virtual sports betting and tickets to major drawings.
The one category of games the PA Lottery is not allowed to offer online is casino-style games. Current regulations prohibit "games that represent physical, Internet-based or monitor-based interactive lottery games which simulate casino-style lottery games, specifically including poker, roulette, slot machines or blackjack."
What this means is you won't be seeing blackjack or slots available at PAiLottery.com any time soon. However, some of the online games that are available now closely resemble slots nonetheless. The PA Lottery has wide latitude in the types of games it may offer as long as traditional casino games are avoided.
Wager sizes are flexible, with games accepting wagers as small as $0.01 and as much as $20 per round. In all games, bigger wagers unlock greater potential rewards.
Something nice the Pennsylvania Lottery website does for players is publish the theoretical return to player (RTP) for all games. This stat tells us what percentage of wagers are returned to players in the form of prizes. The higher the RTP, the lower the house advantage and the better it is for players.
For example, a game with an 85% RTP would pay out $85 in prizes for every $100 wagered while a game with an RTP of 90% would return $90 in prizes for every $100 wagered. The important thing to keep in mind when looking at RTP values is that the RTP is only an average over the long term. Your actual RTP in any single session may be significantly higher or lower than the published RTP.
While most lotteries in the real world are known for low payout percentages, the Pennsylvania online lottery games are actually pretty generous. All games in the collection have RTP rates ranging from 84% to 89.145%.
How to Fund Your Account
After you sign up for an account and claim your $5 welcome bonus, you can start playing with your own money by logging in and visiting the cashier. Accepted deposit methods include debit cards, electronic bank transfers and PayNearMe. The minimum deposit is $10.
Credit card deposits are not accepted by the Pennsylvania online lottery. All automated PA lottery games, including self-service terminals, are only permitted to accept debit cards. Retailers may accept credit cards when selling lottery tickets in-person, but the website only accepts debit cards.
Electronic ACH transfers move money directly between your bank account and online lottery account. This method is easy to use and is available to anyone with a bank account. If you don't have a debit card, ACH is the way to go.
PayNearMe is a payment method based on vouchers that you can pay for in-person with cash only. If you choose PayNearMe as a deposit method, PA iLottery will give you a barcode that you can print out or display on your mobile device. You can then take that barcode to a local 7-Eleven, Family Dollar or CVS and use it to make a cash deposit to fund your online lottery account.
The minimum withdrawal amount is $10 and there is no maximum withdrawal amount. You can request a withdrawal by logging in to your account, visiting the cashier and choosing an amount to withdraw. PA iLottery processes all withdrawals within 72 hours via electronic transfer to your bank account.
Local Casinos Not Fond of PA iLottery
Pennsylvania's land-based casino operators have never been enamored with the instant win games offered by the lottery. Shortly after the PA Lottery went online, casinos sent a letter to then-governor Tom Wolf demanding that the instant win games be shut down or be ready to face legal action.
At issue are the instant win games, which local casinos contend look and function just like online slots. That's a problem because the law that authorized the lottery to go online specifically bars the lottery from offering games that resemble "casino-style lottery games, specifically including roulette, poker, slot machines or blackjack.'
Presumably, the law is written as such to keep the lottery and casino industries from getting in each other's way, as both gained the ability to take their games online in 2017. To add further insult to injury, PA iLottery games come with a minimum age of 18 while actual online casinos are restricted to anyone under 21.
State officials denied the casinos' demands and the casinos filed suit. That court case dragged on for years, but the state ultimately sided in favor of the lottery, allowing PA iLottery to continue operations as normal to this day.