PointsBet originated in Australia back in 2017 and has introduced its modern take on sports betting in Michigan, New Jersey, Illinois, Iowa, Indiana, and Colorado.
PointsBet.com offers all your typical run of the mill types of wagers, but what really sets it apart from the pack is its unique form of betting called "PointsBetting." As opposed to classic fixed odds wagering, PointsBetting is a high-risk, high-reward alternative in which you select an amount to wager per point and win or lose based on the amount you are right or wrong.
For example, if you bet $1 per point on the over in an NBA game and the total ends up going over by 15 points, you win $15. The same also applies in reverse, of course, but customers are able to set custom win/loss limits on every wager.
This can be enormously exciting when things are going your way and more than a little unnerving when the game takes a turn for the worse. Additionally, your potential winnings or losses remain in a constant state of flux up until the conclusion of the game. We'll go into more detail how it works shortly, but suffice it to say this is not your standard sportsbook.
On the marketing side, PointsBet has teamed up with sporting royalty to help push the brand to the masses. NBA Hall of Famer and 2001 League MVP Allen Iverson, as well as likely future NFL Hall of Famer Darrelle Revis, serve as the top brand ambassadors for the company. Even more notably, PointsBet teamed up with NBC Sports in August 2020 to partner on marketing across the entire NBC Sports network as the company's exclusive sports betting partner.
Key facts:
Types of Gambling Offered: Standard sports betting and PointsBetting
Established: 2017
Holds Mobile Betting Licenses in: Michigan, New Jersey, Illinois, Indiana, Iowa, and Colorado
Deposit methods: Credit card, debit card, ACH/E-Check, and prepaid PointsBet card
Payout methods: Credit card, debit card, ACH/E-Check, and prepaid PointsBet card
PointsBet Sports Betting Review
Despite its relative youth compared to almost all the mainstream competition, the unique PointsBet approach to online sports betting and aggressive advertising has helped the site double its share of the NJ market since launching.
To place bets through the PointsBet sportsbook, you must be 21 years of age and be physically located in New Jersey, Iowa or Indiana. Note that this does not mean you need to be a resident; simply traveling to an accepted state suffices.
Sports leagues covered by PointsBet cover a world of competition including all the major North American and international leagues.
| | | | |
| --- | --- | --- | --- |
| Football (NFL and CFL) | College Football | Basketball (NBA and international) | College Basketball |
| Hockey | Baseball (MLB and Mexican League) | Soccer (MLS and international) | Tennis |
| MMA | Golf | Boxing | Aussie Rules |
| Cricket | Cycling | Darts | Entertainment |
| Motor Racing | Rugby Union | | |
Types of wagers on offer include the aforementioned PointsBetting markets plus standard wagers including moneylines, point spreads, totals, prop bets and in-play wagering. PointsBet.com also offers a "pick your own" option on spreads, totals and props that allows customers to customize certain wagers and receive adjusted prices.
As far as depth of coverage goes, PointsBet claims to offer "more betting markets than any competitor." That is a bold claim, but it seems to be true. The array of options for any individual game is comprehensive. For example, a recent NFL game covered by PointsBet featured 185 individual pre-game wagers in addition to in-play betting and PointsBetting markets.
Before we even get into PointsBetting, some of the standard pre-game wagers are quite unique in their own right. For instance, PointsBet provides over/under wagers on the number of fantasy points to be scored by certain players (based on PPR scoring from ESPN fantasy) and a "Name A Bet" options that let users send a tweet to @PointsBetUSA for odds on custom wagers.
A random sampling of recent Name A Bet markets offered on a recent NFL game includes "any player to get 100+ rushing yards" and "Aaron Rodgers to get 250+ passing yards and Packers win by 14+."
Customers can also visit the Revis Betting Academy page on PointsBet.com for more details on the various types of wagers and how they all work. Here, Darrelle Revis provides all the info you need to fully understand the full PointsBet menu.
PointsBet Screenshots
How PointsBetting Works
PointsBetting drops your typical fixed odds in favor of a varied winning or losing amount. The website sums it with two simple sentences:
"The more you're right, the more the win. The more you're wrong, the more you lose."
If your PointsBetting wager wins by 1 unit (or point), you win 1x your bet. If your wager wins by 3 units, you earn 3x your original stake and if your bet wins by 20 units you win 20x your original stake.
As nice as this sounds, it can also work against you. If you bet on the over at $1 per point and the total comes in 15 points short, you lose $15. The same also applies to wagers on the spread, player totals, time of the first score and the many other types of PointsBetting markets offered for each game.
Risk averse customers will be glad to know all PointsBet come with established max win/max loss stops along with the ability to customize your limits. For example, an NFL totals market will let you set the max loss anywhere from 10x to 40x. This means you can wager $0.50 per point on the total and set the max loss to 10x for a maximum loss of $5.00 on that market. This also limits your upside, but at the very least you can set a clearly defined "worst case scenario."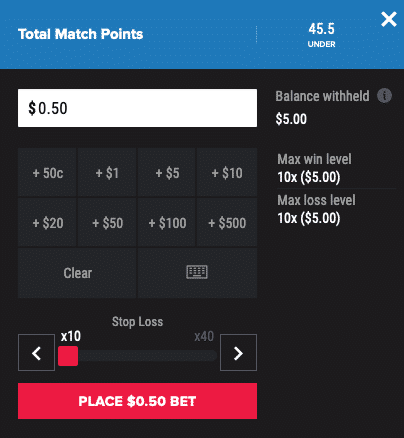 PointsBet Bonuses and Promotions
PointsBet US offers a large welcome bonus to all new customers plus an active roster of short-term promotions based on the sports that are in season at the moment.
$1,000 PointsBet Welcome Bonus
Use the promo code "WELCOME" when signing up for an account to claim two risk free bets worth up to $500 each.
One risk-free bet is offered for your first standard, fixed-odds wager while the other is for your first PointsBetting wager. If either one loses, PointsBet will refund your money on that wager for up to $500 in site credit.
Ongoing Promotions at PointsBet.com
In addition to the welcome bonus, PointsBet.com launches new promotions on a revolving basis throughout the year. This is one of the more active mobile sportsbooks on the market in terms of bonuses with many options to choose from at any given time.
For a little perspective, PointsBet had ten promotions on offer the day this review was written. These promotions included early payouts on NFL wagers if your team scored the first touchdown, money back if your NFL wager lost by three or fewer points, bonus money for every touchdown scored by your team, a $25 matched bet bonus on your next in-play tennis wager, early payouts if your soccer team got up by two goals and more.
The types of promotions are constantly changing, but they are always unique and usually worth checking out.
Good Karma Payouts
PointsBet introduced "Good Karma Payouts" shortly after launching as a way to give back to customers who are on the receiving end of terrible calls or bad luck. In one early example, PointsBet refunded all customers who bet on an NFL game and lost after the ref made a terrible call.
PointsBet still offers sitewide good karma payouts, but it has since introduced personal good karma payouts as well. Customers who place at least 10 bets in a single month can e-mail PointsBet at the end of the month and request their most painful loss to be refunded with up to $100 in free bets.
In-Play Betting
PointsBet hosts in-play betting markets each day for the major games of the day. This includes NFL, MLB, NHL and NBA games along with in-play betting on tennis, soccer and major international contests.
Odds are constantly updated in real time and PointsBet provides an up-to-date scoreboard to relay some basic info from the game in question. Advanced features such as in-depth stats and betting trends are missing in action, however, which puts PointsBet at a disadvantage compared to some of the competition.
The types of in-play betting markets on offer are varied and the odds are quite competitive, but PointsBet could improve the interface itself. Adding a virtual representation showing possession and the outcome of each play would go a long way in cutting the gap between PointsBet and the in-play market leaders.
PointsBet Mobile App Review
Mobile users can head to PointsBet.com for a mobile-optimized website or download the official app for iOS and Android devices.
The mobile website can get you by in a pinch, but we recommend getting the PointsBet app if you plan to be doing much betting on the go. The mobile website is limited not just in features, but also in the number of markets on offer. Get the app for the full menu, including in-play wagering and PointsBetting markets.
Our experience with the PointsBet iOS app has been positive. We have had no issues with location verification or anything else for that matter. It's clear PointsBet has a quality software team in place.
One minor gripe is sometimes the names of teams are scrunched up on the side of the screen when viewing the in-play betting schedule as you can see in one of the screenshots below. To be fair, we did test the app on an older iPhone. This may not even be an issue on newer models, but even if it is, it's not a major problem.
Mobile Screenshots
Online Horse Racing Betting
PointsBet is able to offer fixed-odds horse racing betting to New Jersey customers thanks to a deal reached with BetMakers Technology Group, which is an Australian firm that was previously selected by Monmouth Park racetrack to deliver and provide fixed-odds horse racing betting on behalf of the track.
The deal allows PointsBet to offer fixed-odds horse racing betting rather than the usual parimutuel form of wagering traditionally employed for horse racing. This means that when customers place horse racing wagers through PointsBet, they receive fixed odds that do not change after the bet has been placed. This is in contrast to parimutuel wagering in which the odds ebb and flow based on public betting handle.
PointsBet only offers fixed-odds horse racing betting to New jersey customers currently, but the company says it has plans to expand the concept to additional markets pending regulatory approval.
Customer Support
E-mail: service@pointsbet.com
Live chat
FAQ
Customer support at PointsBet is provided via e-mail, live chat and a basic FAQ page. The lack of phone support is a negative, but we submitted a test question to their live chat people for this review and were given surprisingly fast customer service.
As soon as we submitted a live chat question, a site representative joined the chat, welcomed us and asked how he could help. There was zero wait time and we noticed how the rep made sure he understood the question and then came back with an on-target answer – good experience all around.
Deposits and Withdrawals
PointsBet supports a standard variety of deposit and withdrawal options:
Visa and Mastercard (credit and debit)
Online banking
Prepaid PointsBet Mastercard
PayNearMe
ACH/eCheck