PointsBet Sportsbook Review
5x $50 Second Chance Bets
Last verified on June 2, 2023
21+, T&Cs Apply. Gambling Problem? Call 1-800-GAMBLER
PointsBet is a legal online sportsbook that offers standard sports betting plus a form of wagering unlike anything else on the market called PointsBetting.
Based on our experience with the company, PointsBet Sportsbook seems to take a three-pronged approach to mobile betting in the USA:
Comprehensive traditional betting markets: PointsBet claims to offer the most markets for the NFL, NBA, MLB, and NHL, including as many as 1,000 wagers for individual NBA games alone
Unique PointsBetting markets: PointsBet is the only sportsbook on the market with a form of wagering that lets customers wager per point on games for variable payouts that increase the more accurate the prediction
Value-added promos for customers: PointsBet is a promotions-heavy operator with new offers released often, including the occasional "Good Karma refund" for all customers who suffer a particularly brutal bad beat caused by exceptionally bad luck or a blown officiating call
The remainder of this PointsBet review will discuss the concept in detail and provide readers with a complete picture of what to expect. Below, we will explain how PointsBet works, where it is strong, and where it could stand to improve.
Quick Facts
Established: 2017
Licensed and operational in: CO, IA, IL, IN, MI, NJ
Welcome bonus: Five second chance bets worth $50 each
Bonus code: BUSA
Deposit methods: Credit/debit card, PointsBet Mastercard, cash at the casino, PayNearMe, PayPal, ACH/eCheck, online banking
Withdrawal methods: ACH/eCheck, online banking, cash at the casino, PayPal
How PointsBet Works
The PointsBetting concept operates in a class of its own as a form of high reward, high-risk wagering.
Whereas standard fixed-odds wagers function in a binary right/wrong fashion, PointsBetting wins and losses are variable. With a PointsBetting bet, you choose an amount to wager per point and win or lose based on the accuracy of your prediction.
PointsBet.com sums it up with two simple sentences:
"The more you're right, the more the win. The more you're wrong, the more you lose."
If your PointsBetting wager wins by 1 unit (or point), you win 1x your bet. Likewise, if your bet wins by 20 units, you win 20x your original stake.
It's not an overly complicated form of betting, but it is unique. An example explains it best.
PointsBetting Example
Imagine an NBA game with the total set at 215.
A traditional fixed-odds wager would have you bet on the over or under, and your bet would either win or lose. You either win the full payout (roughly double your money) or nothing at all.
A PointsBetting wager would work differently by having you pick an amount to bet per point over or under the total. For example, you might wager $10 per point on the OVER.
If the final total in this example comes in at 225, you win a $100 payout (10 points over the total x $10 per point).
But beware – PointsBetting can also work against you: if you wager $10 per point on the over, and the total comes in five points under, you're out $50 (five points under x $10 per point).
Spread Betting Example
PointsBetting is not limited to totals. The concept can be applied to a wide variety of bets, including point spreads.
Imagine an NFL game with Team A favored by six points over Team B.
If you decide to bet on Team A, your payout will be determined by how Team A performs against the six-point spread.
Let's say you bet $5 per point on Team A, and they win the game by two touchdowns. In this case, you would net a $40 profit because they covered the spread by eight points (8 points over the spread x $5 = $40).
Setting Limits to Mitigate Downside Risk
PointsBetting is riskier than standard sports betting, but risk-averse bettors can set win and loss limits for each wager ahead of time. If you specify a loss limit, your winnings will also be limited, but you will ensure a single bet doesn't cost more than you're comfortable losing if it goes against you.
For example, this NFL totals market allowed us to set a max loss ranging from 10x to 40x.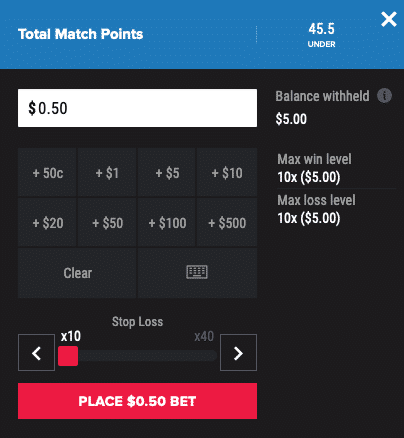 If you would have wagered $0.50 per point on the total and set the max loss to 10x, the absolute worst-case scenario would have been a $5.00 loss. In short, PointsBetting is still very accessible to budget-minded bettors.
The Upshot
The PointsBetting experience can be enormously exciting when things go your way and more than a little unnerving when the game takes a turn for the worse.
And with your winnings in a constant state of flux until the conclusion of the game, every point and play take on greater significance for a viewing experience unlike any other.
PointsBet Bonus Code and Promotions
PointsBet welcomes all new customers with a five-part bonus worth up to $250 in total plus a regular lineup of ongoing promotions throughout the year.
Some credit is also due to PointsBet for enforcing no rollover requirements on second chance bets. It is a longstanding PointsBet policy never to force customers to place X amount in wagers as many other sportsbooks do. Anything you win with a bonus bet may be withdrawn immediately.
New Customers: Five Second Chance Bets Worth up to $250
New PointsBet customers can places their first five wagers and get second chance bets worth up to $50 on each. For five days after registering, new PointsBet customers can place their first fixed-odds wager each day to get started. If it loses, PointsBet will match the losing wager with a bet credit worth up to $50. In all, that's up to $250 in bet credits on losing wagers.
Use the promo code BUSA when signing up for an account to claim this offer. After you sign up and deposit, your first wager for each of the next five days will be backed with up to $50 worth of bet credit refunds should they lose.
Ongoing Promotions at PointsBet.com
In addition to the welcome bonus, PointsBet.com launches new promotions regularly throughout the year. This is one of the more active mobile sportsbooks on the market in terms of bonuses with many offers to choose from at any given time.
For a little perspective, below are two snapshots of the promotional lineup at two different points in time.
PointsBet had ten promotions on offer when we checked on a random day during the latest NFL season.
These promotions included early payouts on NFL wagers if your team scored the first touchdown, money back if your NFL wager lost by three or fewer points, bonus money for every touchdown scored by your team, a $25 matched bet bonus on your next in-play tennis wager, early payouts if your soccer team got up by two goals and more.
When we checked back later during spring basketball season, PointsBet had an entirely different selection of promos consisting of offers such as:
Best college basketball prices: During March Madness, PointsBet promised to offer the best pregame spreads, moneylines, and totals on all college basketball games
Personal good karma refund: At the conclusion of March Madness, PointsBet let customers submit their worst bad beat of the tournament to receive a refund worth up to $50 in second chance bets
Daily parlay boosters: Log in every day for a parlay booster token – use it on a 3+ leg parlay of your choice for an enhanced payout
Daily single game parlay booster: Similar to the above promotion, this offer gives users a single-game parlay token to use every day for an enhanced payout on any one-game parlay with 3+ legs
Regular odds boosts: PointsBet often offers odds boosts on select markets, such as moving a team from +150 to +175 or an MMA fighter from +100 to +120
PointsBet Refer-a-Friend Program
PointsBet offers $100 in bonus bets for every friend you refer. You can refer friends by signing into your account, visiting the "My Account" page, and copying your unique referral link to give to your friends.
You and your friend will each receive $100 in bonus bets once your friend signs up, deposits at least $50, and places a $20 or greater cash bet.
PointsBet Loyalty Program
PointsBet runs two loyalty programs. One is open to everyone, and the other is by invitation only.
All customers automatically participate in the standard loyalty program, which issues Reward Points (RPs) in return for placing wagers. As bettors amass RPs, they can redeem them for bonus bets at a rate of 1 RP per $0.01 in bonus bets. For example, 500 RPs would be redeemable for a $5.00 bonus bet.
Customers earn RPs at the following rates:
1 RP for every $5 in fixed-odds bets
1 RP for every $1 wagered on parlays
1 RP for every $1 won or lost on PointsBetting markets
Additionally, PointsBet runs an exclusive VIP program for select customers called the Diamond Club. The Diamond Club is by invitation only, and PointsBet does not reveal much about how guests qualified other than to say membership is reserved for "the top loyal clients."
Diamond Club perks include custom promotions, VIP access to tickets and events, chances to meet PointsBet ambassadors, exclusive 24/7 customer support, and more.
Karma Kommittee
The PointsBet Karma Kommittee is a highly publicized and popular program in which PointsBet reviews brutal bad beats caused by bad calls, acts of nature, and terrible luck.
If the Karma Kommittee finds a sporting occurrence outlandish or just plain painful enough, it will refund everyone who lost a bet under the unusual circumstances.
One particularly high-profile Good Karma refund occurred in January 2020 when PointsBet refunded all Yankees AL Championship and World Series futures bets in full due to the Astros sign-stealing scandal.
PointsBet Sports Betting Review
In addition to the PointsBetting markets we have discussed in detail thus far in this PointsBet review, customers will find a full-fledged traditional sportsbook as well.
PointsBet Sportsbook offers a full menu of traditional sports betting wagers, with markets for the major US leagues, college games, and international events. In fact, PointsBet often posts games with more betting markets than any other sportsbook.
Overall, PointsBet is a full-featured sportsbook with numerous features, a wide range of bet types, frequent promotions, and competitive odds.
The biggest miss right now is a lack of live streaming sports. PointsBet offers in-play betting and live stats, but it has not yet integrated live game broadcasts as some of its competitors have.
Game Day Guarantee: Sharps Welcome
PointsBet is one of a tiny pool of sportsbooks, and the only mainstream operator, to court sharp bettors who may be limited elsewhere.
The Game Day Guarantee promises PointsBet will honor minimum bet-to-win amounts of $10,000 for all customers on game day for all MLB games, all NBA and NHL playoff games, and the NFL season. The guarantee starts at 10 AM ET on gameday and covers all spread line and moneyline wagers.
The move is great for winning bettors who have been limited to tiny bet amounts by other sportsbooks, but it is not all-encompassing, as some Twitter users have noted.
The offer does not guarantee sharp players can pounce on mispriced lines the minute they are posted. But still, it is a useful offer for bettors who have been limited across the board elsewhere.
Single Game Parlays
PointsBet supports single game parlays for certain sports, allowing customers to pick several betting markets and wrap them up into a single parlay for a large payout.
Bettors can construct single-game parlays by visiting the betting page for an upcoming game and selecting the single-game parlay tab. For example, we built the following parlay for an upcoming Knicks vs. Wizards game:
Knicks to win (-2.5 -110)
Total to exceed 226.5 points
Knicks moneyline at -145
PointsBet accepted the parlay and offered odds of +247.
Name A Bet
Customers can request custom bets through the PointsBet interface. To do so, login to the PointsBet app or website and select "Name A Bet" from the main navigation menu.
There, you can view featured bets, boosted odds wagers, and custom requests from other customers that PointsBet has accepted. You can also submit your own request by submitting your e-mail address, choosing your sport, and writing a brief description of what you want.
If PointsBet accepts your bet (which includes checking to ensure your request complies with local sports betting regulations), it will set a price and alert you via e-mail. PointsBet notes it can get markets up quickly and that customers just need to make their request at least two hours before the game begins.
Cash Out
PointsBet offers a cash out option for select sports, allowing customers to close pending bets before the game has ended.
If the cash out option is available on a bet you have placed, you can exercise the option to close it early. PointsBet will close the wager so that you can either collect some of your winnings early if the bet is winning or salvage some of your stake for a bet that is losing.
Quick Parlay Tool
Typically, building a parlay involves browsing the sportsbook and adding wagers to your betting slip. The quick parlay tool offers a more efficient way to construct parlays.
Select the "Quick Parlay" option in the main navigation menu to visit a page where you can select your sport and then choose "moneyline," "spread," or "total" to see a simple list of markets that fit those guidelines, which you can quickly add to your parlay.
Betting Previews
PointsBet provides detailed betting previews for some games. Other sports offer previews as well, but none give anywhere near the same level of detail. PointsBet's previews are useful, timely, and interesting.
PointsBet Odds Review
On a regular day, PointsBet's odds are roughly in line with the industry average. Sometimes PointsBet offers the best odds for a game; sometimes another sportsbook has the edge.
However, PointsBet often gains a bigger advantage when it launches special promotions such as its frequent odds boosts and the occasional best price guarantee. For example, PointsBet guaranteed the best pregame odds on all college games for the duration of the last March Madness tournament.
Selecting three NBA games at random, here's how PointsBet compares to two other mainstream sportsbooks.
Game
PointsBet Odds
BetMGM Odds
William Hill Odds
Wizards
Vs
Knicks
+125

-145
+115

-139
+125

-145
Clippers
Vs
Spurs
-240

+190
-238

+195
-244

+205
76ers
Vs
Lakers
-185

+155
-189

+155
-185

+165
Sports Covered and Types of Wagers Offered
PointsBet offers wagers on a world of sporting competition, covering all the major professional sports in the US, plus college games and international events.
Market depth is a strong point for PointsBet. PointsBet likes to boast that it offers more markets on all four major US sports and sometimes provides up to 1,000 markets per NBA game. In our experience, this is true – especially as tip-off or kickoff approaches.
It's also worth noting that PointsBet often provides unique markets. For example, PointsBet is the only sportsbook that offers wagers such as:
Quarterback completion percentage
Time of the first touchdown in seconds
Player shooting percentages (field goal, free throw, 3-point, etc.)
Player points * assists * rebounds
And more
PointsBet offers the above wagers in addition to a standard contingent of pregame and in-play betting markets. Some of the options include moneylines, point spreads, totals, prop bets, and even wagers on the number of fantasy points to be scored by certain players based on ESPN fantasy scoring rules.
Sports Covered (varies by season):
Athletics
Australian Rules
Baseball
Basketball
Beach Volleyball
Boxing
Cricket
Cycling
Darts
Esports
Football
Golf
Handball
Hockey
Mixed Martial Arts (UFC, Bellator, and others)
Motor Sports
Netball
Novelty and Entertainment
Rugby League
Rugby Union
Snooker
Soccer
Surfing
Swimming
Table Tennis
Tennis
Volleyball
Sports Betting Interface
PointsBet uses a dark mode-style interface that may not appeal to everyone, but most customers seem to prefer the PointsBet interface over all others. The interface is best described as "clean," with a simple labeling system.
Upon logging in, customers can see a listing of upcoming and popular games. The interface provides key information upfront, making it easy to get oriented and understand what's happening today. When viewing the homepage or any league's page, customers can see the following info at a glance:
Team names and league
Start time
Hours and minutes until the game begins
Total number of betting markets available for that game
Current spread, total, and moneyline odds
One issue every sportsbook must solve is providing customers with all the info they need without delving into information overload territory. PointsBet strikes the right balance in that regard for mobile and desktop users alike.
Desktop Screenshots
PointsBet Mobile App
Mobile bettors can head to PointsBet.com for a mobile-optimized website or to download the official standalone app for iOS and Android devices.
The PointsBet app reflects much of what we've discussed so far in this review: it is easy to use, boasts a clean interface, and is packed full of features. Using the PointsBet app is a pleasure in almost every regard.
That's not to say PointsBet is the perfect sportsbook for everyone. as we will discuss in the next section about in-play betting. But from a technical standpoint, the mobile app absolutely nails it in terms of usability.
There is one ongoing issue that will frustrate some people, though. We have even seen some bettors report switching sportsbooks just because of this one issue:
The PointsBet app has a problem saving login information locally. PointsBet's Face ID and Touch ID login methods often fail, forcing users to type in their e-mail addresses and passwords by hand every time. This can be a very annoying problem for users with complicated passwords.
Mobile App Screenshots
In-Play Betting Review
PointsBet hosts in-play betting markets each day for a wide range of sports. This includes NFL, MLB, NHL, and NBA games along with in-play betting on tennis, soccer, and international competitions.
In-play betting is not PointsBet's strongest point. PointsBet covers dozens of events every day with live betting markets, but the number of markets per event lacks. Additionally, the interface does not offer much by way of live stats, visual depictions of the action, or streaming video.
Odds are constantly updated in real-time, and PointsBet provides an up-to-date scoreboard to relay some basic info from the game in question. However, advanced features such as in-depth stats and betting trends are missing in action, which puts PointsBet at a disadvantage compared to some of the competition.
The PointsBet in-play betting experience is pretty bare-bones at this stage. It covers the basics, but this is not the first sportsbook we would recommend if live betting is near the top of your priority list.
In-Play Betting Screenshots
Online Horse Racing Betting with PointsBet
PointsBet will soon launch fixed-odds horse racing betting to New Jersey customers due to a deal reached with BetMakers Technology Group, an Australian firm that Monmouth Park racetrack previously selected to deliver and provide fixed-odds horse racing betting on behalf of the track.
The deal allows PointsBet to offer fixed-odds horse racing betting rather than the parimutuel form of wagering traditionally employed for horse racing. When customers place horse racing wagers through PointsBet, they receive fixed prices that do not change after the bet has been placed. This is in contrast to parimutuel wagering, in which the odds ebb and flow based on public betting handle.
PointsBet will only offer fixed-odds horse racing betting to New jersey customers for now, but the company says it has plans to expand the concept to additional markets pending regulatory approval.
PointsBet Deposit Methods
PointsBet accepts a variety of common deposit methods that will make it easy for most new customers to fund their accounts. Availability varies by state, but customers in every state have access to three or more instant online funding methods.
Credit and debit card: PointsBet accepts credit and debit card deposits but notes that this is the least successful method due to many banking institutions automatically blocking transactions related to online gambling
PointsBet Mastercard: PointsBet recommends this deposit method above all others due to its speed, reliability, and ability to receive withdrawals. Upon signing up, you'll be able to make an instant online deposit of up to $5,000 using the card's credentials. Later, you will receive a physical card by mail that you can use at ATMs or to shop where Mastercard is accepted. The PointsBet Mastercard is NOT a credit card – it functions more like a reloadable gift card.
Cash at the Casino: In some states, customers can visit a casino affiliated with PointsBet to make cash deposits and withdrawals. There is no limit to how much customers can deposit with this method.
PayNearMe: Choose PayNearMe to generate a payslip that you can take to a nearby convenience store, pharmacy, or dollar store to fund your account with cash. After choosing this method, you can input your zip code to find the nearest deposit site. PointsBet will credit the deposit to your account within 30 minutes.
ACH/eCheck: Choose this method to transfer funds from your bank account directly to your PointsBet account. The deposit will be credited to your PointsBet account immediately, but it may take up to three days for the funds to be debited from your bank account.
Online Banking: Choose this method and select your bank from the dropdown list (most banks accepted). A separate window hosted by your bank will appear, allowing you to login using your existing online banking username/password to authorize the transaction. With this method, you do not have to share your account and routing numbers because your bank processes the transaction on your behalf. If your bank is not supported, ACH/eCheck is the closest alternative.
PayPal: PayPal is a convenient deposit method that provides instant deposits and quick withdrawals. If you don't already have a PayPal account, visit PayPal.com to get started.
Customer Support
PointsBet provides a comprehensive self-help guide. Customers can speak with a representative via e-mail or live chat. PointsBet support is courteous and competent, but the lack of 24/7 phone support is a miss.