10 Free Games + 50% up to $100
Last verified on December 6, 2023
18+, T&Cs Apply. Gambling Problem? Call 1-800-GAMBLER
The Michigan Lottery began offering games in 2014 after lottery officials decided to take their games to the internet. Some state lawmakers and the attorney general at the time opposed the idea, but were powerless to do anything about it due to existing state laws granting the lottery wide latitude to launch new games.
The Michigan Online Lottery is one of the few 100% legal lottery sites in the US today. This is not a third-party agency that sends runners out to buy tickets on your behalf; MichiganLottery.com is run by the actual state lottery.
If you're 18 or older and are a resident of Michigan, you can visit the lottery website to buy tickets online, play instant win scratch games or test your luck with instant keno. All games are operated by the Michigan Lottery and offer real, instant payouts directly to your account. Additionally, an account with the Michigan Lottery allows customers to view current jackpots, find nearby lottery retailers, scan tickets for winners and more.
All purchases made at MichiganLottery.com go to the state lottery fund and are divvied up according to the pie chart displayed below. To date, the Michigan Lottery has contributed more than $21.4 billion to educational efforts.

MichiganLottery.com and its associated mobile apps are run by the state lottery and are authorized by law to sell lottery products online. Customers who play through the official website or mobile apps pay the same ticket prices and have the same chances of winning as customers who purchase tickets in person at retailers.
In summary, MichiganLottery.com is the most comprehensive lottery site to launch in the United States to date. A handful of states have authorized online lottery sales in recent years, but most are still fairly limited in what they actually offer online. The Michigan lottery app offers just about everything except actual casino games.
The remainder of our Michigan Lottery review will discuss in more detail how it all works, which games are offered, what types of welcome bonuses they offer to new customers and how to fund your account.
Michigan Lottery Promo Code: 50% up to $100 + 10 Free Instant Win Games
The Michigan Lottery offers new online customers two welcome bonuses as an incentive to sign up for an account and try a few games. First, you can play 10 free online games just for signing up for an account.
You can claim the 10 free games offer by using any link on this page to visit the MI Lottery. There, you'll be taken to a special landing page mentioning the bonus. Sign up for an account there and use the Michigan Lottery promo code BETUSA to claim your 10 free instant games.
Second, the lottery will give you an extra 50% in bonus credits worth up to $100 after you fund your account or make your first purchase. Whatever the amount of your first direct purchase or approved deposit, MichiganLottery.com will add an extra 50% to your account in bonus credit.
This means if you make a $100 purchase after signing up, you'll get an extra $50 to play games online that you can use to try to win even more. Likewise, a $10 first deposit will get you an extra $5 in bonus credit.
Bonus credits are not treated as cash and therefore cannot be withdrawn; they are simply used to play games online. However, any money that you win with the bonus is all yours and may be withdrawn any time.
Claim your bonus now at: www.michiganlottery.com
Use Michigan Lottery Promo Code: BETUSA
Daily Spin to Win Promotion
The Daily Spin to Win promotion gives all customers a chance to win online free play credits, in-store credits and entries to the monthly $5,000 giveaway. Anyone with a Michigan Online Lottery account may login once a day to spin the wheel for a chance to win.
It costs nothing to play each day and players need only have a MI Lottery account to participate. Potential prizes include:
Entries: Players can earn up to 1,000 entries into the monthly Let's Play Giveaway contest, which awards $5,000 to a customer picked at random each month.
In-Store Credit: Customers who win in-store credit are given a link to a coupon that can be redeemed at any Michigan Lottery retailer for free play.
Online Free Play: Winners' accounts are automatically credited with site credit that can be used to play lottery games online.
Let's Play Giveaway
The Let's Play Giveaway Contest awards one lucky player $5,000 in cash and 50 players $100 in-store free play coupons each month. Players can earn entries to the Let's Play Giveaway drawing each month by playing select games online or using the mobile app to scan select in-store games.
Players can see which games are eligible each month by logging in and visiting the promotions tab. Winners of the $5,000 drawing are notified by phone and e-mail while winners of the in-store fee play coupon are awarded by e-mail.
Michigan Lottery App Review
The Michigan Lottery offers native mobile apps for iOS and Android devices. In both instances, the app offers a range of functionality that includes online ticket purchases, instant win games, keno, ticket scanning, jackpot trackers and directions to the nearest authorized retailer.
Lottery players may download and use the app without signing up for an account to view basic lottery information but will need to register in order to buy tickets, participate in giveaways and unlock full functionality.
The Michigan Lottery app overall is easy to use with intuitive navigation and quick links to jump to the ticket scanning feature, online games and account management. Most games on the app are well-optimized for mobile devices, although a handful of games may have players squinting to see the menu options and icons.
MI Lottery Website Overview
The Michigan Lottery website appears to be purposely designed with simplicity and ease of use in mind. A visit to the homepage and then click of the "games" tab will take you to an area that shows all games offered by the lottery, both online and offline.
A filter on the side of the games page allows you to quickly sort games by type, ticket price, top prize, play style, game theme and whether it's offered online or in-store. For example, a couple quick picks on the filter can be used to find online lottery tickets, while a different set of filters can be used to find instant win games with top prizes of at least $250,000.
Individual games also seem to be designed with ease-of-use as a priority. My first time visiting the website, I had no trouble understanding how any of the games work or what was needed to buy tickets. Individual games are based on simple rules and provide explanations while ticket purchases are aided with a step-by-step guide that will help you pick numbers, choose the number of tickets and complete the purchase.
The website is desktop, mobile and tablet-compatible. You do not need to download any software or special apps to play lottery games online. If you visit the website from your iPhone, Android or tablet, it will automatically provide games sized to your screen. Desktop users can also visit the website to play online with no download necessary.
How to Buy Michigan Lottery Tickets Online
The Michigan Lottery website is open to all state residents 18 and older. If you meet those criteria, you're eligible to give it a try. You can visit MichiganLottery.com to sign up for an account and then make a deposit to get started.
During the signup process, you will be asked for the last four numbers of your SSN. This is a normal part of the process as the Michigan Lottery is required by law to verify the identity of all customers. Your social and personal information will also be used to ensure quick payouts when you're ready to cash out your winnings.
After registering, customers may upload funds via credit card, debit card, PayPal, ACH bank transfer, or an online game card purchased at a lottery retailer. Registered players with funded accounts can then buy MI Lottery tickets online and participate in multi-state drawings to aim for the biggest jackpots. The Michigan Lottery website and mobile app sell official entries to:
Powerball
Mega Millions
Lotto 47
Fantasy 5
Ticket prices online are the same as they are at your friendly neighborhood gas station. The website sells tickets individually or in small, medium and large batches as follows:
Fantasy 5: Fantasy 5 is drawn daily at 7:29 PM with a starting jackpot of $100,000. Ticket cost $1 each and customers select five numbers from 1-39. Prizes range from $1 to the $100,000+ jackpot based on the number of matches. Customers may enter up to 60 drawings in advance online.
Lotto 47: Lotto 47 is drawn on Wednesdays and Sundays at 7:29 PM and comes with a starting jackpot of $1 million. Players pick six numbers from 1-47 and to win anywhere from $2 to the $1 million+ jackpot. Players may enter up to 60 drawings in advance. Tickets are $1 each.
Lucky For Life: Lucky For Life is a multi-state lottery game in which players can win a top prize of $1,000 a day for life, a second prize of $25,000 a year for life and on down from there to a flat $4 prize. Tickets cost $2.00 each and drawings are held on Mondays and Thursdays at 10:35 PM.
Michigan Mega Millions: Mega Millions, producer of some of the largest jackpots in the world, is available through the Michigan Online Lottery. Tickets cost $2 and top jackpots extend well into the hundreds of millions of dollars, and occasionally into billion-dollar territory.
Michigan Powerball: Powerball is Mega Millions' biggest competitor and also lays claim to record jackpots that have topped $1 billion at times. Tickets are $2 each.
You can pick your own numbers, save your favorite numbers or let the Michigan Lottery pick random numbers on your behalf. You can also select whether you want to enter the next drawing only or buy tickets for many drawings in advance.
Screenshots from the ticket purchase interface: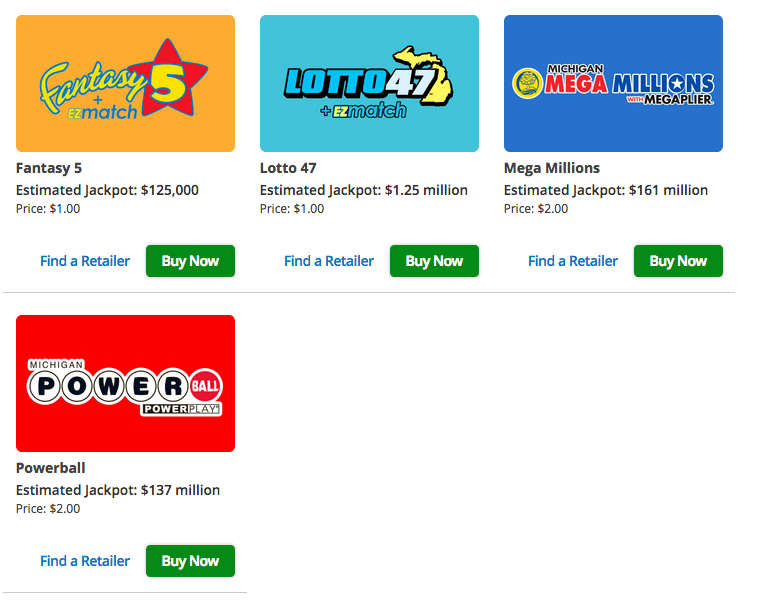 Online Scratch Cards at MichiganLottery.com
The Michigan Lottery has a collection of nearly 60 instant win scratch card games that work similarly to the scratch-offs you can buy in person, but with some added features just for online play such as being able to blast gems to pieces for prizes or expanding symbols that give you every prize in that column.
In short, Michigan's instant win games offer the scratch card experience combined with modern technology to make these more than simple scratchers. Of course, there are plenty of simple games as well, but you'll find a wide range of games that offer a more immersive experience than traditional scratch cards.
Games come in all different themes ranging from basic football-themed scratch-offs that award prizes for revealing 3 matching dollar amounts to high tech gem blasters that have you roll the dice to blow up gems and fill up your prize counter.
There are goofy games like Moji Money and mysterious outer space games like Cosmic Expander. Every game also allows you to pick your own price for each game. You can play for as little as $0.05 on a single scratch-off card or go for even bigger wins by plopping down as much as $20 on a single entry. Top prizes range from $5,000 at the low end to $250,000 at the high end.
Scratch card screenshots: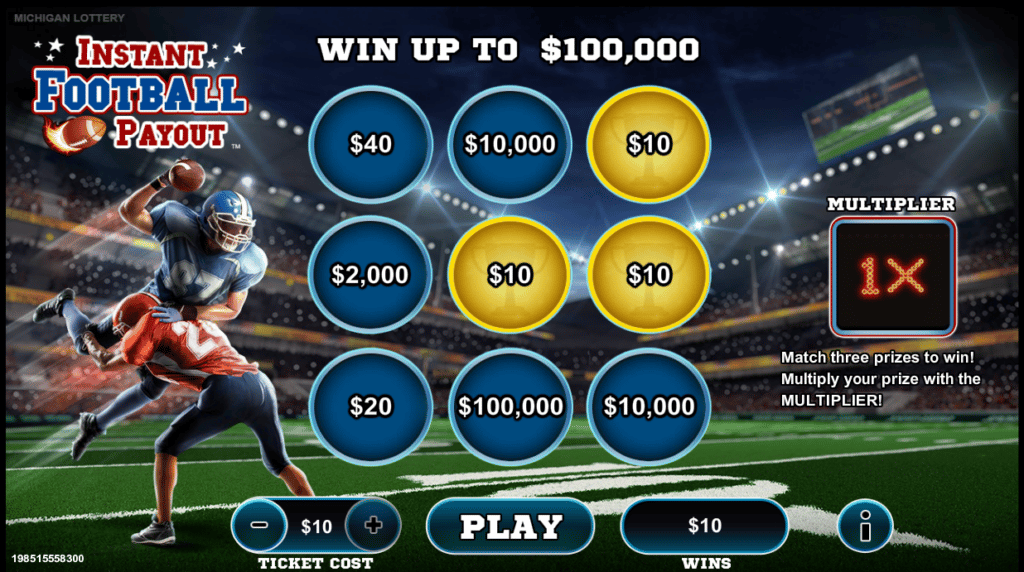 Instant Keno Online
You'll find four different instant keno games at the Michigan Lottery website that can be played for as little as $0.10 to as much as $20 a round and with prizes topping out at $500,000. These games play similarly to traditional keno but with advanced graphics and no wait-time between rounds. As soon as you select your numbers, the game is on.
The online keno games all work in the same basic manner, but each offers different features that provide a unique experience for each game. In all games, players can play up to 10 keno games at once and select anywhere from one to ten numbers ranging from 1-80. The keno game then selects numbers at random and players win prizes according to the number of matches.
Bullseye Keno: Play up to 10 games at a time for $0.10 to $4.00 each. Each round begins with the number launcher selecting a random multiplier that multiplies all winnings by up to 25x. Bullseye Keno features a top prize of $500,000.
Instant Keno Multiplier: Play up to 10 games at a time for $0.25 to $20 each. After players pick their numbers, three stars will land on numbers that were not selected. If two stars are matched during the game, all prizes are multiplied 3x. If three stars are matched, prizes are multiplied 10x. The top prize in Instant Keno Multiplier is $500,000.
Fuzzball Keno: Fuzzball Keno can be played for $0.10 to $20 per game. Players select up to ten numbers from 1-80 and then 20 fuzzballs are launched at the board. Prizes top out at $200,000.
Instant Keno: This is the simplest keno game and can be played for $0.10 to $20 per game. The top prize in Instant Keno is $200,000.
For those unfamiliar with keno, the rules of the game are simple. You begin by picking anywhere from 1-10 numbers on a board numbered 1-80. The more numbers you pick, the higher the potential prize but the more difficult it is to catch a win.
After you make your picks, the system draws 20 numbers at random. You receive payouts when enough numbers drawn by the computer match your own picks. The more matches you get, the bigger the payout.
Instant keno screenshots: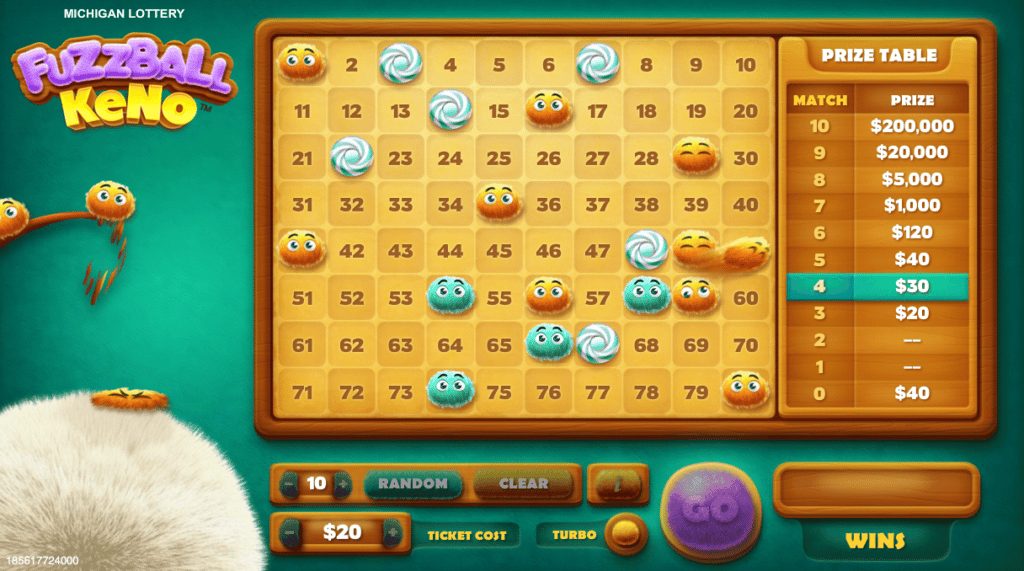 How to Cash Out Your Winnings
Prizes of $600 and below are paid directly to your Michigan Lottery online account and can then be withdrawn straight to your bank account via ACH transfer or a check in the mail. The first time you withdraw, the Michigan Lottery website will ask you to scan or upload a picture of your driver's license or state ID to verify your identity.
Prizes above $600 and up to $50,000 will also be deposited to your Michigan Lottery account, but you will be asked to submit an online claim form first. Once you submit the form, the winnings will be deposited to your account and may be withdrawn any time.
Prizes above $50,000 require an online claim form plus a visit to the lottery headquarters in Lansing to claim your prize. The Michigan Lottery website informs winners that you can walk in any time, but it is better to call ahead and schedule an appointment for faster service.
Michigan Lottery Deposit Options
MichiganLottery.com accepts a handful of deposit methods that you may use to fund your account with real money:
Credit and Debit Cards: The Michigan lottery website accepts credit and debit cards issued by Visa, MasterCard and Discover.
Online Game Card: Online game cards are sold at lottery retailers and can be purchased with cash. All you need to do is visit a retailer, pay for an online game card and then redeem it back home after logging in to your Michigan lottery account. This is a handy deposit method for anyone not interested in sharing personal banking details or credit card numbers.
Electronic Bank Transfers: If you'd rather transfer funds straight from your bank account to your Michigan lottery account, select the ACH transfer option inside the cashier. This method will ask for your banking info and then make instant transfers to your account. ACH transfers are also offered for withdrawals.
PayPal and Neteller: PayPal and Neteller are two, similar services that function as electronic wallets. An account with PayPal or Neteller can be funded with bank transfers, credit cards and more options. Once your e-wallet is funded, you can then send those funds over to your Michigan Lottery account.
Michigan Lottery Withdrawal Methods
Players may withdraw prizes under $50,000 through the following methods.
| | | | |
| --- | --- | --- | --- |
| Method | Time Frame | Minimum Withdrawal | Maximum Withdrawal |
| | | | |
| ACH Bank Transfer | 3-5 business days | $10 | $50,000 |
| Check* | Varies | $10 | $50,000 |
| PayPal | 1 business day | $10 | $50,000 |
| Withdraw to Visa Debit Card | 1 business day | $10 | $2,000 per request, $10,000 per day and $20,000 per week |
| Withdraw at Retail Location** | Immediate | $10 | $200 per request, $2,000 per day |
*Contact MI Lottery support at 1-844-887-6836 to request a check
**Request a voucher online, bring it to nearest lottery retailer to cash out
Responsible Gambling
The Michigan Lottery website and mobile apps support responsible gambling through deposit limits and self-exclusion options that are easy to manage.
Users may set deposit limits or self-exclude by logging in, visiting the "my account" area and then scrolling down to the responsible gambling area. There, users may set custom deposit limits for predetermined time lengths (such as a weekly deposit limit) or self-exclude entirely for one week to two years.
Michigan Lottery FAQ