50% up to $100 + 10 Free Games
Last verified on October 3, 2023
18+, T&Cs Apply. Gambling Problem? Call 1-800-GAMBLER
The Virginia Lottery launched in September 1988 and now serves as one of the state's major sources of public K-12 education funding. In July 2020, the Virginia Lottery began selling lottery tickets and instant win games at VALottery.com to customers 18 or older and physically located within state lines.
Now, the Virginia Online Lottery sells tickets to major draw games, instant win scratch card games, and keno throughout the Commonwealth. Lottery players can get started by visiting VALottery.com from any desktop computer or mobile device to sign up for an account, make a deposit, and play online.
Games sold by the Virginia Online Lottery include:
Draw games: Mega Millions, Powerball, and Cash4Life
Instant win games: Scratch-card-style games with prizes up to $300,000
Online keno: Play keno online with prizes up to $500,000
The remainder of our Virginia Lottery review will explain everything players need to know about playing the lottery online. This page will discuss how to buy VA Lottery tickets online, what types of bonuses players can claim, how payments are issued to winners, and more.
Virginia Lottery Promo Code and Welcome Bonus
The Virginia Online Lottery offers a two-part welcome bonus for all new customers who sign up for an account and make a first deposit of at least $10 with the VA Lottery promo code NEWVIP.
50% deposit match bonus: VA Lottery will match your first deposit with a 50% bonus for up to $100 in site credit. For example, a $200 deposit will get you an extra $100 in bonus funds.
Ten free games: In addition to the first deposit bonus, the VA Lottery will give you ten free plays of the VIP Platinum instant win game.
Important: The bonus funds have no cash value and cannot be withdrawn, but customers may withdraw anything they win with the bonus at any time. Players must use the ten free games credits within 24 hours.
Use the Virginia Lottery promo code: NEWVIP
How to Buy Virginia Lottery Tickets Online
The Virginia Lottery website sells tickets to online interstate jackpot games only. That includes the three major draw games listed below, but it does not include state-level games such as Bank a Million and Cash 5.
Smaller wins are credited directly to players' VA Lottery accounts, while larger wins will initiate a process to claim the prize in-person, the same as for tickets purchased at retailers. See below for more information about claiming prizes won online.
Buy Powerball Online in Virginia
Online purchase price: $2.00 per play
Tickets per drawing: 1 to 100 tickets
Subscription options: Play in the next 1 to 50 drawings
The Virginia Lottery sells Powerball tickets online at no additional cost. Customers can purchase a single entry into the next Powerball drawing or buy up to 100 tickets into each of the next 50 drawings at the same price they would pay at a lottery retailer.
Standard Powerball rules apply to online ticket purchases, and customers can either pick their own numbers or let the VA Lottery choose numbers at random.
Play Mega Millions Online
Online purchase price: $2.00 per play
Tickets per drawing: 1 to 100 tickets
Subscription options: Play in the next 1 to 50 drawings
Anyone who has purchased Mega Million tickets in-person will find the VA Online Lottery interface familiar. Making a purchase online involves selecting the number of drawings and tickets desired, picking numbers or letting the system generate random picks, and then paying for the order.
Cash4Life
Online purchase price: $2.00 per play
Tickets per drawing: 1 to 100 tickets
Subscription options: Play in the next 1 to 180 drawings
Cash4Life offers prizes ranging from $2 at the low end to $1,000 a day for life. VA Lottery players can buy Cash4Life tickets online as individual entries into a single drawing or purchase up to 100 entries into 1 to 180 drawings.
Online Purchase Screenshots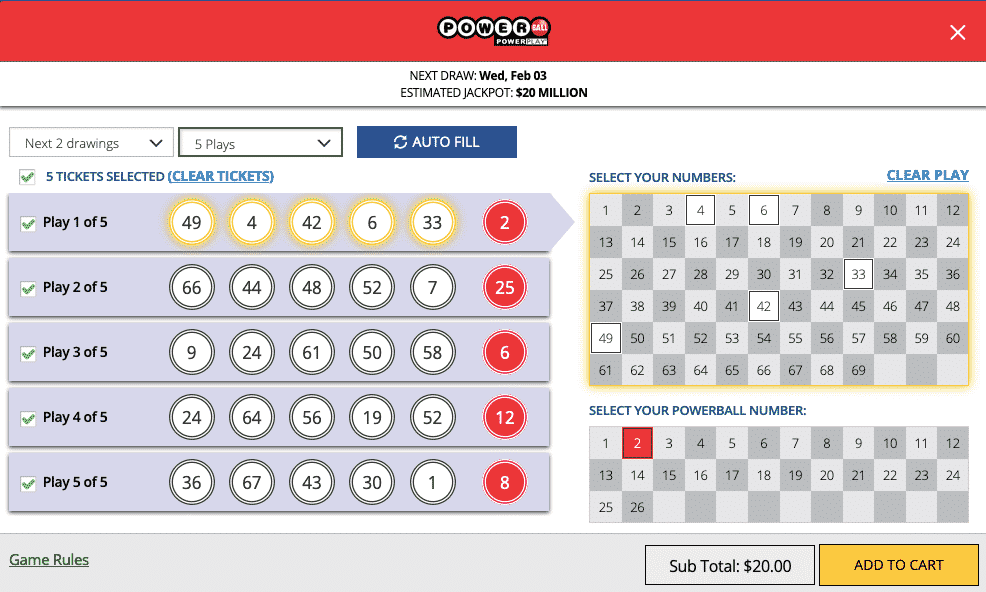 Instant Win Games
The Virginia Online Lottery platform hosts a little over two dozen instant win games that function much like scratch cards but with animated graphics and variable ticket prices. Players can purchase instant win games for prices ranging from $0.05 to $20 per play and win up to $300,000 online.
Top prizes are variable based on the amount customers choose to pay for each play. For example, the top prize in Sweet Crush ranges from $5,000 at $1 per play to $100,000 at $20 per play.
Players can find top prize info, odds of winning a prize, and payout percentages for every game by tapping the info icon next to each game's name. All but two games offer return-to-player percentages (RTP) of either 85% or 87%. From a pure RTP perspective, Sweet Crush and Jungle Tumble Jackpots offer the best return at 89.14% and 89.00%, respectively.
Instant Win Screenshots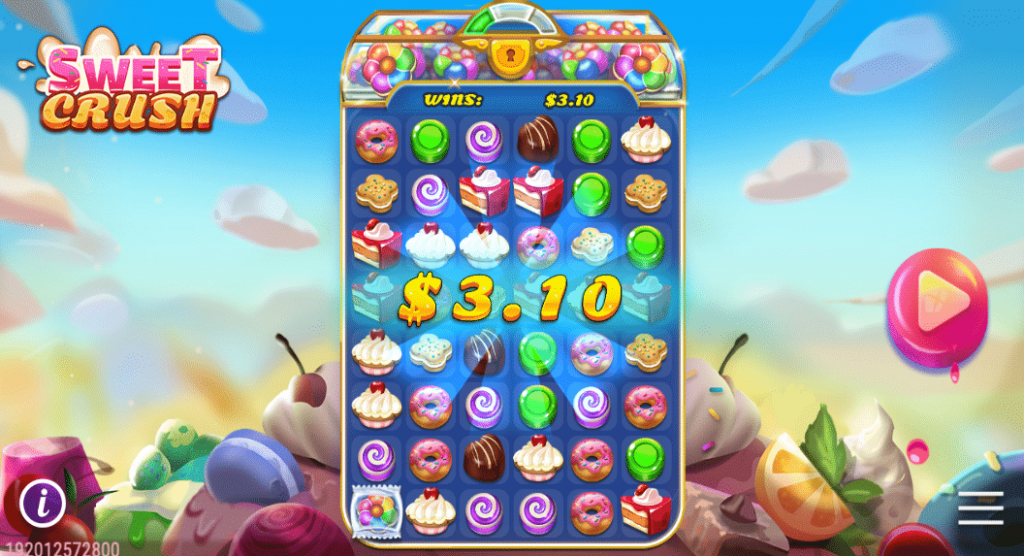 Play Keno Online in Virginia
Players will find a single instance of online keno mixed in among the Virginia Lottery's instant win games. Instant Keno Multiplier operates under standard keno rules and offers prizes as high as $500,000 but with zero wait time between rounds.
Players can choose their own ticket cost, ranging from $0.25 to $20 per ticket and can purchase up to 10 tickets per round. In all, that means the total cost to play varies from $0.25 to as much as $200 per game.
Each instant keno game features a board of 80 numbers, and players can choose one through ten numbers.
After players make their selections, Instant Keno Multiplier places three stars at random on the board and randomly selects 20 numbers. The more matches the player gets, the bigger the prize. If any two of the three numbers with stars are drawn, player prizes are multiplied by 3x or 10x for a top prize of up to $500,000.
Online Keno Screenshots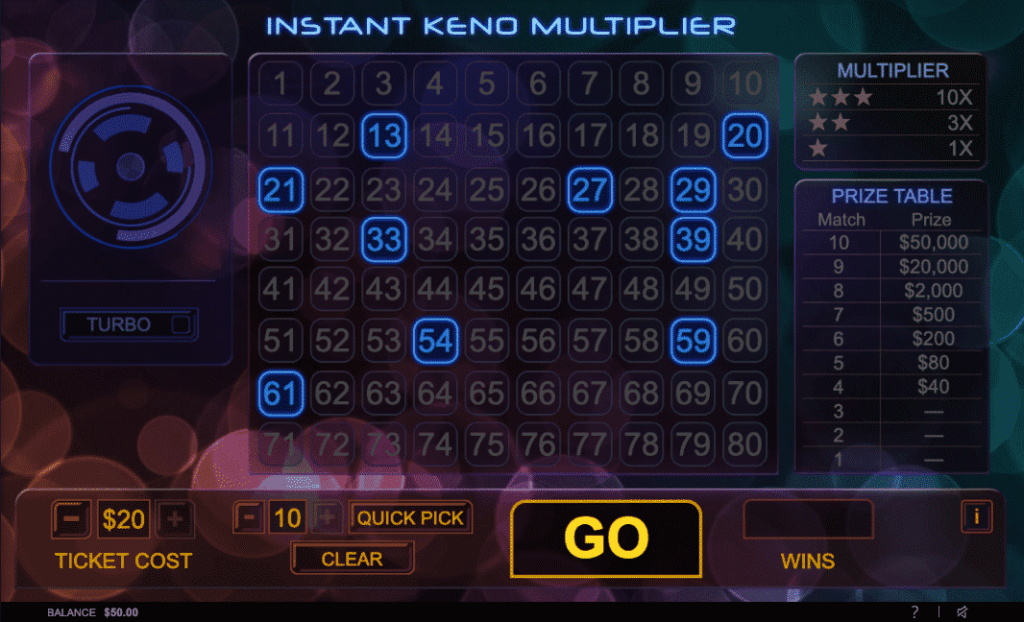 How to Claim VA Online Lottery Prizes
The Virginia Lottery pays all winnings of $600 or less to players' online accounts. From there, players may withdraw their winnings via ACH bank transfer or PayPal.
For prizes between $600 and $100,000, the VA Lottery will send an e-mail to the winner to begin the claim process.
For prizes over $100,000, the lottery will contact the winner directly to make arrangements for claiming the prize.
Virginia Lottery Mobile App Review
Players can download the Virginia Lottery app for iOS and Android devices to view the latest winning numbers, scan tickets for winners, enter second chance drawings, participate in promotions, find the nearest lottery retailers, and more.
Customers may also sign up or log in to their VA Lottery account through the mobile app to save their favorite numbers, pick numbers to create digital payslips for faster retail purchases, and to receive notifications for new games, large jackpots, and promotions.
The Virginia Lottery mobile app does not sell tickets or offer instant play games at this time. Lottery officials say they plan to enable online play through the mobile app soon, but currently, players can only purchase tickets and play instant win games at VALottery.com. However, the website is fully mobile compatible and works almost as well as a dedicated mobile app.
Until mid-2020, the VA Lottery app included a feature called MobilePlay that allowed customers to purchase lottery tickets while physically located at qualified retailers. The VA Lottery discontinued the program to clear the way for full online lottery play, which should debut on the mobile app sooner or later. In the meantime, players can head to VALottery.com to play online from any internet-connected device.
Virginia Online Lottery Deposit Methods and Withdrawals
Customers may fund their VA Lottery accounts with the following methods:
Debit cards and prepaid debit cards
PayPal
ACH bank transfer from a checking or savings account
Online Cash (prepaid vouchers available in $10, $20, $50, or $100 increments purchased in-person at any lottery retailer)
The Virginia Lottery accepts a minimum deposit of $10, and players should be aware that only winnings may be withdrawn. Deposits and bonus credits may only be used for playing instant win games and purchasing tickets online.
Responsible Gambling
The VA Online Lottery supports responsible gambling and has several features to assist players in keeping their spending under control.
By default, the VA Lottery enforces a maximum deposit amount of $5,000 per 30-day period. Players can request lower deposit limits, but the VA Lottery does not accept requests for higher spending limits.
Players may also contact the lottery to self-exclude from all forms of Virginia gambling, including the lottery, for periods of two years, five years, or life. Once the lottery processes a self-exclusion request, players cannot reverse the request until the end of the exclusion period.
Virginia Online Lottery FAQs