US Casinos Setting Revenue Records While Visitation Numbers Drop
The American Gaming Association (AGA) offers a glimpse into the commercial casino industry's current trends and overall landscape via its Commercial Gaming Revenue Tracker. The AGA highlighted an interesting juxtaposition in the latest report, noting the industry is setting revenue records despite declining visitation numbers.
According to the AGA Q3 report:
With commercial casinos able to operate at full capacity, brick-and-mortar gaming generated a record $12.05 billion in quarterly revenue: a 1.7 percent sequential increase and up 11.8 percent from Q3 2019. In the first nine months of 2021, traditional casino games generated $33.27 billion – 4.7 percent ahead of the same period in 2019.

The all-time high revenue generated from traditional casino gaming coincided with a continued high level of spend per casino visit, while the rebound in visitation levels observed in recent quarters showed signs of tapering off in Q3.

Of the five states that report on casino visitation (Illinois, Iowa, Louisiana, Mississippi and Missouri), only Illinois saw an increase in admissions (10.5%) over the preceding quarter. Compared to Q3 2019, visitation in the five regional casino markets was down between 11.7-36.9 percent.

But as regional casino visitation stabilized in the third quarter, destination markets continued to gain momentum. Data from the Las Vegas Convention and Visitors Authority shows that 9.2 million people visited Las Vegas in the third quarter, a 14.0 percent decrease from Q3 2019 but a sequential increase of 9.7 percent over Q2 2021, and the highest quarterly visitation level since the outbreak of COVID-19.
Diving Into the Numbers
AGA data shows the commercial casino industry's rebound from COVID closures and visitor restrictions.
Comparing Q3 2021 with Q3 2019:
Total gaming revenue is up 24.7%
Slot revenue is up 15.2%
Table game revenue is up 10.2%
But the rising revenue numbers have to be juxtaposed against dwindling visitation numbers.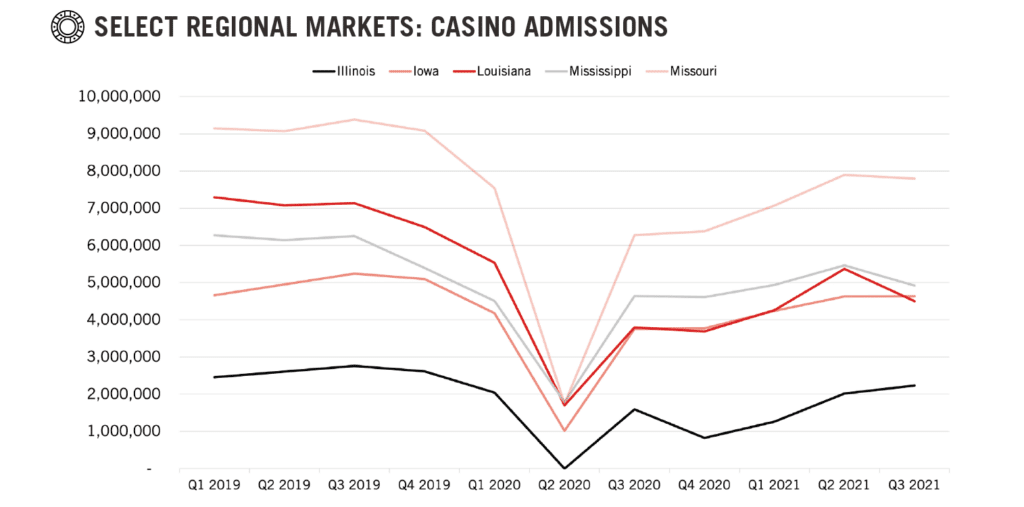 Online Gambling and Sports Betting a Key to Growth
Before COVID, online gambling and sports betting accounted for roughly 5% of total commercial gambling revenue. During the COVID pandemic, online casino and sports betting's share grew to 20%. That share has declined now that casinos across the country are now largely open, but it's holding strong at 13%, much higher than its pre-COVID share.
Sports betting revenue is up 270.4%, and online gambling revenue is up an astounding 617.1% compared to Q3 2019.
A lot of that has to do with new sports betting and online gambling markets opening. Twelve states plus the District of Columbia have launched sports betting since the pandemic began, along with the launch of the Michigan online casino industry.
Still, as the AGA notes, the rising share of online gambling doesn't seem to be impacting land-based revenues:
While the recovery of land-based slots and table games drove the second quarter's record performance, iGaming continued to set new records, reaching $901 million during the quarter, up 14.9 percent from just the first quarter of this year.

Meanwhile, sports betting had its second-best quarter to date. With a quieter sports calendar compared to the first quarter, sports betting generated $888.9 million, dropping 7.5 percent quarter-over-quarter, but growing more than 600 percent over the same three-month period in 2019. Since Q2 2019, 12 states and the District of Columbia have launched commercial sports betting markets. Americans wagered $11.07 billion with legal sportsbooks in the second quarter, compared to $13.02 billion during the first quarter of the year.
A Trend Worth Watching
Per the AGA:
Lower visitation continues to be more than offset by increased spending by those who do visit casinos. As the pandemic continues to limit access to other entertainment forms, consumers are allocating a larger share of recreational spend to gaming, according to analysts. Traditional casino gaming revenue per admission in the five states was up between 20.0 and 50.9 percent from the same period in 2019.
A worrisome trend begins to emerge when all of these pieces are put together. Drawing on prior research clarifies that a small percentage of customers account for most gambling spend. Those customers also tend to be multi-channel customers (playing a wide variety of games both in-person and online).
This trend is troubling from a problem gambling perspective, and it also presents a potential issue with sustainability. Seeing customer spend increase is a good thing, but as the poker world slowly realized towards the tail-end of the poker boom, customer churn becomes a bigger problem as market penetration increases.