Tribal casinos, as we know them today, were officially authorized under the 1988 Indian Gaming Regulatory Act (IGRA). Since the passage of IGRA, tribal gaming has spread across the US.
Currently, some version of tribal gaming exists in 30 states: Alabama, Alaska, Arizona, Arkansas, California, Colorado, Connecticut, Florida, Idaho, Indiana, Iowa, Kansas, Louisiana, Michigan, Minnesota, Mississippi, Montana, Nebraska, Nevada, New Mexico, New York, North Carolina, North Dakota, Oklahoma, Oregon, South Dakota, Texas, Virginia, Washington, Wisconsin, and Wyoming.
In total, there are more than 500 tribal gaming establishments across the US. The types of gaming facilities range from casinos to bingo halls to convenience stores with betting machines. And in some locales, tribes are involved in mobile sports betting and online gambling.
Tribal Gaming Revenue
Tribal gaming saw revenues rise significantly over its first 14 years, before hitting a lull in 2009, which just so happened to coincide with the economic recession that began in late 2008. By the mid-2010s the growth returned, but the upward trajectory saw a marked drop-off when the COVID-impacted 2020 numbers were released in August 2021.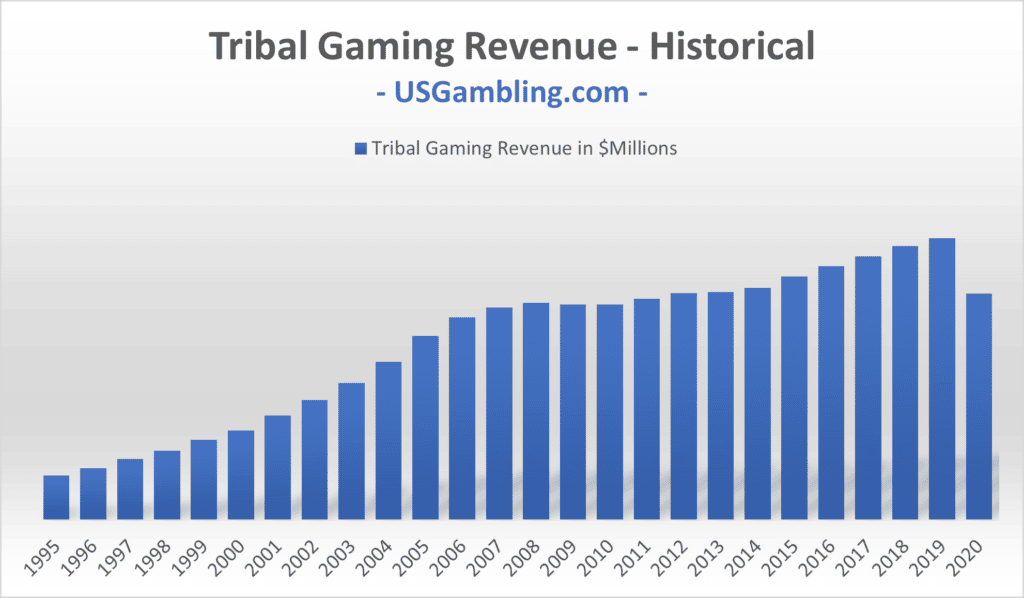 The early growth was due in large part to new markets opening. The lull, as mentioned, can be linked to the Great Recession. The subsequent growth is likely a byproduct of new and expanded markets and an improved post-recession economy.
Tribal Online Gambling by State
History of Tribal Gaming Pre-IGRA
Tribal gaming (in the modern sense of the word) has roots that predate the introduction of the IGRA in 1988 by nearly a decade. Since the late 1970s, when states began legalizing charitable gambling and lotteries in earnest, tribes experimented with bingo halls and other forms of gambling.
The first modern tribal gaming facility came into being in 1979 in Florida, when the Seminole Tribe opened the doors on a high-stakes bingo facility. The success led to more and more tribes across the country operating bingo halls, leading to pivotal court cases, first in Florida and then in California.
In 1981 the U.S. Fifth Circuit Court of Appeals ruled in Seminole Tribe of Florida v. Butterworth that the tribe could operate a high-stakes bingo parlor. The rationale for the ruling was the form of gambling offered by the tribe was legal in Florida, but as a sovereign nation, the state did not have regulatory power over the tribe. A similar ruling was issued in Oneida Tribe of Indians v. State of Wisconsin in 1981.
California v. Cabazon Band of Mission Indians, a 1987 case that made its way to the United States Supreme Court case involving the development of Native American gaming. In a 6-3 decision the court found that state and local governments do not have the authority to regulate gambling on tribal lands. The decision would lead to Congress passing the Indian Gaming Regulatory Act in 1988.
IGRA at a Glance
The Indian Gaming Regulatory Act (IGRA) is one of, if not the most important and consequential gaming laws ever passed in the US.
The goal of the law is to regulate gaming on tribal reservations.
The five key points Congress sought to address with the passage of the IGRA are:
Numerous Indian tribes have become engaged in or have licensed gaming activities on Indian lands as a means of generating tribal governmental revenue;
Federal courts have held that section 81 of this title requires Secretarial review of management contracts dealing with Indian gaming, but does not provide standards for approval of such contracts;
existing Federal law does not provide clear standards or regulations for the conduct of gaming on Indian lands;
a principal goal of Federal Indian policy is to promote tribal economic development, tribal self-sufficiency, and strong tribal government; and
Indian tribes have the exclusive right to regulate gaming activity on Indian lands if the gaming activity is not specifically prohibited by Federal law and is conducted within a State which does not, as a matter of criminal law and public policy, prohibit such gaming activity.
In addition to setting the framework for tribal gaming, the IGRA also established the National Indian Gaming Commission and set the regulatory structure and compact requirements for three distinct classes of gambling, Class I, Class II, and Class III, which were created under the IGRA.
The three classes are defined as follows:
Class I gaming includes social games and traditional/ceremonial games. An Indian tribe can offer Class I games without restriction.
Class II gaming includes bingo and non-banked card games. Tribes do not need to enter into any agreements at the state level to conduct Class II gaming under IGRA. Instead, tribal governments are responsible for regulating Class II gaming with NIGC oversight.
Class III gambling includes all other forms of gambling, including casino-style gambling. An Indian tribe can operate Class III games only if the tribe and the state have agreed to a tribal-state gaming compact. After the state and tribe have reached an agreement, the federal government must approve the compact before it is valid.
Tribal Compacts at a Glance
Tribes can offer gambling provided the tribe is federally recognized (with its land in trust) and the specific type of gambling is legal in the state. That said, to offer Class III gaming, tribes are required to enter into a compact with the state. These compacts are typically brokered with the governor and sometimes require legislative approval. There is also a second layer to the process, as the US Department of Interior must sign off on the agreement.
A standard compact covers three key aspects of tribal gambling:
Tax rates and financial burdens placed on the tribe's gambling activities
The types of Class III gambling allowed
Provisions that give the tribe exclusive rights to offer specific forms of gambling within a geographic area
In some states, the third bullet point has become a third-rail issue that has led to tribes stopping payments in Florida and stalled gaming expansions in many other states, like Connecticut.
As original compacts from the 1990s matured, yet another problem arose, as tribes and states argued whether compacts renewed or needed to be renogiated. This has led to major issues in at least two states, New York and Oklahoma.
The Future of Tribal Gaming in the US
The overarching question for Indian Country is internet gambling. Tribes have taken a cautious approach to online gambling thus far, but the COVID-19 pandemic has accelerated tribal interest in online gambling as tribes seek to modernize and pandemic-proof their gaming revenues.
Where does a bet occur? That long unanswered question holds the key to tribal gaming's future. That said, it's a question that is unlikely to get answered anytime soon. Doing so would open a can of worms that has implications for the US and beyond.
Tribal Gaming Twitter
National Indian Gaming Association – Since 1985, National Indian Gaming Association's mission has been to advance the lives of Native peoples economically, socially and politically.
National Indian Gaming Commission – The mission of the NIGC is to effectively monitor and participate in the regulation of Indian gaming pursuant to the Indian Gaming Regulatory Act (IGRA).
CNIGA – Trade Association representing Tribal Nations engaged in Gaming in California
US Department of the Interior – The DOI reviews and approves all gaming compacts negotiated between states and tribal groups
Indian Country Today – Indian Country Today is a spacious channel that serves Indigenous communities with news, entertainment, and opinion.
Turtle Talk – Turtle Talk is the leading blog on legal issues in Indian Country.
Kevin Washburn – Law professor and dean, former general counsel of the National Indian Gaming Commission, and specialist in tribal gaming law
Victor Rocha – Pechanga Band of Luiseño Indians. Editor of Pechanga.net. Conference Chairman for the National Indian Gaming Association. President of Victor Strategies.
Katherine Spilde – Professor and endowed chair of the Sycuan Institute on Tribal Gaming at San Diego State University, specializing in government-owned casino gambling models and Tribal Government Gaming.
Chris Stearns – Former attorney and Chairman of the Washington State Gambling Commission, longtime tribal gaming specialist, and oft-cited expert in the field