Global Poker bills itself as the leading US social poker site that gives players the opportunity to win real prizes. The business model is based on a unique application of US sweepstakes law, resulting in a poker site that looks and feels just like "regular" online poker.
Important Note: USGambling.com has doubts about the legality and long-term safety of player funds at GlobalPoker. At this time, we strongly recommend not playing at GlobalPoker.
When Global Poker launched in 2017, we questioned its staying power as a new entrant in a very competitive area of business along with Chumba Casino which is owned and operated by the same parent company. But fast-forward to today and Global Poker is still around and filling tables as consistently as ever. Therefore, we provide this up-to-date Global Poker review to explain how it works, what to expect and our thoughts on the experience.
Quick Facts
Available in: 49 states (Washington State excluded)
Licensed by: Malta Gaming Authority (view license)
Poker formats offered: Ring games, tournaments, SNGs, jackpot SNGs and fast-fold
Poker games offered: Texas Holdem, Omaha and Crazy Pineapple
Ring game stakes: 0.05/0.10 to 10/20
Tournament buyins: 0.25 to 500+
How Global Poker Works
Global Poker is based on a sweepstakes model but is designed to look and function like a typical poker site. The key differences are primarily related to buying in and getting started while the actual playing experience is largely similar to traditional online poker.
Poker players get started by signing up for an account just like any other US online poker site. It is important to use accurate information when registering because Global Poker will eventually need to verify the identity of each user prior to their first prize redemption.
Global Poker Bonus and Other Promotions
Global Poker offers a small variety of new customer bonuses and ongoing promotions for existing customers.
Software and Features
Once players get past the signup process and buy sweeps coins, the Global Poker software feels like any other poker site. Simple lobbies for ring games and tournaments will look familiar to anyone with previous poker experience.
One key difference between Global Poker and most other poker sites is it is entirely browser-based. There is no option to download a client for any desktop or mobile device. In all cases, users visit GlobalPoker.com to log in and play through their web browsers.
Graphics and features are on the simple side. Spacious tables and a lack of distractions keep the focus on the cards and the action.
Pre-selected actions: Players can pre-select actions that will be taken when it is their turn to act. For example, players can choose an automatic fold when it is their turn to act if they have a poor starting hand and someone has already raised preflop.
Four-color decks: Global poker supports four color decks to more easily identify suits and potential flush draws.
Pre-selected bet/raise amounts: In no limit games, players can hit buttons to instantly place ½ pot, ¾ pot, 1x pot raises and 3x big blind and 5x big blind bets.
Auto top-ups: Players may enable this option in ring games to automatically buy back in to a pre-ordained amount when their stack falls below a certain level at the table.
Muck winning and losing hands: This option allows players to automatically discard without showing their cards if they win or lose a pot without a showdown.
Tournament information display: Tournament tables are imprinted with the current blind level, a countdown timer until the next level and the player's current position in chip count.
Color-coded player notes: Clicking or tapping the name of any player at a table opens a simple notepad feature that players can use to take notes and attach color-coded markers to other players' avatars.
One minor annoyance regarding these features is all settings must be reconfigured upon entering each play session. A simple improvement on this end would be for Global Poker to save all settings for each player's account so they do not have to be frequently reconfigured.
The biggest miss is arguably a lack of waiting lists. Players who see a full table they would like to join can only sit back, observe and actively watch for a seat to open up.
Global Poker Screenshots
Global Poker Ring Games Review
Global Poker offers six-handed and nine-handed ring game tables for Holdem, Omaha and Crazy Pineapple in no-limit, pot limit and fixed limit formats.
The majority of the action occurs at the no-limit Holdem tables, but players can also find a decent selection of pot limit Omaha tables. Fixed limit games and Crazy Pineapple are ghost towns for the most part.
Traffic is higher than for any other US-facing poker site on the market today. The no-limit ring games are the busiest and tend to be populated at stakes ranging from 0.05/0.10 up to 10/20 even during the day.
Players reported lower traffic levels in 2019, but Global Poker seems to be picking up again since then. In our experience, we have found at least one active table at every stake level, even up to 10/20. The lower stakes games usually have a few tables to choose from.
Competition is noticeably soft at the lower levels with many players observed open limping, calling and checking their way down to the river. Competition is noticeably tougher at the medium to higher-level games, which is to be expected.
Ring game rake is a flat 5% for all stakes with rake caps based on the size of the game. A common complaint among players is that shorthanded and heads-up tables do not get enough of a break on the rake charged, which can make heads-up play expensive and discourages players from starting up tables at the medium to high-stakes levels.
Here's the full rake structure taken from a Global Poker support page: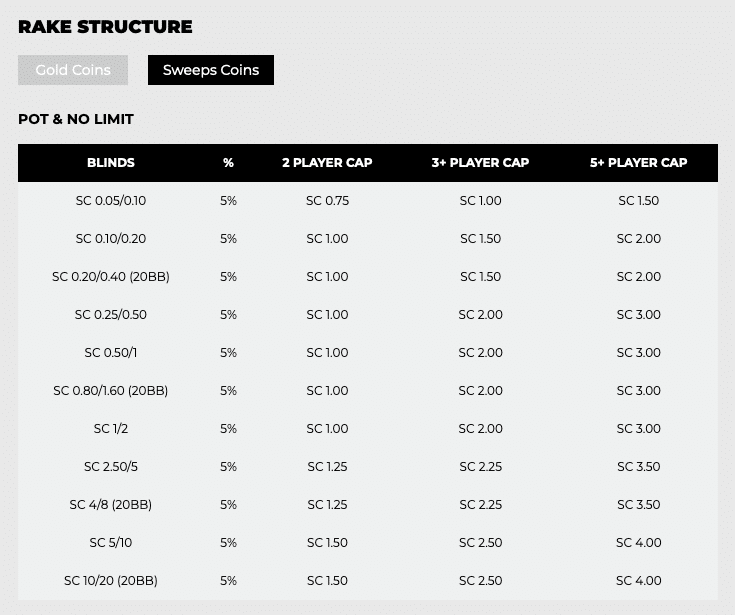 Surge Poker
Global Poker introduced fast-fold poker with the launch of Surge tables in late 2019. When players join Surge games, they are all put into a single pool and whenever someone folds, he or she is instantly moved to a new table to begin a new hand. This eliminates waiting time between hands and allows players to see three to four times as many starting hands.
For example, if a player is dealt 7-2 offsuit, he or she can fold and instantly start a new hand at a new table rather than sit there and wait for the action to get to him or her. The end result is a high-paced ring game experience.
Global Poker initially launched low stakes Surge tables for players at the 0.05/0.10 and 0.25/0.50 levels with plans to expand the lineup as demand grows.
Tournaments at Global Poker
The tournament scene at Global Poker offers a mixed bag of Holdem, Omaha and Crazy Pineapple games in a variety of structures.
Players can join regular freezeout tournaments, guarantees, satellites, rebuys and variations of each such as turbos, hyper-turbos, deep stack tourneys, six-handed multi-table tournaments, sit-n-go tournaments (SNGs) and jackpot SNGs.
Daily guarantees provide opportunities to compete for small to medium-sized prize pools throughout the week. The Sunday Scrimmage serves as Global Poker's biggest weekly tournament with 50,000 Sweeps Coins guaranteed every week. Global Poker also hosts the occasional tournament with even bigger guarantees, such as one that recently ran with 100,000 Sweeps Coins guaranteed.
SNGs run daily with buyins ranging from 0.25 to 218 Sweeps Coins. Variations include turbo SNGs, heads-up SNGs, six-handed contests, nine-handed contests and the occasional 27-handed multi-table SNG. Tournament fees (rake) are set at a flat 10% or lower across the board.
Global Poker Mobile Review
Global Poker does support mobile play, but only through the mobile-friendly website. iPhone and Android users simply point their browsers to GlobalPoker.com to log in and play as normal.
The mobile experience will get the job done, but it is not as intuitive or handy as an actual app would be. All screens are resized and rearranged to better fit mobile screens, but it is mostly just a simple resizing of the imagery rather than an actual mobile-first experience. Thus, some players may find themselves squinting at the screen to see the action on the table.
Selecting bet amounts can also be troublesome when playing via mobile. Global Poker does provide a vertical slider for mobile users, but even with that, the potential for mis-bets is high.
In summary, the Global Poker mobile experience is workable but not ideal.
Mobile Screenshots
Global Poker Purchase Methods
Gold Coins are much easier to purchase than we expected given Global Poker's status as a sweepstakes poker site. Players may purchase Gold Coins via several options that provide instant transactions:
Online Banking Bill Pay: Online bill pay uses the customer's existing online banking feature to authorize a deposit to Global Poker. Players choose their bank from the list, log in using their existing online banking account and confirm the transaction all without sharing any private banking info with Global Poker.
Credit and Debit Cards: Global Poker accepts Visa, Mastercard, Discover and American Express.
Skrill: Skrill is an e-wallet that allows customers to load funds to Skrill via numerous methods. From there, players can send money from Skrill to Global Poker.
Global Poker redemption times vary from a couple of business days to a week or more, with little apparent rhyme or reason. Players report it can take longer than expected to redeem cash prizes, but most seem happy with transactions speeds – especially via direct bank transfer.
Safety and Security
Global Poker appears safe from a technical standpoint as it is licensed by the Malta Gaming Authority (MGA), which is generally a demanding regulator that does not just rubber stamp approvals.
A license from the MGA involves submitting a business plan, financial audits, technical audits for randomness, the ability to comply with all regulations and more. Even the vaunted PokerStars holds a Malta license.
Customer Support
Customer support at Global Poker is notoriously slow, but they do eventually get around to helping all players with issues. Global Poker representatives hang out on the Two Plus Two forums here and often respond to feedback from players, which is encouraging.
Responsible Gaming
Global Poker offers time out periods for players who feel they need to take a break from all gaming. During timeout periods, players are unable to enter any ring games or tournaments or to purchase Gold Coins.
Time out periods can be set for 24 hours, 7 days, 30 days, 90 days, 180 days or "indefinite." Players who wish to self-exclude permanently or take a time out for a different period may send an e-mail to support@globalpoker.com.