Online Casino Revenue Reaches New Heights In Three Key States
With the start of the NFL season, legal sports betting markets are setting revenue records across the country. Not to be outdone, online casino industries are also hitting all-time highs, and while online casinos aren't as widespread, they are outperforming sports betting by leaps and bounds.
For example, the Big 3, New Jersey, Pennsylvania, and Michigan each surpassed $100 million in gross gaming revenue in October. All three set new high water marks, with New Jersey posting an astounding number for the month, $127 million.
On the sports betting side, the numbers were much lower. New Jersey led the way with $84 million, followed by Pennsylvania at $42 million and Michigan at $27 million.
The Pecking Order
A few months ago, I posited that all three locales were approaching their cap (with the nascent Michigan market having the most room for future growth). While the numbers have gone up since that declaration, the October numbers are still single-digit growth from previous highs and occurred at the absolute height of seasonality.
Further, I suspect New Jersey's numbers will take a hit when New York mobile sports betting goes live, as it will remove some cross-sell opportunities.
As the chart below shows, New Jersey continues to be the clear leader of the five online casino states (Connecticut will add its name to the list next month). Michigan has a hold on the number two spot, and Pennsylvania has settled into third place.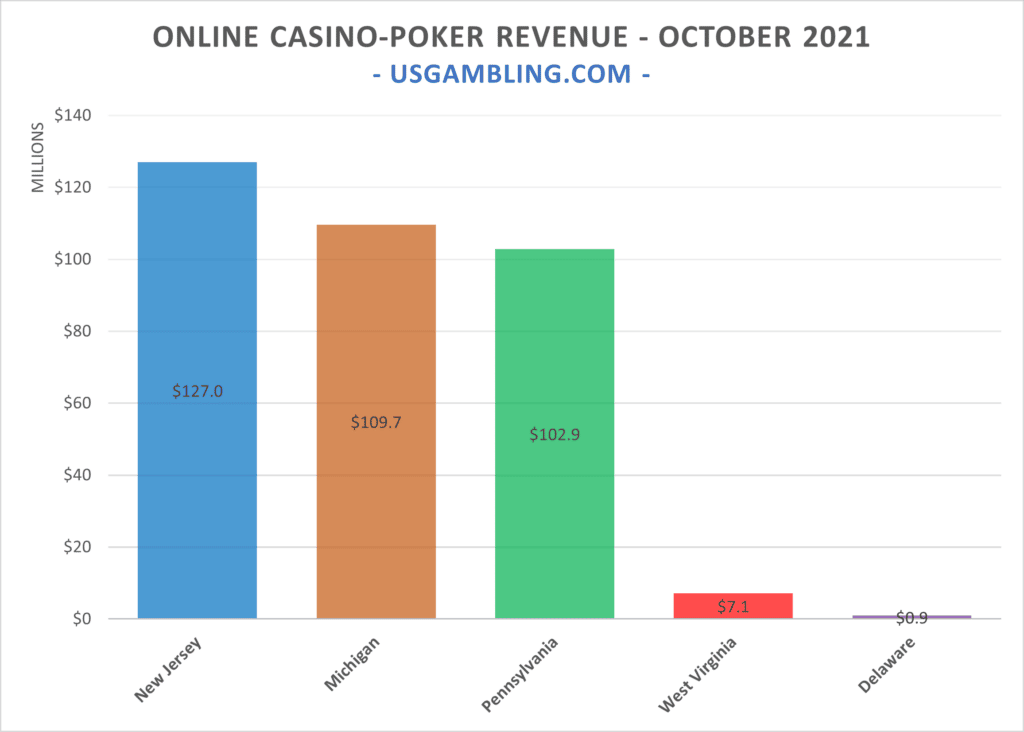 And here is a historical look at the three primary online casino states since July 2019.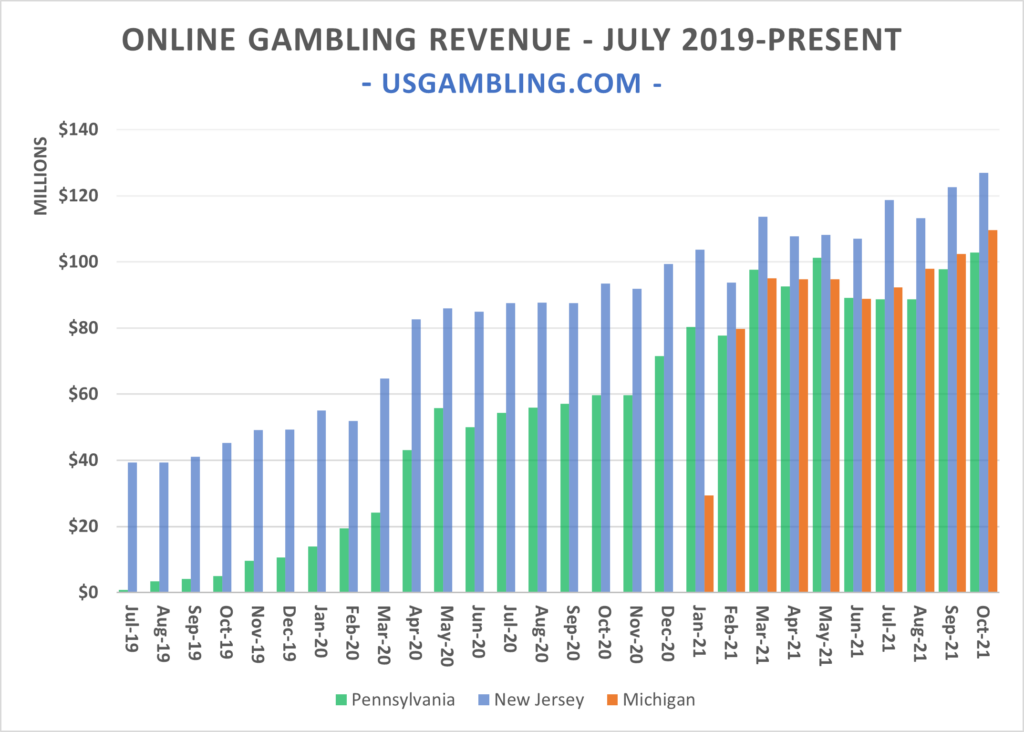 Michigan Pops its Head Above $100 Million
The Michigan online casino market reached an important milestone in September. The Wolverine state passed the $100 million thresholds after flirting with it since the industry launched in January, and it kept its head above the $100 million line in October.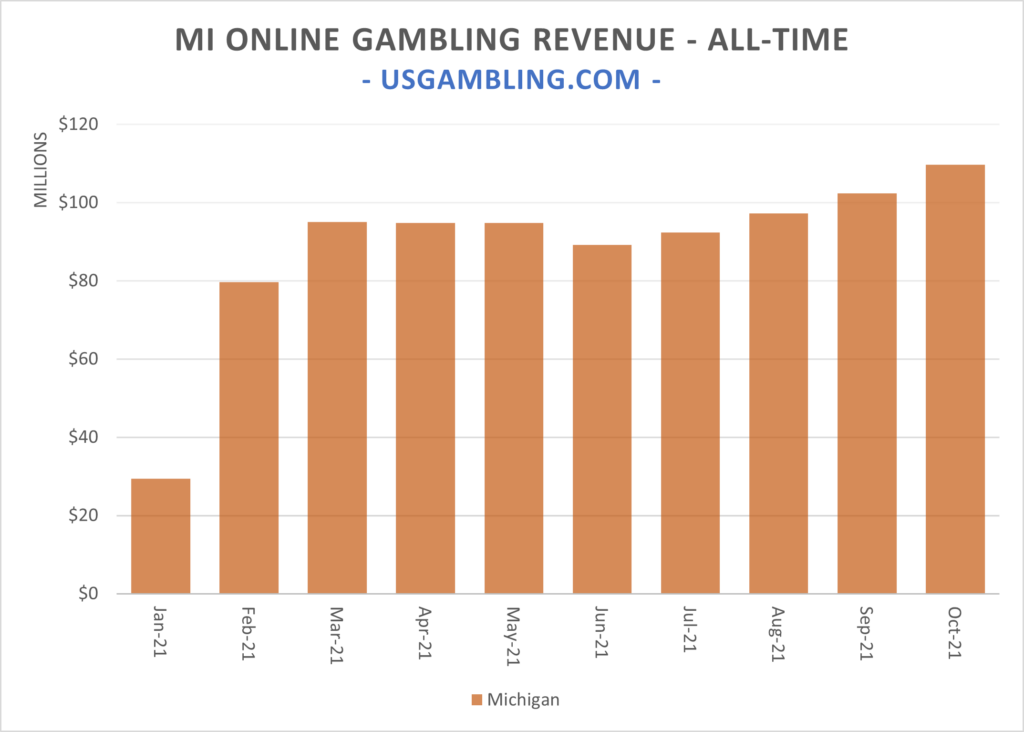 The big question for Michigan is how much space is left to fill? The state's population is slightly larger than New Jersey, but is Michigan a $120 million a month locale?
Working against it is the existing MI online lottery games that have proven popular – Michigan is the biggest online lottery success story in the US. And unlike New Jersey, it can't capitalize on cross-border traffic for sports betting as the only significant population center on its border is Toledo, Ohio, which isn't quite New York City.
Pennsylvania Pips its Previous High
Pennsylvania set a new all-time high in online casino revenue in October, but just barely. Based on the comps to Michigan and New Jersey, Pennsylvania's online casino industry is lagging. That could be due to the onerous tax rates the state imposed, the strict regulations governing skins, or a combination of both.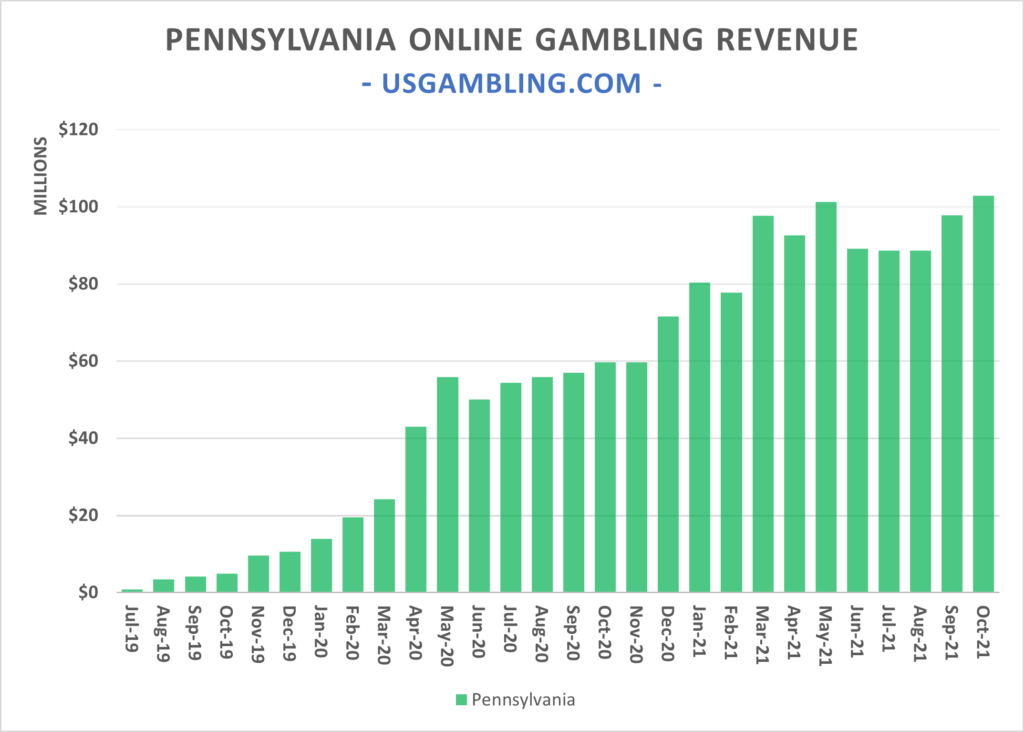 That said, $100 million is nothing to scoff at, and Pennsylvania is pulling in significantly more tax revenue than its better-performing peers.
New Jersey Numbers Prepare to Take a Hit
New Jersey online gambling has exceeded all expectations, but the state's built-in advantage (its proximity to New York City's eight-million-plus population) is about to evaporate. With New York on the precipice of online sports betting, the legions of sports bettors who cross over to New Jersey to place their sports bets (and almost assuredly do a little online casino, too) will soon be able to bet from the comfort of their homes.
The impact will be more prominent on the sports betting side of the ledger, but online casino revenue will also take a hit.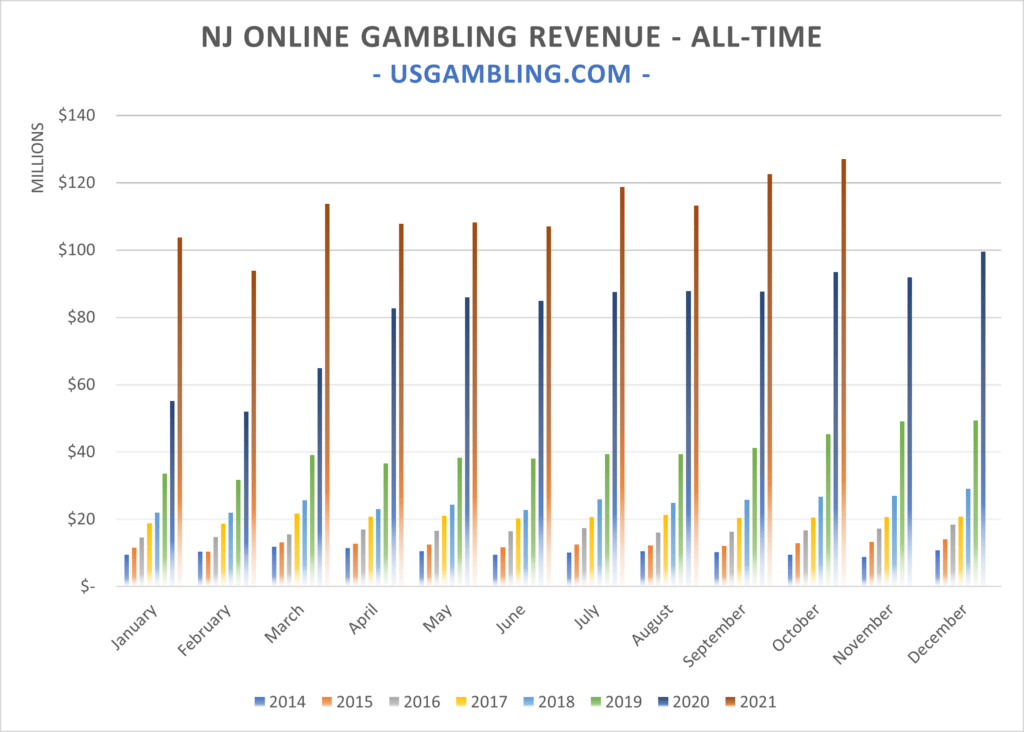 West Virginia Soars as Delaware Slips
In the participation division, the West Virginia online casino industry saw revenue jump to over $7 million. That represents a massive jump from the $4.5 million or so the state had been posting.
The outlier in October was Delaware, which saw a slight decline in online casino revenue. Delaware's lackluster results have a lot to do with the state-run industry getting about as much attention from operators as the penny slot player gets from the drink server.