The New Hampshire online lottery was authorized in 2017 as a part of a broad budget bill and the first online games launched in September the following year. Today, players may visit NHLottery.com or download the official app to play instant win games and buy tickets to drawings online.
State law requires all players to be 18 or older and located within state boundaries to play online, but players do not need to be a state resident. As long as you're 18 or older and are located inside New Hampshire at the time of purchase, you're welcome to play instant win games and buy tickets online.
NH iLottery launched with a small collection of instant win games and tickets, but lottery officials confirmed the website will be adding new games monthly. The NH online lottery got off to a fast start after its September 2018 launch, recording more than 4,200 registrations and paying $362,263 in winnings within 16 days of going live.
Revenue raised by the lottery, whether played online or in-person, supports public education in New Hampshire. Roughly 25 cents of every dollar spent on NH Lottery games goes directly to support the cause. Since launching as the first legal lottery in the United States way back in 1964, the NH Lottery has raised nearly $2 billion for public education.
NH iLottery First Impression
NH iLottery is based on a solid platform with a selection of instant win games featuring jackpots as high as $250,000 in addition to online Powerball and Mega Millions tickets.
Game selection is still lacking as of today. Lottery staff said early on that NH iLottery would launch with a small number of games and then introduce new games on a monthly basis with the goal being to have 24 online scratch cards on offer by the end of the year.
The New Hampshire Lottery almost reached this goal and now has 22 instant win scratch games open to players. The selection includes a variety of themes and styles ranging from instant football with a $100,000 top prize to the luxurious "Diamond Payout" game with a top prize of $250,000.
Players may also visit the lottery website to buy tickets to major drawings such as Powerball and Mega Millions. The lottery will also be introducing tickets to other regional and state-level drawings such as Megabucks, Lucky for Life, Pick 3, Pick 4 and Gimme 5 over time.
Ease-of-use is a clear strong point for NH iLottery. Once you have signed up for an account, you'll find it easy to make deposits, buy tickets, play instant win games and get paid. The process for buying tickets is surprisingly straightforward when it comes to choosing how many tickets you'd like, for which drawings you'd like those tickets and selecting your numbers.
NH Online Lottery Bonuses
The New Hampshire Online Lottery offers bonuses to existing players on a regular basis. You can check your latest bonus offers by logging in to your account, selecting "my account" from the main menu and then selecting "new bonus offers."
Inside that area, you'll see a list of all open offers and instructions for claiming each. The offers change on a regular basis, but usually what you'll find are offers to make a deposit and earn free plays on a certain featured game.
The NH iLottery website will ask for a "promo code" when signing up, but you can leave this blank for now. Bonuses are offered individually to each customer inside the "my account" area and no promo code is needed upon signing up.
How to Buy New Hampshire Lottery Tickets Online
NH Lottery online tickets can be purchased instantly by heading to NHLottery.com and then visiting the "Play iLottery" tab or by downloading the app from the App Store on iOS devices or from the Google Play Store on Android devices.
Currently, NH Lottery offers online tickets to Powerball and Mega Millions only. Online sales for other draw games should be launched in coming months. Ticket prices for online drawings are the same as they are for in-person purchases.
Buy Powerball Tickets Online in NH
Powerball tickests cost $2 per ticket and you may buy anywhere from 1 to 100 entries into anywhere from 1 to 104 drawings. For example, you can buy a single ticket into the next drawing for $2.00, twenty tickets into the next drawing for $40.00 or five tickets into each of the next 10 drawings for $100 and so on. However, the minimum purchase for draw games is $5.
The combinations are nearly limitless when it comes to choosing how many tickets you'd like to buy and for how many drawings. Interestingly, the lottery website will let you choose up to 100 tickets for each of the next 104 drawings for a grand total of $20,800 in theory, but a monthly deposit limit of $3,000 renders that impractical.
NH iLottery supports quick-picks as well as choosing your own numbers. Choosing the Powerball option on the lottery website brings up an "easy pick" screen that you can use quickly make a $6, $10 or $20 purchase for 3, 5 or 10 tickets. If you're logged in, you can also make a quick buy using your favorite purchases.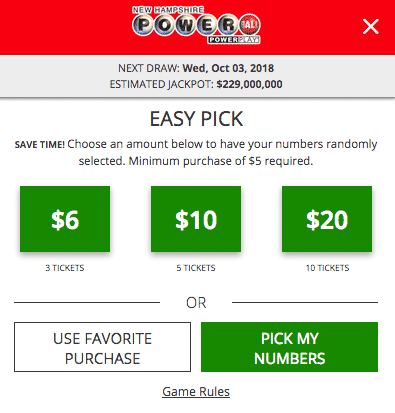 If you choose to pick your own numbers, NH iLottery will take you to a screen where you can type in your numbers by hand or select them on a digital representation of a play card. A running total will keep you up to date on how much you're about to spend on tickets.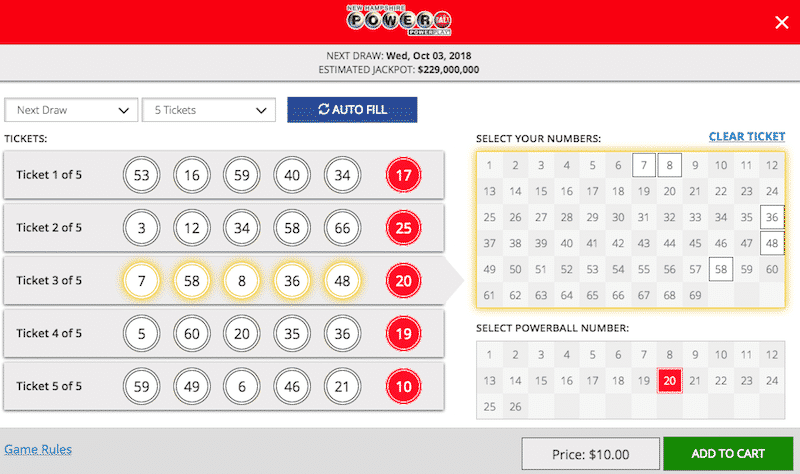 Buy Mega Millions Tickets Online in NH
The process and options for buying Mega Millions tickets online through the NH Lottery is the same as it is for Powerball tickets. Just visit the NH iLottery website or open the app and choose Mega Millions.
From there, you can make similar quick-pick options to buy 3-10 tickets quickly or use your past favorites to make a purchase with your favorite picks.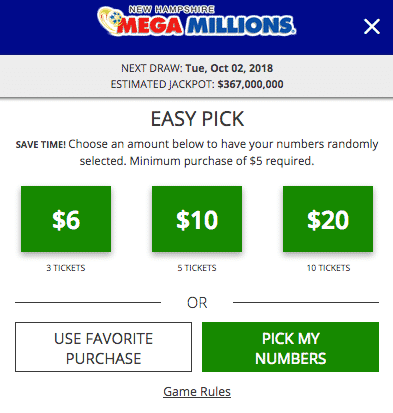 Choose "pick my numbers" to visit a secondary screen to make custom picks. The process for making your own Mega Millions picks is identical as it is for buying Powerball tickets.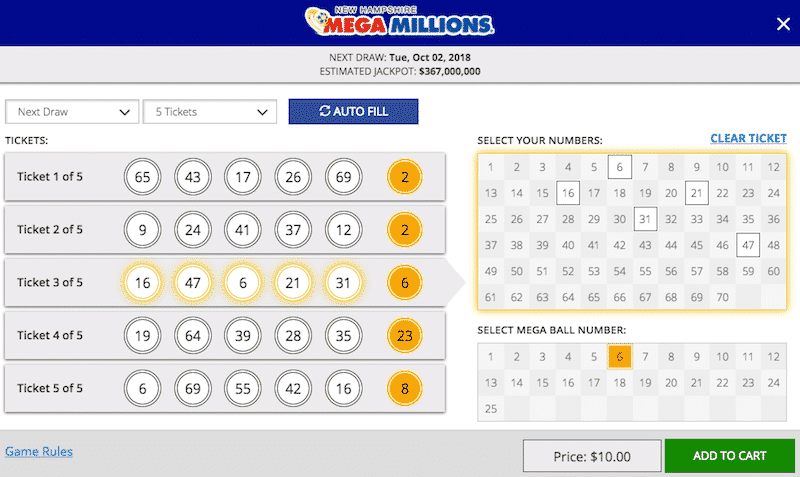 NH iLottery Games
NH iLottery instant win games are the online equivalent of the scratch-off games sold at lottery retailers across the state. Like classic scratch cards, NH iLottery games are simple to play, offer instant payouts and come in all manner of themes.
The difference, of course, is that iLottery games can be played from the comfort of home on your desktop or while on the go through your mobile device. Additionally, iLottery games allow you to choose your own price for every card with tickets costing anywhere from $0.02 to as much as $28 per game.
For instance, Wizard of All lets you pick your own price ranging from $0.10 to $5 per game with prizes varying accordingly – the more you pay, the bigger the potential payout. While a $0.10 play in Wizard of All yields a top payout of $1,500, a $5 play unlocks a top jackpot of $75,000.
Prizes top out at $250,000 for NH iLottery games.
The instant win games selection is still somewhat limited at this early stage with just 22 scratch-off style games on offer. In a press release issued in September of 2018, the NH Lottery confirmed it will be adding new games each month. NH iLottery has mostly kept to that promise and continues to add new games on a semi-regular basis.
For a preview of what the game selection may look like in the future, we can turn to the Michigan online lottery. Michigan's online lottery debuted in 2014 and is powered by the same software company that powers NH iLottery, NeoPollard Interactive.
The Michigan online lottery has been active for more than four years and now has a collection of more than 50 instant win games designed by NeoPollard Interactive. The game selection there offer a greater variety with some games loosely modeled after blackjack and others taking on a crossword puzzle theme.
If Michigan's online lottery is any indication of what will be on offer at NH iLottery, the best is yet to come for New Hampshire.
Instant Win Game Screenshots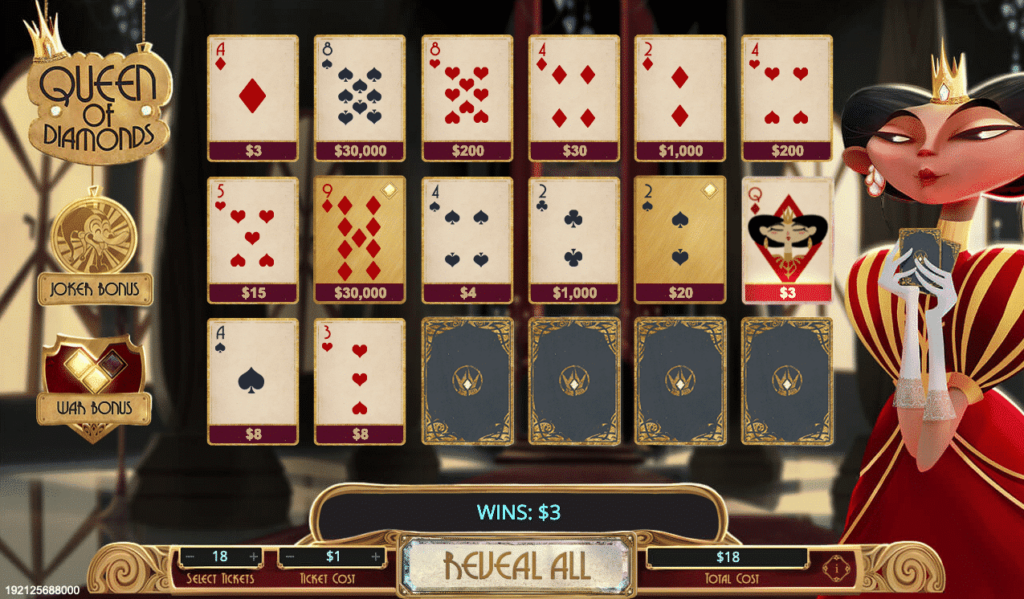 NH Online Lottery Deposit Methods
NH iLottery accepts debit cards, PayPal and ACH bank transfers to fund your player account and to make instant purchases. In an effort to promote responsible gambling, NH law prohibits iLottery from accepting credit cards.
The minimum deposit amount is $10 and the deposit limit is $500 per day, $1,500 per week and $3,000 per month. This means you can deposit up to $500 in a single day, but cannot exceed $1,500 in a single week or $3,000 in a single month.
iLottery Withdrawals
All prizes of $599 or less are deposited automatically into your player account. From there, you can withdraw the funds via bank transfer or a check in the mail by initiating a withdraw inside your player account or by calling the NH Lottery.
Prizes of $600 to $9,999.99 may also be claimed online, but only after completing an online claim form. The NH Lottery automatically withholds federal taxes on all prizes over $5,000.
Prizes of $10,000 and grater (including annuity prizes) must be claimed in person at the NH Lottery headquarters in Concord.
One key fact that the NH iLottery website mentions deep in the terms and conditions page is that you may only withdraw money that you have won. Anything you deposit must be kept on-site and used to buy tickets or to play instant win games.
Form the terms and conditions page (emphasis ours):
"You may withdraw prizes in your account. You may not withdraw deposits that you have made into your account unless required by law. It is your sole responsibility to not deposit more than you intend to use."