The North Dakota Online Lottery sells tickets to all games the lottery is permitted by state law to offer, which includes a total of five multistate draw games: Powerball, Mega Millions, Lucky for Life, Lotto America and 2by2.
State residents 18 and older may visit the ND Lottery website or download the official mobile app to buy single tickets or subscriptions up to a year in length for all five games authorized by the lottery.
As long as you buy tickets from the official lottery website or mobile app, any winnings you earn are backed by the state just as if you had purchased those tickets at one of the lottery's 450+ retailers.
The North Dakota Lottery was established in 2004 after the successful passage of a constitutional amendment in 2002 allowing the state to offer multistate draw games only. This means the ND Lottery, both online and off, does not offer scratch cards or state-specific drawings.
North Dakota frequently ranks dead last in terms of dollars spent on average by state residents due to the limited game variety, but players do at least have access to the country's biggest jackpot games including Powerball and Mega Millions.
The majority of the revenue raised by the lottery goes to the state's general fund while the rest is dedicated to gambling addiction treatment and drug enforcement efforts. A portion of any money you spend with the North Dakota Lottery online also goes towards these causes as well.
How to Play the North Dakota Lottery Online
If you're 18 or older, you can visit the ND Lottery website at Lottery.nd.gov or by downloading the app on your Android or iOS device. ND Lottery calls its online purchasing system Pick & Click, which is a descriptive name because getting started and buying tickets is a simple process.
The first time you visit the ND Lottery website or download the Players Club mobile app, you'll need to sign up for an account and verify your identity by submitting key information such as your name, address and the last four of your social. Once you have an account, you can log in through the website or mobile app any time to purchase individual tickets or subscriptions up to a year in advance.
After logging in to ND Lottery Pick & Click, you'll see a list of games that are available for online play. Currently, North Dakota residents may buy tickets for the following games:
Selecting a game will take you to the purchase page where you can customize your entries by choosing your own numbers or going with quick picks and choosing how many drawings you'd like to enter. You can buy tickets for a single game if you wish or buy into up to a year's worth of drawings ahead of time to ensure you never forget to buy tickets for the next drawing.
Syndicates are supported at the ND Lottery website and through the app. If you and some friends or co-workers would like to pitch in and buy tickets together, you can create a group for any purchase and add members so that winnings greater than $600 are split by the lottery (and to avoid any disputes later).
If your group wins $600 or more, every member of the group must submit a claim form. It is also important to note that every group member must submit a claim form before the prize is paid, and the lottery only accepts claim forms from people who are eligible to play the ND Lottery. The ND Lottery website states in plain terms that it is up to the group manager to ensure every member is eligible before playing.
If your group wins $600 or less, the winnings are deposited to the group manager's account. The group manager will then be able to withdraw the winnings and distribute them as he or she sees fit.
North Dakota Lottery Mobile App
The North Dakota Lottery mobile app is available for iOS and Android devices. In addition to selling tickets, the mobile app unlocks additional features including:
Scan tickets to check for winners
Scan tickets to collect reward points and enter second-chance drawings
Redeem points for merchandise from the loyalty store
Redeem points to participate in special ND Lottery promotions
View ND Lottery results
Get the iOS and Android ND Lottery app here.
While the app does offer useful features beyond just the ability to buy tickets, player reviews of the app are overwhelmingly negative. On Apple's App Store, the ND Lottery app has been rated 19 times and all 19 ratings have given the app a one star review out of a possible five stars. Not a single person has left a rating higher than one star.
Common complaints from players who have downloaded the app include frequent blank screens, slow loading times, random glitches and geolocation errors. Although it's worth keeping in mind that people tend to only leave reviews when they're upset about something, the complete lack of positive reviews is concerning.
Mobile App Screenshots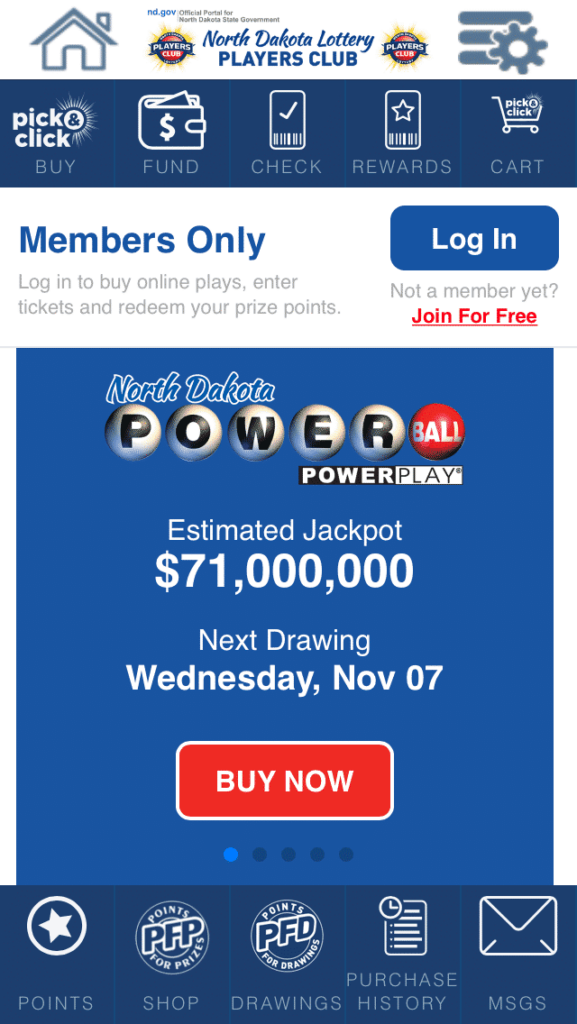 ND Online Lottery Promotions
The North Dakota Lottery does good work when it comes to hosting regular promotions. Frequent players should strongly consider downloading the app despite its design quirks in order to scan tickets, collect rewards points and easily take advantage of the various promos.
Most of ND Lottery's promotions revolve around rewards points which are earned by buying tickets online and in-person. Online purchases automatically add to your rewards total while in-person purchases can be scanned with the app to give you credit for those purchases.
As your reward points balance grows, you can use those points to enter giveaways or redeem them in the points store for merchandise. The rewards store is stocked full of goods that range from somewhat hokey (playing cards and American Idol t-shirts) on up to quite valuable (flat screen TVs and furniture).
ND Lottery App Deposits and Withdrawals
Your ND Lottery online account comes with two built-in wallets. One is your funding wallet that you can fund with a credit card, debit card or direct bank transfer using your checking account. Visa and Mastercard are both accepted. The other is your winnings wallet, which is where prizes are paid.
Ticket purchases come from your funding wallet first, and your winnings wallet second if necessary.
Prizes less than $600 are paid directly to your winnings wallet and may be withdrawn or used to buy additional tickets. If you choose to withdraw, you can have the lottery credit your bank account with an ACH transfer or ask for a check in the mail.
Prizes of $600 or more prompt the ND Lottery to send you an e-mail and a phone call with instructions for filling out a claim form. You can then claim your prize in person at the ND Lottery headquarters in Bismarck.
Warning: deposited funds may not be withdrawn
The North Dakota lottery has an annoying "safety feature" in place that we've seen at some other state lottery sites – that is, players cannot withdraw their own funds. The lottery lays the blame on federal Anti-Money Laundering regulations, but this is still a major drawback players should be aware of before playing.
Know ahead of time that any money you deposit to your North Dakota Online Lottery account will never be withdrawable – every last bit must be spent on lottery tickets. You can withdraw your winnings just fine, but deposited funds remain captive. Only deposit what you intend to spend.