The North Carolina Online Lottery sells tickets to Powerball, Mega Millions, Lucky for Life and Cash 5 through the NC Lottery website and via the iOS or Android mobile app. Lottery officials flirted with introducing instant win scratch-off games online as well, but those plans have been put on hold amid pushback from retailers and anti-gambling types.
That means today players can visit the North Carolina Lottery online to buy entries to draw games, but not to play instant win games. The NC Lottery mobile app also provides additional features such as the ability to check for winning tickets and to participate in second chance drawings.
NCLottery.com is the only website authorized to sell lottery tickets online in North Carolina and can be considered a safe place to play. Any prizes you win online will be treated the same as prizes earned from physical tickets.
The North Carolina Education Lottery (NCEL) was established in 2006 as a relative latecomer among state lotteries, but got off to a quick start with total sales reaching the $1 billion mark within 399 days of going live. Since then, the NC Lottery has contributed nearly $6 billion to state educational efforts.
In almost every year since its inception in 2006, the North Carolina Lottery has broken its own record for revenue raised for education. The nearly $6 billion it has raised so far has been put towards Pre-K educational programs, local school districts and college scholarships for students in need of financial assistance.
How to Play the North Carolina Lottery Online
State residents 18 and older are welcome to buy lottery tickets online at NCLottery.com or though the mobile apps available for iOS and Android devices. From the website or through the app, you can get started by signing up for an Online Play account.
A basic Online Play account is available to anyone 18 and older in the United States, but you must be a state resident to upgrade your account for online ticket purchases. Upgrading is free and involves verifying your identity, address and the last four of your social.
The North Carolina Online Lottery will check your location using geolocation technology each time you purchase tickets to ensure you're within state lines at the time of purchase. If you visit the website from a mobile phone, you may only purchase when connected to the internet via wi-fi connection. Alternatively, you can download the official mobile app to buy tickets when connected to your cellular data plan.
How to Buy Powerball Online in North Carolina
Powerball tickets may be purchased online in North Carolina at NCLottry.com and through the mobile app. From the main website, visit the "play now" tab and select Powerball from the list of options presented on that screen.
This will take you to your purchase screen where you can choose the number of drawings you wish to enter, the number of tickets to purchase for each drawing and to pick your numbers. The NC Lottery website also supports a quick-pick option top pick numbers at random on your behalf.
The North Carolina Online Lottery will let you enter anywhere from 1 drawing to as many as 104 straight drawings to cover an entire year's worth of Powerball drawings. Each ticket costs $2 individually or $3 if you select the Power Play option to potentially multiply your winnings.
Players may only purchase up to 3 tickets into each drawing, which is a bit short compared to other state lotteries that will sell up to 10 tickets at a time. However, the NC Online Lottery is more flexible than other states in allowing you to enter up to 104 straight drawings all at once.
In the end, this means you can purchase a single entry for just $2 at the low end or buy 3 tickets into 104 straight drawings with the Power Play option checked for nearly $1,000. You have a lot of flexibility in how much you spend online, so be sure you only spend what you can afford to lose.
The NC Lottery website also supports group play, which allows you to buy tickets for a group. Once you have an account, you can create new groups to keep track of who all's involved and invite your friends to create an account and join the group. Then, all group members will be notified of winning tickets. The group play option is a great idea for anyone purchasing tickets as a group to avoid disputes later.
NC Powerball Screenshots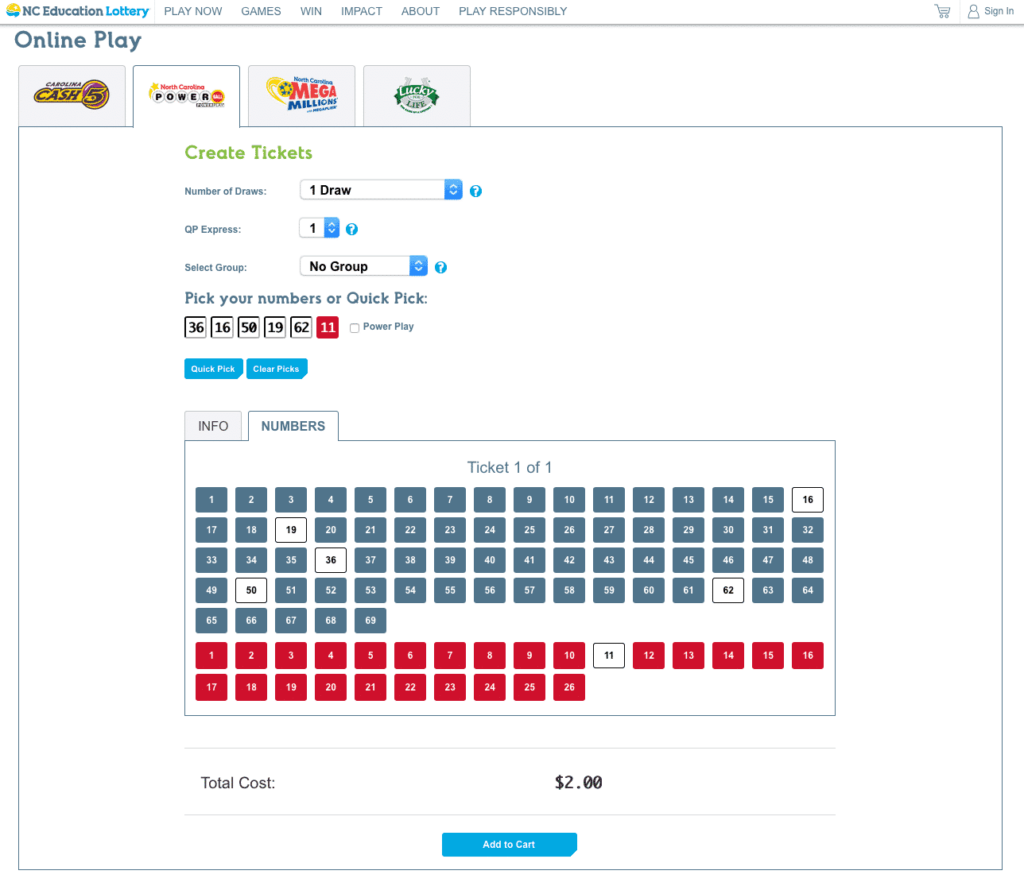 Other NC Online Lottery Draw Games
Moving beyond Powerball, the NC Online Lottery also sells Mega Millions, Lucky For Life and Carolina Cash 5 online. These games all cost the same online as they do when purchased in-person and prizes are the same as well.
All NC online lottery games support group play, year-long subscriptions and support up to three tickets per drawing. Below is an overview of the cost of each game, the number of tickets you can buy into each drawing and the number of drawings you can enter ahead of time as a subscription.
| | | |
| --- | --- | --- |
| Game | Ticket Cost | Maximum # of Tickets |
| | | |
| Powerball | $2 | 3 tickets / 104 drawings |
| Mega Millions | $2 | 3 tickets / 104 drawings |
| Lucky for Life | $2 | 3 tickets / 104 drawings |
| Carolina Cash 5 | $1 | 3 tickets / 364 drawings |
NC Lottery Instant Win Games
The North Carolina Online Lottery does not offer instant win games at this time. In late 2017, lottery officials said they were considering adding instant win games similar to those offered by the Pennsylvania Lottery.
A scheduled vote to authorize online scratch cards was tabled for further study after the commission received considerable pushback from retailers and anti-gambling groups.
North Carolina Family Policy Council President John Rustin said the proposed games are "essentially video sweepstakes right there on your device – on your home computer, on your tablet. It would create, in our opinion, a very significant conflict with the policy that has existed in the state for many years"
The North Carolina Retail Merchants Association also opposed the proposal out of fear online sales would hurt business by encouraging customers to stay home rather than visiting their stores. Andy Ellen, president of the association, said this:
"If you can sit at your house and play with a debit card and a checking account, especially in rural areas, it's actually tougher to get customers to come physically to your store."
The concern among retailers is related to the idea of cannibalization – that players will stay home rather than buy tickets in person, which in turn hurts retailers because with decreased foot traffic, sales slump across the board. However, these concerns are likely overblown and there's a decent chance retailers come around to the idea of online instant win games.
In Michigan, for example, retail lottery sales hit new records every single year after online lottery tickets and instant win games were introduced. Rather than decreased traffic, Michigan retailers are seeing record-breaking sales since the introduction of online lottery games.
North Carolina Mobile App
The official North Carolina mobile app is available for iOS and Android devices and offers online play, ticket purchases, the ability to scan tickets for winners and to submit tickets for second-chance drawings and rewards points.
Before you can use the mobile app, you will need to visit NCLottery.com from your desktop or smartphone to sign up for an account. Then, launch the mobile app and log in on the front page. Once you're in, you'll see a simple interface with self-explanatory navigation menus to buy tickets, scan tickets and so on.
Buying tickets through the mobile app is fairly simple with the interface making it a step-by-step process. Choose the game you want to play and follow the instructions on the screen to pick your numbers, choose a number of drawings and to confirm your purchase.
Mobile App Screenshots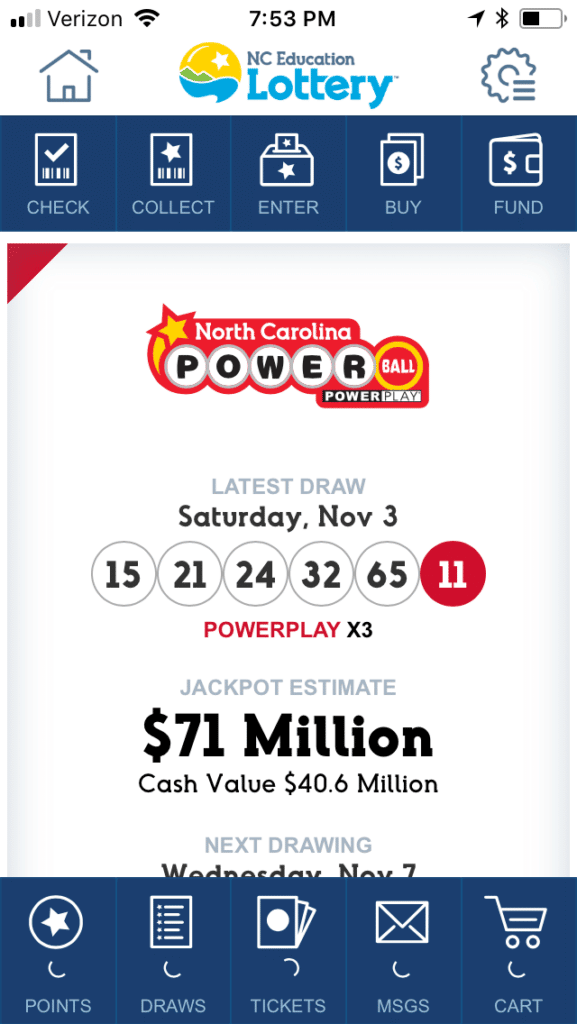 NC Lottery Promotions and Bonuses
The NC Online Lottery does not offer a deposit bonus or any special rewards for signing up, but it does host frequent promotions for regular players and regular second-chance drawings. The mobile app is the best way to participate in these programs because it can be used to scan physical tickets rather than having you manually input ticket numbers to credit you with reward points for playing.
All draw games and most scratch cards can be submitted through your account online at NCLottery.com or by scanning tickets with your mobile app. Scanning tickets will give you Lucke-Rewards points, which can then be used to enter special drawings that give out cash bonuses on a regular basis.
Additionally, tickets can be entered into second-chance drawings for a chance at winning a consolation prize. Second chance drawings offer even bigger prizes than the Lucke-Rewards drawings, with top prizes often topping out at $1,000,000.
NC Lottery Payments
If you're located in North Carolina and are at least 18 years old, you can fund your NC Online Lottery account via bank transfer from your checking account, debit card (Visa and Mastercard) or by redeeming an Online Play Gift sent to you by someone else. Credit card deposits are not accepted by the NC Lottery in an effort to promote responsible gambling.
If you have a friend you'd like to help, you can sign in to your NC Lottery account and use your account balance to send your friend a virtual gift voucher. Your friend will be given a unique voucher code and can redeem it online for instant credit.
Prizes under $600 are automatically credited to your online account and may be withdrawn via check in the mail. If you originally funded your account with a bank transfer, you may also have your funds sent back to your checking account via bank transfer.
If you win a prize of $600 or more, the NC Lottery will send you an e-mail with a link to fill out a claim form. After filling out the claim form, you can visit a regional claim center or the NC Lottery headquarters in Raleigh for prizes up to $99,999. All prizes worth $100,000 or more must be claimed in-person at the NC Lottery headquarters.