Michigan Online Casinos: Competing With NJ And PA
Move over New Jersey and Pennsylvania, there's a new sheriff in town, and its name is Michigan. And suffice it to say, when it comes to online gambling, Michigan isn't messing around.
Michigan's online casinos generated nearly $30 million in January. That's easily the best first month of any industry. That said, it's a far cry from the $103.8 million New Jersey's online casinos and the $80.4 million Pennsylvania's online casinos generated in January.
But there's a big caveat, Michigan's online casinos launched on January 22, which means they were only operational over the last ten days of January.
Yet somehow, on a per-day basis, the Michigan online casino industry is already in the same rarified air as New Jersey and Pennsylvania's more mature markets.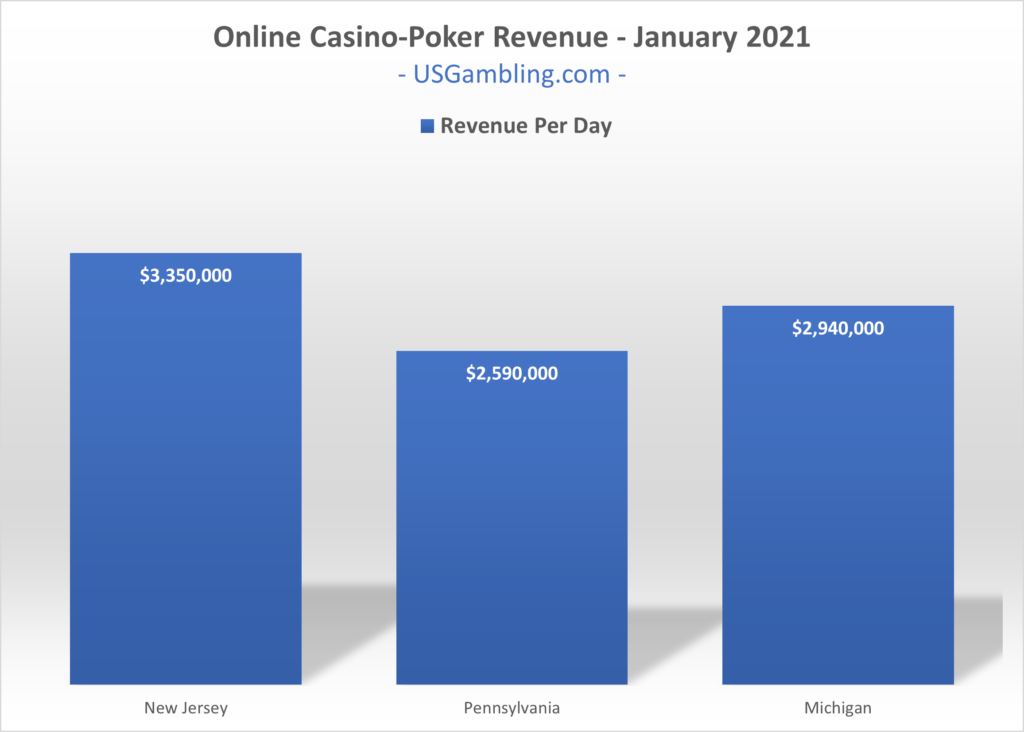 Comparing MI to NJ and PA Is No Comparison
To put Michigan's debut in proper perspective, it took New Jersey five years to have its first $30 million online casino month. Pennsylvania managed to pass the $30 million threshold in 10 months, but that was artificially accelerated by the COVID-19 pandemic. Michigan nearly hit $30 million in its first ten days.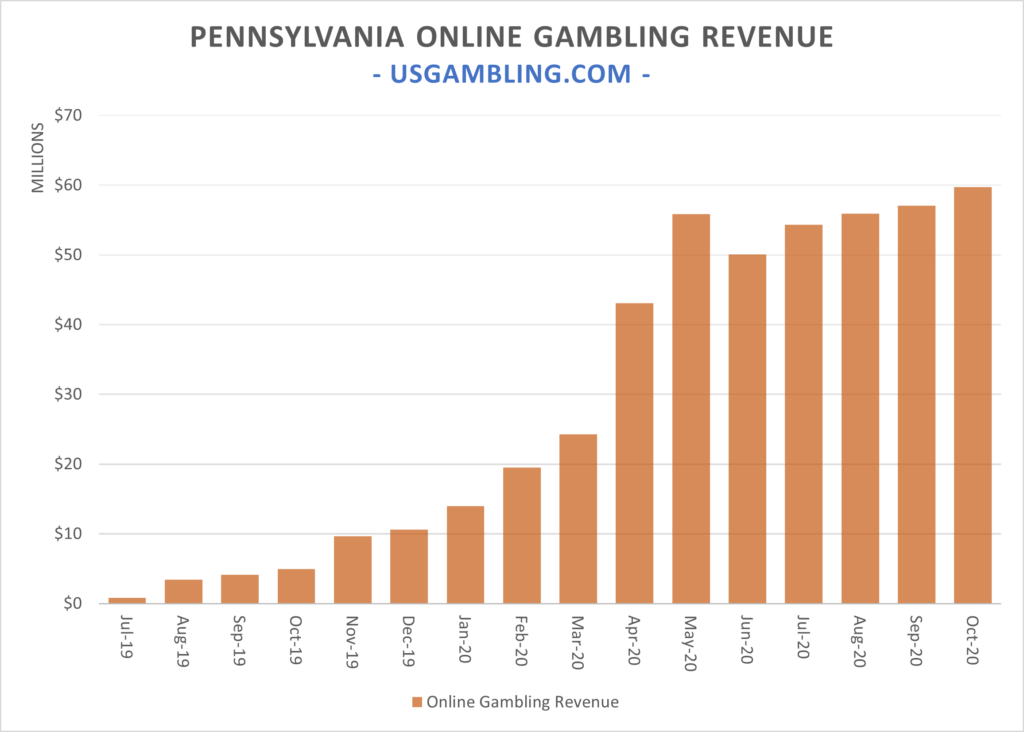 And Pennsylvania's climb looks lightning fast compared to New Jersey's extremely slow burn that benefitted from two events, the legalization of sports betting and subsequent online sports betting launch in late-2018, and like Pennsylvania, COVID-19 shutdowns.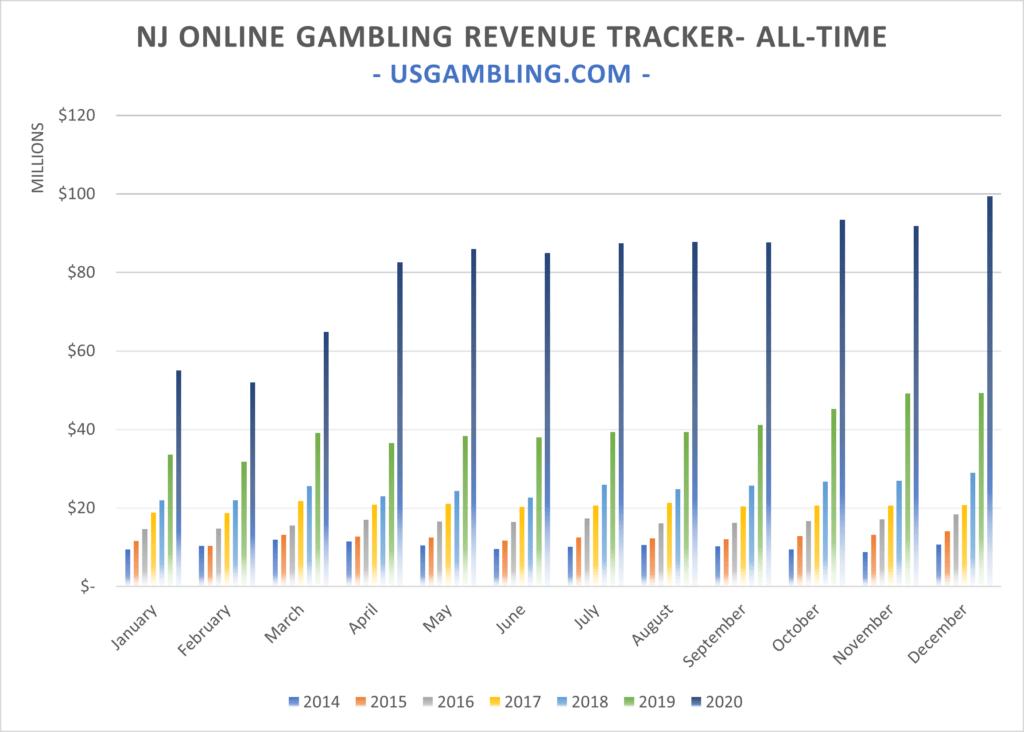 Breaking Down Michigan's Fast Start
Fast starts are becoming the norm in the burgeoning US online gambling industry.
In November 2020, the Tennessee online sports betting industry had the best debut month of any state, despite Tennessee's middling population of 6.8 million – Michigan's online sportsbooks knocked Tennessee off that perch in January.
We've also seen more recent online sports betting launches in Illinois and Colorado spring to life right out of the box.
There seems to be a quartet of factors at play.
COVID-19
A common thread between the states that have come out of the starting blocks at a full sprint is they've launched during the COVID-19 pandemic. Similarly, more mature online gambling markets saw significant revenue bumps during 2020, as casinos were shuttered or operating with severe restrictions, pushing more and more bettors online.
Public Awareness
Not only were people looking for online gambling sites but they also increasingly knew when and where to find them. Unlike New Jersey's 2013 launch, or even Pennsylvania's 2019 launch, the coverage surrounding these launches has increased significantly, particularly in mainstream and local news.
Pent-Up Demand
A third factor is a pent-up demand in places like Tennessee and Michigan. Both states took a cautious approach to their online gambling rollouts, and that meant would-be bettors were subjected to long waits (13 months in Michigan and 18 months in Tennessee) that seems to have whetted their appetite for betting.
Compare that to Indiana, where online sports betting was up and running five months after being signed into law.
Synchronized Launches
The final factor has to do with the manner of launch. Both states settled on a synchronized launch that saw multiple operators launch concurrently. Rather than providing an operator or two with a weeks-long monopoly, Michigan and Tennessee let everyone loose simultaneously, which seems to be the best way to handle online launches.
Not only does it put everyone on equal footing, but it also forces operators to have all their ducks in a row since the margin for error shrinks in a hyper-competitive market. It also floods the market with advertising that benefits singular operators and the industry as a whole, getting the word out about the legality and launch.