The Kentucky Lottery launched in 1989 and online play was introduced in 2016 in response to changing demographics. As the lottery director put it at the time, the lottery needs "to be more attractive to a younger demographic who are accustomed to conducting a majority of their retail purchases online."
Since its initial launch in 2016, the Kentucky Online Lottery has expanded its games lineup to offer:
Powerball, Mega Millions, Cash Ball 225, and Lucky for Life tickets
Instant win scratch-off games
Online keno every four minutes
Players can access the games online at KYLottery.com via desktop or mobile device, or download the official app from Apple's App Store or the Google Play Store for mobile play.
The official website of Kentucky iLottery is KYLottery.com and the site is managed by the same seven-member board of directors who run the lottery for the state. As far as safety and security are concerned, there are no issues to report there. The Kentucky Online Lottery is backed by the state and any winnings earned online are paid just the same as if those tickets had been purchased in person.
Revenue earned by the lottery from traditional sales and online play goes state educational efforts at all levels from Kindergarten through higher education. Since its inception in 1989, the Kentucky Lottery has raised nearly $5 billion for education. Roughly $1.8 billion of that has funded efforts at the K-12 level and more than $3 billion has gone towards higher education in the form of scholarships, grant money and college assistance funding.
How to Play the Kentucky Lottery Online
The Kentucky Online Lottery is available to state residents 18 or older. You can get started by visiting the KY Lottery website and signing up for a Fun Club account. Signing up for the Fun Club is free and involves verifying your identity, which includes confirming your name, address and the last four of your social.
Confirming your identity and joining the Fun Club unlocks online ticket purchases, instant win games and keno complete with winnings deposited straight to your account. Once you have your Fun Club account, you can buy tickets and play games online by visiting the KY Lottery website or downloading the official mobile app.
How to Buy Powerball Tickets Online in Kentucky
Kentucky iLottery does a good job at making the process for buying Powerball and other tickets online fairly self-explanatory.
To buy Powerball online, visit the KY Lottery website and look for the "buy now" tab at the top of the homepage. This will take you to a page displaying a list of all available games for which you can buy tickets.
Mobile users can get started by downloading the app and logging in there. The front page of the app lists all draw games along with a link to visit the instant win games collection.
Select "Powerball" from the list of options and you'll be taken to a screen where you can pick your own numbers or let the system make quick picks at random. Then, select the number of drawings you want to play and confirm the purchase.
Powerball tickets cost $2 per play online just as they do in the real-world and the Power Play multiplier option can be activated for an extra $1 per ticket. You can buy up to 10 tickets at a time for anywhere from one drawing to 26 straight drawings (13 weeks).
Here's what it looks like to buy Powerball tickets online through the mobile app: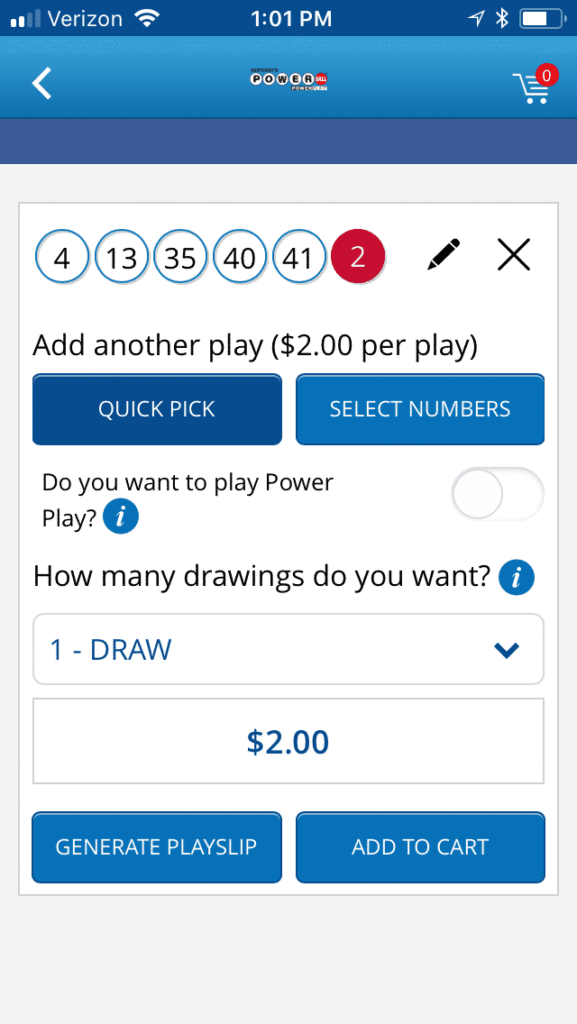 Additional Draw Games Offered by KY iLottery
State residents can buy tickets online to all of Kentucky's major draw games. This includes Powerball, Mega Millions, Cash Ball 225 and Lucky for Life. Once you have a Fun Club account with the Kentucky Lottery, you can buy games online through the website or mobile device any time.
The actual process of buying tickets for other games is basically the same as it is for buying Powerball tickets. All ticket prices are the same whether you buy them from a retailer or online and all can be purchased for multiple drawings.
Here's a quick review of the games offered, ticket prices and how many you can buy at once:
| | | |
| --- | --- | --- |
| Game | Cost Per Ticket | Maximum # of Tickets |
| | | |
| Powerball | $2 | 10 tickets / 26 drawings |
| Mega Millions | $2 | 10 tickets / 26 drawings |
| Cash Ball 225 | $1 | 10 tickets / 21 drawings |
| Lucky for Life | $2 | 10 tickets / 26 drawings |
Kentucky Lottery Deposit Bonus
The Kentucky Lottery offers a $50 bonus if you sign up for an account and make a first deposit of at least $100. After you make your first deposit of $100 or more, the KY Lottery will give you an additional $50 in bonus bucks that you can use to buy more tickets and play instant win games online.
The bonus money itself may not be withdrawn, but any winnings are yours to keep. The key points to know are that the bonus is only offered for your first ever deposit and that your first deposit must be for at least $100 or more via credit or debit card.
No bonus code is necessary; just sign up and make your first deposit of at least $100 to get an extra $50 in bonus bucks.
Kentucky Lottery Mobile App
Players on the go can download the Kentucky Lottery mobile app for Android and iOS devices to buy tickets, play instant win games and scan tickets for winners. The Kentucky Lottery app is nice in theory, but customer reviews are generally quite negative in terms of actual functionality.
Out of 152 reviews submitted to Apple's App store, the Kentucky Lottery has an average rating of 1.6 stars out of five due to many negative reviews submitted by users. The most common complaints relate to the app forcing players to log in every time they access the app, errors when trying to make purchases or deposits, frequent crashes and geolocation errors.
The good news is that if you do have issues with the Kentucky Lottery app, you can direct your phone's browser to KYLottery.com to play all games online with no download necessary. This maybe your best option if you have issues with the mobile experience. You won't be able to scan tickets from the mobile website, but you'll still be able to buy tickets and play instant win games through the mobile-friendly website.
Kentucky Online Lottery Instant Win Games
Both the Kentucky Lottery website and mobile app have a collection of 39 instant win games that serve as the digital version of scratch-off tickets. While some of these games function exactly like scratchers (where you scratch off hidden symbols to reveal prizes), others function more like arcade games.
For instance, Astro Cash will have you shooting lasers at alien space craft to reveal prizes while Bounty Town will have you search the buildings in an Old West town on the hunt for fugitives and their ill-gotten gains.
The Kentucky Lottery instant win games can be played at prices ranging from $0.50 to $10 with prizes topping out at $150,000. Some anti-gambling types have expressed concern that these games too closely resemble online slots, but in reality these games look and feel like regular scratch-off tickets with a few modifications for online play. All are pretty simple and ticket prices are displayed clearly.
Additionally, Kentucky's instant win games run at a much slower pace than actual slots. Each game must be purchased one at a time and it is difficult to play these games too quickly as you're forced to scratch off your winning pieces one by one to reveal the outcome. All ticket prices are explained clearly up front, so there's never any question as to how much you're spending.
Instant Win Desktop Screenshots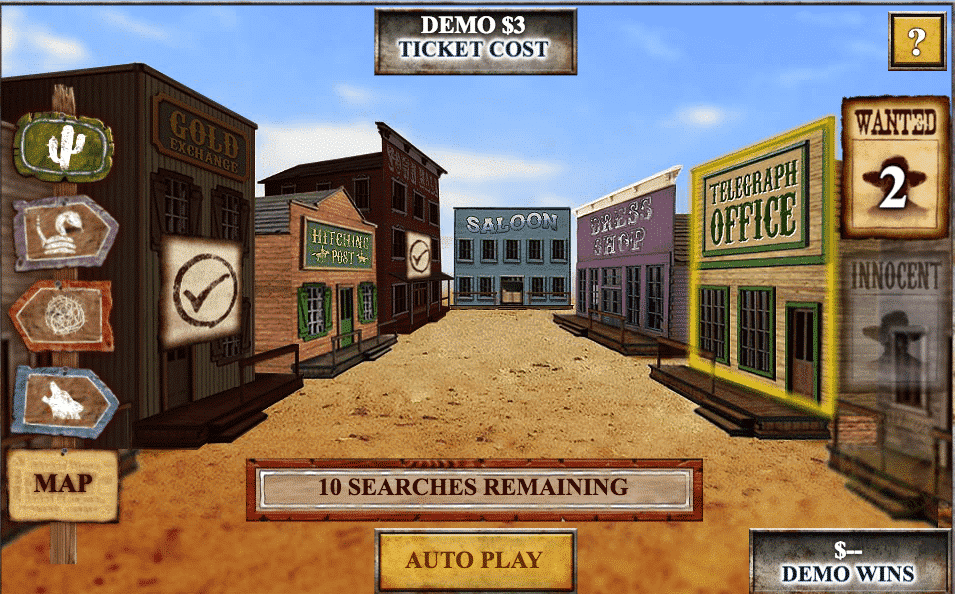 Instant Win Mobile Screenshots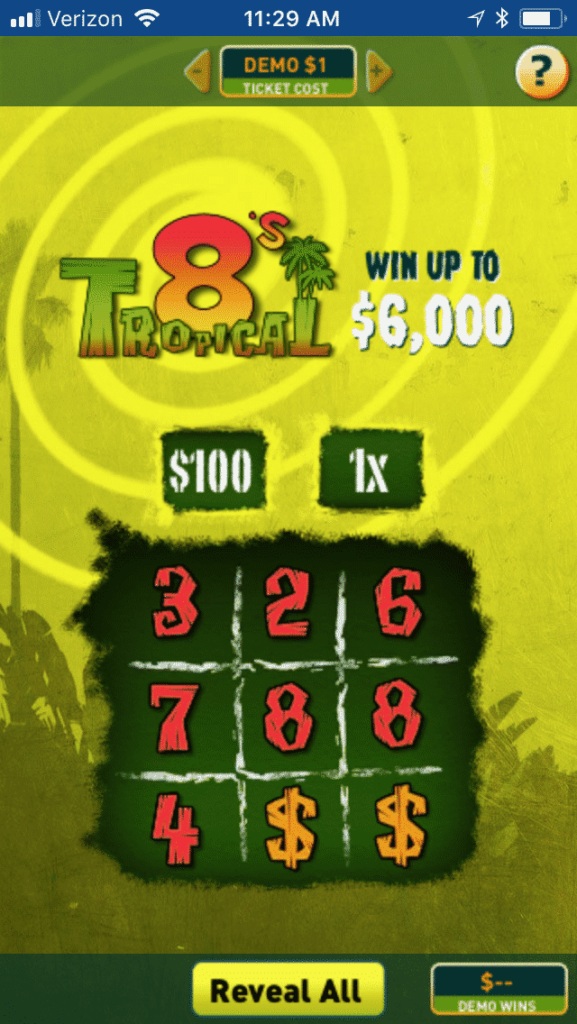 Kentucky Online Keno
The Kentucky Lottery website and mobile app host keno drawings every four minutes offering payouts as high as $1,000,000 on a $1 play. Players can wager anywhere from $1 to $20 per keno game, and all prizes are multiplied accordingly.
At the start of each keno game, you pick anywhere from 1 through 10 numbers out of a pool of 80 numbers. Every four minutes, the keno system draws 20 numbers at random and prizes are determined by the number of matches corresponding to your picks. The more picks you make at the beginning (up to 10), the higher the potential prize.
You can also activate the multiplier option in return for doubling your ticket price. If you choose this option, a wheel will be spun at the beginning of each round to give you a multiplier number ranging from 1x to 10x which will be applied to any winnings. For example, a 10x multiplier can potentially turn a $100,000 prize into $1 million.
This video from the Kentucky Lucky YouTube channel explains how to play Keno:
Online Keno Screenshots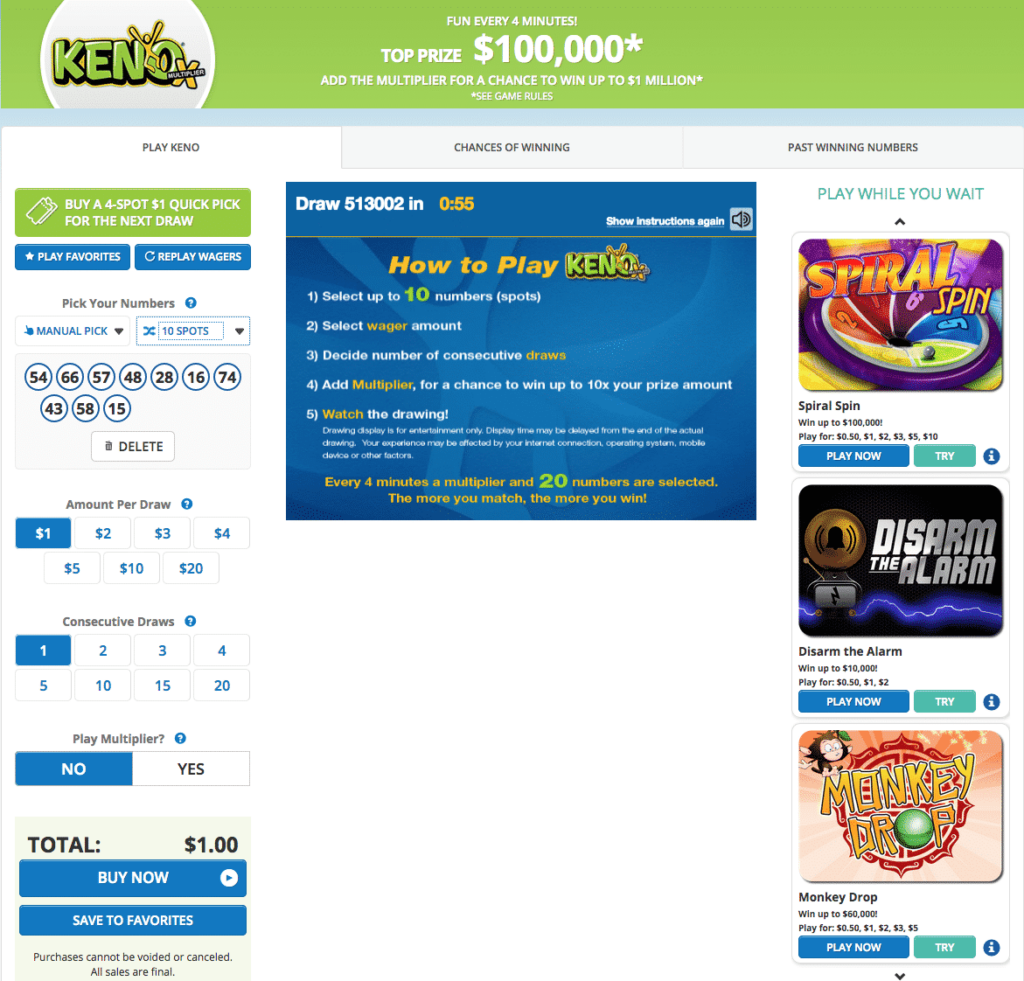 Win Place Show Offered in Partnership with the Kentucky Lottery
The Kentucky Lottery launched a new horse racing-themed game in March 2019 on a trial run basis, with plans to further expand the offering to all of Kentucky's authorized lottery providers in April 2020.
Win Place Show, which was developed by EquiLottery Games, combines the thrill of horse racing with the simplicity of lottery tickets.
Win Place Show tickets are sold at select retailers at a price of $2 per ticket. Each ticket is printed with randomly-selected horses set to run in an upcoming race and players win prizes if their horses come through in the right order.
If your three horse finishes in first, second and third place in that exact order, you'll win a payout that could reach as high as $1,800. Matching all three winning horses in any order will give you up to $80 in winning while matching just the top two winners in that exact order will give you a free ticket.
The idea here is to give lottery players a taste of horse racing, but without all the bother of having to make selections. It's a purely random game in the sense that you don't make your own picks, but it is still based on real horse races.
Kentucky Lottery Deposits and Withdrawals
After signing up for an account with the Kentucky Lottery online and then joining the Fun Club, you'll be given an iWallet that serves as your e-wallet to hold deposited funds and to receive payouts of any winnings.
You can fund your iWallet account via:
Credit card
Debit card
iFunds: iFunds allow you to fund your account by visiting a local lottery retailer. You can get started by logging in to your online account for instructions on receiving your Player Identification Card. Once you have your Player Identification Card, you can take it to a participating retailer to make a deposit in-person.
iGifts: iGifts also allow in-person deposits, but do not require a Player Identification Card. Instead, visit the retailer and buy an iGift voucher for an amount of your choosing. Then, go back home and login to your account to redeem your iGift voucher.
Winnings are paid directly to your iWallet account and may be withdrawn by electronic bank transfer or by requesting a check in the mail.
Prizes of $600 or less are deposited straight into your iWallet account and can be withdrawn as described above. iWallet accounts may have a maximum balance of $5,000. If you win a prize that puts you over that amount, the remainder will be mailed to you via check.
Prizes greater than $600 and up to $49,999 may be claimed online following the KY Lottery claims process (you'll be given instructions if you win a large amount) or by visiting any Kentucky Lottery regional office or the Kentucky Lottery headquarters in Louisville.
Prizes greater than $49,999 and up to $99,999 must be claimed in person at a regional office or at the Kentucky Lottery headquarters.
Prizes of $100,000 and great may only be claimed in-person at the Kentucky Lottery headquarters.
Warning: Deposits May Not Be Withdrawn:
One of the most controversial aspects of Kentucky iLottery is a little-known rule buried deep in the website's terms and conditions page which states that all deposits remain captive for all time: any money you deposit may not be withdrawn at any time.
This means any amount you deposit must be used to buy tickets or play games online. Winnings may be withdrawn at any time, but players are not allowed to withdraw their own deposits. This is, in our opinion, completely unnecessary and is borderline predatory behavior.
A Kentucky Lottery FAQ page claims this restriction is to ensure compliance with banking regulations, but we're not convinced that prohibiting players from withdrawing their own money was the only possible way the KY Lottery could come up with to do so.
Whatever the reason may be, this is important to keep in mind if you decide to play the Kentucky Lottery online. Consider any money you deposit as already spent, because your original deposit will never be withdrawable. The only thing you can do with your money once it has been deposited is used to play games and hopefully win money that can be withdrawn.